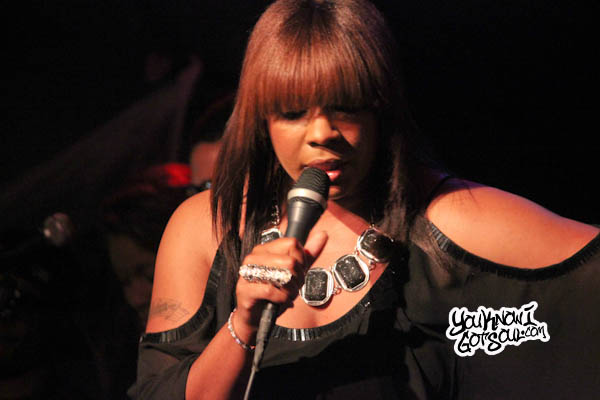 Despite constantly flying under the radar over the past decade, Syleena Johnson has shared the "Chapters" of her life with us by expressing herself through her music. Since she's known to always have a big hand in the writing of her own material, you can be assured that what she's given us over the years has been genuine and authentic. Now as she prepares to release her new album "Chapter 5: Underrated", she's found a home on an independent label that will hopefully force people to pay attention. In this interview, we discuss with her what to expect on the new album, the stigma of being underrated, the differences in being on an independent label, the lack of support in the Chicago music scene, what her collaboration on "All Falls Down" did for her career, filming her new reality show "Diary of a Diva", and much more.
YouKnowIGotSoul: I'd like to start with your new album releasing next month "Chapter 5: Underrated". What can we expect to find on there?
Syleena Johnson: It's a variety different kinds of music, but not too far in the spectrum. I've got pop type music on there, there's soul music, there's hip hop tracks, there's the slow r&b songs. Basically with "Underrated", it's to show all of the different facets that I'm capable of doing and it caters to different genres. So that's what this album is about. I think there's something for everyone.
YKIGS: Who did you work with on this album?
SJ: I worked with Toxic Productions mainly and he has about nine songs on there. Also a producer named Unik out in Germany, he did the single "A Boss". I worked with Tweet, I did a duet with her. I did a duet a new artist named Malone, he's in a group called Melissa Malone which is coming out soon. AK from Do or Die is on my intro.
YKIGS: What made you decide to go with the title for the album "Chapter 5: Underrated"?
SJ: I've always had chapters ever since 2000, so the chapter part is just kinda doing what I always do. Then the "Underrated" was a title that was given to me by my fans literally. I went on Twitter and Facebook and had asked the fans what I should name the album, and a lot of them came back with "Underrated". I had a couple of other choices for titles, but I just thought underrated was a good space to be in, and this was back in 2009 actually.
YKIGS: I know that your fans call you underrated, but do you consider yourself underrated? Especially in this current climate of r&b where true singers like yourself sometimes get pushed to the background in favor of commercial music. Do you feel underrated?
SJ: If I have to go to the definition of underrated, yes I do. Underrated means rated improperly, underestimated, and I don't feel that way about the people, I feel that way about the industry heads and the executives and the people who make the decisions. I just don't think that they give the consumer enough credit and force feed us the thing that they feel will sell records most of the time. It's not really what the public really wants or needs. I think that me being underrated is something that has been going on since 2001 when I came out with my first release. I think that my fans have been saying it since then, since that album. So I felt maybe underrated especially with the record label I was on, I was underrated and underestimated by them constantly within my own label. I think if anything, I feel underrated by my own label, it's not that the people don't like it. More so it's within the industry.
YKIGS: You mentioned your old label, I know that you were on Jive for your first few releases, and then went the independent route for your last album and this one as well. What are the major differences to you?
SJ: Jive Records was also an indie label quiet as kept. The bigger parent company was Zomba and they were supposed to be that bigger independent label but they just had a lot of money. The difference between Jive and the record label that I'm on now is that it was bigger, it had more money, and it had a lot of hit artists on it. They had more pull, they had a larger reach, and I had a bigger budget. My last album "Chapter IV" was put out myself, coming out my own pocket and my bank account, and I had a distribution deal with Universal. The label that I'm on now is Shanachie and it's a very small label and that's real indie label that's been around since the 70's. They know full and well what they're doing, they're just really small. In my opinion, I like the smaller label because you get to have personal relationships with everybody. Their reach can be as large as they want it to be, they have a budget, they just don't give you a big, big budget. In this day and age you really don't need a big, big budget. You really didn't need it back then but that's what they did. So I like the smaller label because it's personal attention, it's more up close and personal and it's better and more focused attention on what you're doing. I have personal conversations with the president on a day to day basis, whereas on Jive Records, I barely ever spoke to Barry Weiss. I don't think that's appropriate; I think that if I'm on a record label and I'm the artist, if I'm in a contract we're partners. My part is to record and create the product and their part is to market the product. So if we're partners, we should be able to talk to each other on a day to day basis about what's going on with the project. So I just think that the big difference is the personal attention and the relationships are a lot better.
YKIGS: I really like what Shanachie is doing as a label. They've really put together a solid roster of r&b artists, they just released albums from Mint Condition and KeKe Wyatt, and they put out good music. So I feel it's a great home for an artist like yourself.
SJ: Me too!
YKIGS: You currently have out the single "A Boss". Give me some background on the song and how it came together.
SJ: Tony Neal, the head of the Core DJ's, was on the phone with me one night talking. I'm not a person that really likes to write with other artists or even sing songs that other people wrote, but he played that song for me that his cousin wrote and I couldn't deny it; it was an immediate hit for me. I was seven months pregnant and I drove to Milwaukee to cut the song and I cut it in a couple of hours and it was ready. We were excited about it after that.
YKIGS: Talk about what you were trying to portray with the video.
SJ: I just wanted it to be simple and less is more and more focused on the song. All of my videos in the past have had storyline with the exception of maybe the song with Busta Rhymes, but that was more of a club song. I wanted it to just be an all white and black, simple, focused. Chad Ochocinco is my boy, we're like family, he was in Atlanta and I asked him to be in the video and he was cool with it because he was already there filming for his appearance in a movie. So it was easy for him to just come right over and be in it.
YKIGS: You hail from Chicago and I know over the past few decades, many prominent r&b singers have come out of the city including Carl Thomas, R. Kelly, Dave Hollister to name a few. Talk about what the r&b scene is like in Chicago.
SJ: The Chicago music scene is not like the New York music scene or L.A. music scene or Detroit music scene. We all do know each other and we're all very connected with each other as we should be. But one thing that breaks my heart is I can't say that there are a lot of Chicago artists that are very supportive of each other, it's kinda like cliques and groups. Me personally, I'm very supportive of every single Chicago artist that there is. I don't have any beef or trouble with any of them and I would promote any of them at any given time. It's just not the same inside of our city. I don't know why it's like that and I think radio has something to do with that because they don't embrace us as they should. You know like how if you go to the south, all you hear is south music on the radio? Or you could go to New York and all you'll hear is New York artists. Chicago doesn't do that and I don't know why, but we don't.
YKIGS: You had a lot of success with your contributions to Kanye West's "All Falls Down" and the song received a lot of accolades. You've had such a solid career, but that song has seemed to stand out commercially above the rest. Do you feel that people overlook the rest of your work at times due to the success of that song?
SJ: I think so sometimes, but only for people who never knew about the other work. "All Falls Down" had a very large reach that my albums didn't get because of the record label that I was on. Then once I got that reach, the record label didn't capitalize on that which was their biggest mistake with me. I do feel like stuff got overlooked, but not purposely, I don't feel like people were walking around like "I'm not going to listen to nothing else she's on!" *Laughs* They probably never knew who I was or anything that I did until that song and then maybe that song made them go back and re-investigate.
YKIGS: This is now your fifth album and you've had the opportunity to remain in the music industry for well over a decade now. A lot of artists don't get the opportunity to nearly as many albums as you've had. What do you think has kept you in the industry for this long and has been your key to staying relevant all of these years?
SJ: My passion and drive for music; it's undying. I've tried, believe me I've tried to tell myself "This is wack, this industry is wack, everybody in the industry is terrible." You get to the point where you feel like you can't catch a break and you're tired of recording and tired of rejection and tired of all of the little things that go on in this industry. Because I love music and I'm blessed to be able to get up in the morning and sing for a living, that's a blessing, I don't have to go to a 9 to 5. I can spend a lot of time with my children and take them on the road if I want to, I don't punch a clock. To be able to survive and eat off of that has been a blessing beyond belief. Just knowing that and knowing how blessed I am, it makes me feel like "How can I have the audacity to be upset about my job at any time when there are people out here who can sing and have talent beyond belief that don't even have this opportunity?" So just my passion for music and knowing that to who much is owed, much is required, has kept me here. What hasn't killed me has made me even stronger.
YKIGS: Anything you'd like to add?
SJ: The album "Chapter 5: Underrated" comes out September 27th. Be looking out for the reality show called "Diary of a Diva" that will have me, KeKe Wyatt, Faith Evans, Nicci Gilbert, Monifah, Angie Stone, and Lelee Lyons. That's coming soon, we're going to start recording that in late September or October. Basically, just keep your eye out for the album because there's something really special I'm doing instead of an album release, it's something that everybody worldwide is going to be a part of. So just keep looking out for all of the Chapter 5 stuff.