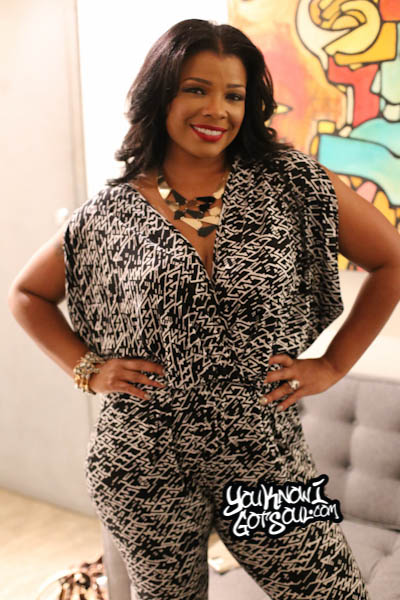 It seems that Syleena Johnson finally is getting the credit she deserves as an artist now that she's been in the spotlight with R&B Divas over the past few years. Her vocals have always been undeniable, but for whatever reason, she's remained a bit under the radar. Things are now quickly moving in the right direction for her with the show being just the promotional tool she needed. We had a chance to recently sit in on her "Chapter 6: Couples Therapy" listening event, and when we say this has the potential to be her strongest album, we're not exaggerating! During the event, we sat down with Syleena for an interview and discussed her creative process on "Couples Therapy", collaborating with R. Kelly once again on this album, preferring to be independent rather than signing with a major, and more.
YouKnowIGotSoul: Talk about what your new album "Chapters 6: Couple's Therapy" means to you.
Syleena Johnson: It's probably the most important album of my career. It's a staple for everything that women go through. I'm very attached to this record, but I do think I put my best foot for it and it's the best representation of who Syleena is right now and all I've gone through. I think my fans and new fans will get the true essence of Syleena Johnson.
YouKnowIGotSoul: You mentioned you didn't listen to the radio while preparing for this album. You just did what you felt was right?
Syleena Johnson: A lot of times, you try to be dependent because you want people to write the records, so you can stay current and try to stay competitive. You want to something that will work well with the radio, but I'm just tired of trying to figure it out. I just know I'm music and music comes out of me, so I just prayed on it and I just picked music that sounds good to me. I stayed in my lane and I want to make records that are true to my tone and true to who I am in my age group. I wanted to be true to my fans. If I can get new fans young or old, but I just want to be responsible for timeless music.
YouKnowIGotSoul: You running with the catchphrase "indie is the new major". What does that mean to you?
Syleena Johnson: We're doing it on our own. We don't need to be in slave contracts anymore where we only get $2 for something that's worth billions. It means instead of getting 18 cents per album, it means getting $5 because I'm putting more money and work, but it's more return. You're going to work hard anyway. That's just what it's been like for the last 3-4 albums. I feel like owning your masters is good because now your kids can eat off it. It's just important and it's a whole list, but if you buy my sister's book "Rhythm Without Blues: The Dichotomy of a Music Genre", you can get the skinny. You want to be an entrepreneur and you want to make something, then do it. There's nothing in the world that says you can't be that. You just have to get it.
YouKnowIGotSoul: You worked with R. Kelly on this project and you've worked with him in the past before. How was it like working with him again?
Syleena Johnson: He's getting on my nerves *Laughs* but I will always love R. Kelly. He's a super genius and I'm very blessed to be able to work on his project. I think that this chapter is going to be the chapter that's going to do what I was trying to do with the other chapters because I stayed true to myself and I didn't worry about what people were going to say. I made it for the music bloggers and the people who love Syleena Johnson. Working with Robert is always a treat because I always learn something new from him.
YouKnowIGotSoul: You've got the new single "Perfectly Worthless" which you just released on iTunes. You mentioned a couple of potential singles for the album. Talk about that.
Syleena Johnson: The official single is called "My Love" but "Perfectly Worthless" is the the teaser to that single. I'm shooting a video and it's dramatic. Inside the video, you will hear "My Love" on the radio. That will be the next video. All of our videos are going to be shot connected to each other and it was shot as a story. It's something I always wanted to do. Musiq and I wanted to do it for the last project, but we didn't have the time. The album will connect to everything.
YouKnowIGotSoul: Anything you'd like to add?
Syleena Johnson: Watch us on R&B Divas on TVOne and follow me on Twitter @Syleena_Johnson.