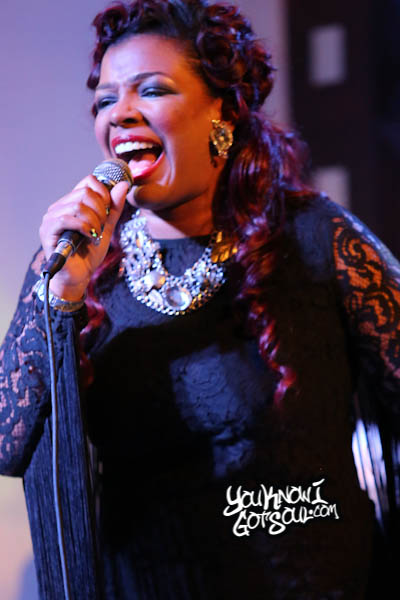 When the initial season of R&B Divas was announced, the goal was to create a platform to showcase r&b artists in a positive light while at the same time helping to elevate the genre. At the conclusion of the season, we can look back and say they definitely accomplished that goal, in addition to leaving us wanting more. When we sat down with Syleena Johnson for this recent interview, she hinted that a season 2 might be on the way, but also that she'd like to see a male version of the show done in the same fashion (a great idea!). Additionally, she touched on her recently released "Acoustic Soul Sessions" album and the importance to her to bring that type of real singing back to the fore front. Finally, Syleena told us about her new group LakeShore and what's it's been like developing and mentoring them and what it could mean for her career. Check out the full interview below!
YouKnowIGotSoul: You released your "Acoustic Soul Sessions" album last month. Tell us about that project.
Syleena Johnson: The "Acoustic Soul Sessions" is my first live album. It's featuring LakeShore which is my group that's coming out very soon. It's just an album of all of my singles plus some new songs. I'm just trying to really go back to the real music and bring it back to the fore front. The authenticity is there with just singing and music; no strings attached.
YouKnowIGotSoul: You're an amazing vocalist who's known for her voice. Do you feel like this project gives you a chance to showcase those vocals?
Syleena Johnson: Yea I do. I think that's why I wanted to do a live album. Music has become so watered down.
YouKnowIGotSoul: Of course you had the "Chapter V" album last year. How was that album received by your fans compared to your previous albums?
Syleena Johnson: It was an independent record, so it's not that it went under the radar, I think that my fans really appreciated it. "Chapter V" is the album that pretty much encompasses the essence of all that I can do. If you listen to the album, it doesn't give you the same thing song after song, you get variety. So that's kind of the point of it, to show the variety that I'm capable of. It's been received well, it's still selling as well as "Acoustic Soul Sessions". It did as good as an independent album should.
YouKnowIGotSoul: On the "Acoustic Soul Sessions" album you have a preview of the "Chapter VI" album. What's the progress on that?
Syleena Johnson: I'm officially three songs into "Chapter VI" not including "Cut my Hair" which is the song on "Acoustic Soul Sessions" that is a sneak peek into "Chapter VI". I also have a song called "Stonewall" which was featured on the "R&B Divas" compilation, that's a song I have showcased on there for the television show.
YouKnowIGotSoul: Speaking of "R&B Divas", you just wrapped up the first season. What was the whole experience like for you?
Syleena Johnson: It was interesting. It was hard, it was challenging, but it was a great learning process and it was an amazing opportunity to be exposed to the world. Also, it was done in a positive light. It was important for the r&b genre, I'm hoping that r&b will come back to the fore front. I just think it was necessary, and I'd like to see "R&B Devos", for the men, done in the same way! I think that would help us in music and getting exposure to it.
YouKnowIGotSoul: A lot of reality shows come across as negative, and I know you guys wanted to do something really positive with this show. Do you think that was the reaction from fans, it was very positive?
Syleena Johnson: I think it was because there wasn't any spitting or jumping across tables. I mean we still had issues and there was drama, we're girls, we're humans, but I just think that at this stage in your life, you should be able to deal with situations and drama in a fashion that's not so violent. You can talk stuff out and agree to disagree, keep it moving. So for this show, it kinda showed us being sisters, we were friends before the show and we're still friends after. That is the positive thing that we still love each other after. We understand that what people were seeing, they were getting mad about something we were mad about and got over. So, I think it was a great season.
YouKnowIGotSoul: Are you guys planning to do another season?
Syleena Johnson: I am not officially at liberty to say! *Laughs*
YouKnowIGotSoul: If it was your choice, would you want to do another season?
Syleena Johnson: If it was my choice, we would do another season. If it's up to me, we would do a season two, I would like to speak that thing into production. I think it would be great because I think the fans want a season two. So I think there's a good chance.
YouKnowIGotSoul: You introduced me to your group LakeShore tonight. Tell me how you discovered them and what you're looking to do with them.
Syleena Johnson: Lakeshore is a group from Chicago, it's three soloists. The chemistry of the group is so amazing. The harmonies are so amazing. I've been singing for 20 something years, and I've never had a set of background singers that sing the way they do. In an industry like it is now, there's power in numbers. So I told them "You guys can be a group, I can introduce you at every show because you're going to be there anyway, and that's how I can promote you." As a group, I tell them "You can guys can be amazing, and build the group up to a certain point where you can do it without me, with solo projects or the group, whatever you want to do, just kinda give yourselves some leverage." Here we are, and they just recorded a four to five song EP. I can't explain it, it's amazing. There's nothing out there like it, and I'm not just saying that because it's my group, I've literally never heard anything like it. I think that r&b and music lovers will be pleased with what they hear out of the LakeShore brand. I'm very proud of them, I feel lucky, and I'm excited for them. I'm excited for myself as well and what it can do for my career and the Syleena Johnson brand because it's about helping others in the industry. I didn't have that help when I was coming up.
YouKnowIGotSoul: Has it been a challenge for you, after five albums, to kinda step behind the scenes and develop and help mentor a group?
Syleena Johnson: Yes! *Laughs* Because they get on my nerves! It's tough, only because they're soloists first, so I'm just trying to get them out of the soloist mentality which is a work in progress to bind them together. It's tough because they've been through a lot already on their journeys so it's hard to get them to focus because they're trying to survive and sing for a living. I just think that anything is possible and I think that if everybody has the same mindset and intensity and intentions, I think that we'll all be successful. We just have to come together and fight together! *Laughs* So we'll see!
YouKnowIGotSoul: Anything you'd like to add?
Syleena Johnson: Go get the "Acoustic Soul Sessions". Also get the "R&B Divas" compilation CD, that's an amazing CD. Look out for LakeShore. Look out for "Mommy Got Soul" which is my workout DVD series. I just completed an album called "The Rebirth of Soul" which is a remake of all of the old school hits, it's going to come out at the top of the year. Follow me on Twitter @Syleena_Johnson and LakeShore at @FollowLakeShore.