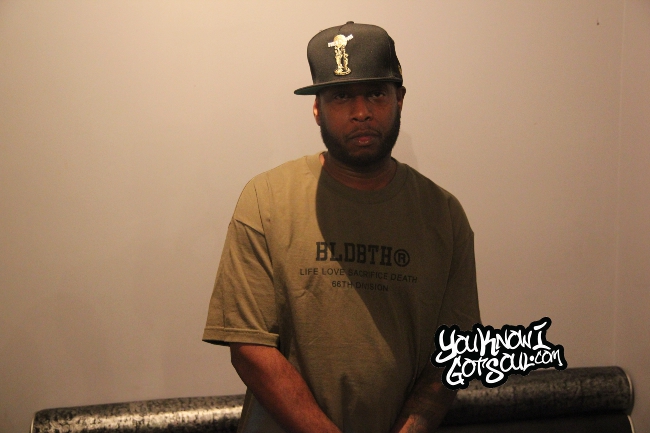 Aside from being one of the most lyrically gifted artists of all time, Talib Kweli is also regarded as one of the most respected voices in the Hip Hop community for his view on social issues. Put those two qualities together and you end up with a single like "Get By" which is still relevant in today. YouKnowIGotSoul had a chance to talk to Talib Kweli about the problems going on with Pop radio and how it is affecting R&B artists. We also gave him a list of some of the R&B collaborations he's done throughout the years to see what he remembered about those songs.
YouKnowIGotSoul: You just announced that you're putting out a free album in two weeks. Talk about that.
Talib Kweli: It's called "Fuck the Money". It's going to be free and I'm excited about it. It has a lot of interesting and wonderful things going on.
YouKnowIGotSoul: Your music always has substance with a lot of meaningful lyrics. What's the importance of keeping the music meaningful
Talib Kweli: I think music that anybody makes is meaningful to them personally. I just talk about what I'm thinking about.
YouKnowIGotSoul: What's the significance of the song "Get By"? It's a song that continues to touch people to this day.
Talib Kweli: "Get By" is a song that people come out to see me perform. It's produced by one of the greatest producers to ever do it in Kanye West. It's the foundation of my career and it's a beautiful thing.
YouKnowIGotSoul: On stage you mentioned that without Reggae music, there would be no Hip Hop. I would say that without R&B music, there would be no Hip Hop either. Talk about your contributions im R&B a little bit.
Talib Kweli: Shit! I was on a Lucy Pearl remix to "Don't Mess with My Man". That's my contribution to R&B! Me and Chico DeBarge got a record together as well.
YouKnowIGotSoul: Of course you're part of the whole Soulquarians crew. Talk about the impact of that camp.
Talib Kweli: It wasn't anything that was official. I think we did a photoshoot for Vibe once, but it was just like-minded artists who were making music together and working in the same spaces.
YouKnowIGotSoul: Tyrese went on a rant about Pop radio and how white artists are being played on both Urban and Pop radio where as black artists aren't getting that same love. Is that the right approach for an artist to be taking to get their music played on certain formats?
Talib Kweli: I love Tyrese as an artist. He's such a consummate artist and he's so brilliant at everything he does. He's been in a lot of different worlds. He's had success in the R&B world and he's had successful radio records. He understands the game. Tyrese knows what he's talking about and what he's saying is pretty much on point. He's loud about it, but what you also have to understand is that Tyrese has the number one record in the country. I think that's part of his complaint. It's like "I'm clearly in demand, but there must be some other system that's stopping me from being played in these spaces". I think it's the same point Nicki was making when she was talking about "Anaconda". It's a valid point,
YouKnowIGotSoul: The counter argument is that if an artist really wanted to get their music played on Pop radio, they could just pay for spins like all the major labels do. Do you think that's the right approach?
Talib Kweli: I don't personally know what Tyrese's investing in his marketing and promotion for his radio singles. But yeah, I think it's accurate of you to notice that radio singles on Pop and Top 40 whether it's Hip Hop or Pop music is paid for spins.
YouKnowIGotSoul: Talk about what you remember about these collaborations. The first one is "I Try" with Mary J. Blige.
Talib Kweli: I remember Mary J. Blige had to go somewhere and she came in the studio. She was like "I have to be there in three hours, so I have three hours to knock out these vocals". She killed it!
YouKnowIGotSoul: What about the remix of Tamia's "Officially Missing You"?
Talib Kweli: I was inspired on that verse by the bucket drumming. It was a nice touch and it gave me something extra to work with.
YouKnowIGotSoul: "Country Cousins" with Raheem DeVaughn.
Talib Kweli: That's a good one. I'm proud of that record. We have a few records together with UGK. I have a new record with Raheem coming out very soon with Scarface.
YouKnowIGotSoul: The remix of "Hot Thing" with Ne-Yo.
Talib Kweli: Warner Brothers dropped the ball. They didn't believe in anything I was doing. I went out and made that record happen. Jean Grae sounds good on it and Ne-Yo sounds good on it. They never put it out though.
YouKnowIGotSoul: What about the Justin Timberlake record "The Nature"?
Talib Kweli: I want to Africa with Cameron Diaz, Jimmy Fallon and Justin Timberlake. We were in the segregated plains and we talked a lot about music. We talked about doing that record and we cut it a year later. I think that was a record on his "Futuresex/Lovesounds" album but it didn't quite fit the vibe of that record. He gave me that song. It was something he already worked on and it ended up on my album.
YouKnowIGotSoul: Talk about your collaboration project with Res.
Talib Kweli: Idle Warship is a special thing to me. It's one of the most freeing experiences I've had artistically.
YouKnowIGotSoul: Anything you'd like to add?
Talib Kweli: We have the Indie 500 album with 9th Wonder. Me and Madlib got a record out. And "Fuck the Money" is coming out.