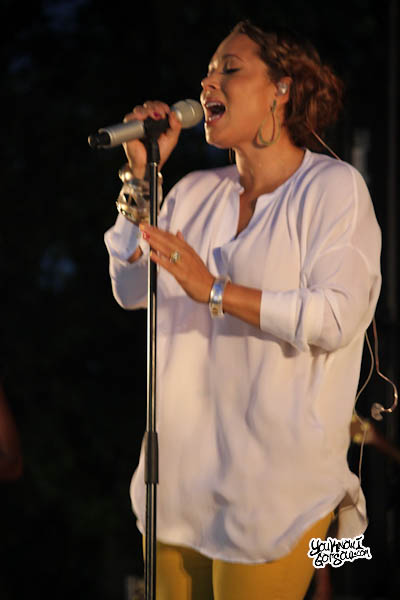 As more and more artists continue to go the independent route in r&b, the more we'll see artists take their careers into their own hands and create music on their own terms without label interference. Tamia had her first experience into the independent realm with her 2006 album "Between Friends"; a project that also turned out to be one of her best to date. Even though staying true to herself, refusing to follow trends and catering to her fan base has kept her a bit underrated at times, it's also been the key to her longevity in this music business. The fact is, as long as we have artists like Tamia around who contribute in a positive way to the essence of r&b, the genre will remain alive and well despite its lack of support in the mainstream. Now as Tamia prepares to release her fifth album "Beautiful Surprise", we should expect nothing less than more timeless music. YouKnowIGotSoul caught up with Tamia for this interview and discussed what we can expect on the new album, the challenges of running her own independent label, releasing music on her own terms, the support she receives from her native Canada, and much more.
YouKnowIGotSoul: You've got the new album "Beautiful Surprise" coming out soon. Talk about what we can expect to find on there.
Tamia: Well I didn't want to rewrite the script or anything. This will be my 2nd independent record; the first one was "Between Friends". This new album "Beautiful Surprise" will be out at the end of July or early August. I'm really excited about it. The first single "Beautiful Surprise" was written by myself and Claude Kelly and produced by Salaam Remi. The album I think is definitely a summer record.
YouKnowIGotSoul: You mentioned the album would compare favorably to your previous work. Is that what you were going for here?
Tamia: The last album "Between Friends" was my first CD that I did on my own label and really sort of took charge. I got a chance to work with great people and the same with this one as well. I got a chance to work with great producers like Carvin & Ivan, The Runners, Chuck Harmony, and I did a lot of writing. I wrote a lot on "Between Friends" and I certainly wrote a lot on this so there certainly is a strong correlation between the two.
YouKnowIGotSoul: Someone I didn't hear you mention was Shep Crawford who I know you've collaborated with a lot in the past. Is he on this album as well?
Tamia: Yes he is. He is on this album as well, we did two songs together.
YouKnowIGotSoul: You've had some great collaborations and duets over the years. Will we hear any on this album?
Tamia: Not on this one unless I do something for a movie or something like that. This one is all me.
YouKnowIGotSoul: Your last album "Between Friends" was in 2006. How did you know this was the right time to come back out with a project?
Tamia: I never really plan them at all. I never planned "Between Friends" and I didn't really plan this. It really sort of all falls into place. I think music is definitely a lot of times where you are in your life at that time. I guess I was in a good space and writing and getting in the studio. It doesn't take me long to do an album, maybe a month and a half, something like that. It's just all of the other things like the artwork and videos and all of those things that take a long time.
YouKnowIGotSoul: Do you feel like since you've been so successful in music in the past and you have a family and your husband is very successful as well, do you feel that allows you to release music on your terms and when you feel the time is right?
Tamia: I definitely think that I'm blessed to be in a situation where I could surround myself with people who work with me on these project and things like that. I feel like I have a lot more control working as an independent artist. There is also give and take. You can't just be the artist anymore. There are things that I have to worry about like budgets and who's getting paid what and why we are spending this and not that, things like that. Sometimes I think it curbs the creativity from an artist standpoint, but that's sort of the give and take that you have when you own a company.
YouKnowIGotSoul: Would you say that's the biggest challenge of being an independent artist or is there something that's tougher?
Tamia: I think the biggest challenge would be the money upfront. I think you need to have the initial money up front. One of the biggest challenges is playing both sides. You have to say "I'm the artist now, so this is what I want to do" and then putting on the other role and saying "Ok, now I've the CEO and I'm in control of where the money goes". When you are an artist on a major label, you have no control of that, yet you owe everybody money! *Laughs* You have no control over where you spend it, so I think that's a huge difference.
YouKnowIGotSoul: You've always been regarded as one of the best voices in r&b and one of the best singers, yet you seem to be very underrated at times as an artist. How do you react to that?
Tamia: I think I'm right where I'm supposed to be. I think that I'm very fortunate. It's not how quickly you build the house, but how long it stands. I think that I've been very fortunate to be in this business something like 15 years now. To have support from people like you and people who have supported me throughout this ride in the music business even when things have changed. I feel very fortunate. I may not be where some people think I should be or whatever, but I do believe I'm right where I'm supposed to e at this time. But I'm still reaching to do more and do better all of the time.
YouKnowIGotSoul: Music fans are definitely fortunate to still have you here, we definitely appreciate you.
Tamia: Thank you so much.
YouKnowIGotSoul: Another artist we've had a chance to speak with is Melanie Fiona who is also a native of Canada. She mentioned to us that she didn't always feel that she got the support she deserves and needs from Canada. How has the support been for you from Canada since you've come out?
Tamia: Maybe a little bit the same way to a certain extent. Especially nowadays with Twitter and social media, I definitely feel more of the love because they can reach you. I can't wait to go to Canada and perform and really sort of reach out. It would be nice to be more involved in the Canadian music scene for sure.
YouKnowIGotSoul: You were going to have a live album come out a few years ago but it never got released. Do you still have plans for that?
Tamia: Well I still have it! *Laughs* We have a live album and live DVD. I'm just sort of waiting to see what I want to do with it. It's there, maybe I'll release some as singles, I don't know, we'll see what happens with that. You never know.
YouKnowIGotSoul: In terms of The Queen Project, I know it didn't end up working out because your guy's schedules didn't align. Is that something you'd ever revisit in the future?
Tamia: I don't ever think you say what's done is done for sure. It was really scheduling conflicts and things like that at times. Time flies, it's been like a year and a half or two years almost since we were thinking about doing something like that. We'll see, but I guess never say never.
YouKnowIGotSoul: As a veteran who's been in this industry since the late 90's, rnb has evolved so much, do you ever feel pressured to keep up with the latest trends or do anything differently to continue staying successful? Or have you felt you could just be yourself.
Tamia: Definitely just be myself. I don't really feel that, especially as an independent artist. Maybe when I was on the label for sure, you kinda felt more pressured to be whatever the label thought was going to sell. I don't think any artist tries not to sell. I definitely think it's all about sort of being yourself and that's what will keep you in the business in the long run.
YouKnowIGotSoul: Anything you'd like to add?
Tamia: Just that "Beautiful Surprise" will be out at the end of July or early August and I'm really excited about it.