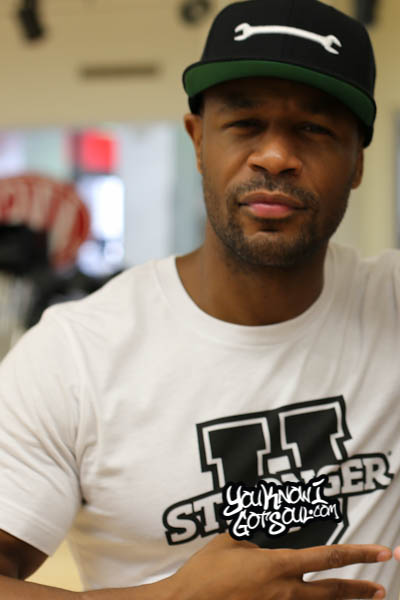 Anyone who has heard Tank's new album "Stronger" can distinctly hear the more uptempo and happy tone of the album; a stark contrast to much of his previous catalog which spoke of pain. The evolution of his sound is all about creating a lifestyle change and he hopes to encourage others to be the best possible them. We caught up with Tank at his recent press fitness class in NYC and discussed the new album, his fitness movement, convincing fans he can make good music while happy, and Justin Timberlake's reaction to the album.
YouKnowIGotSoul: The new album "Stronger" is out now. It's not just about the music, it's a whole movement. Talk about that.
Tank: The album "Stronger" is in stores now. It's not just about the album, it's about the entire "Stronger U" movement. It's a full fledged fitness company. I really wanted to find an avenue to give back to all those people who ask me what I do to stay active. I wanted to inform those people and help them. I started a 30 day challenge which everyone has followed along and it's really great, and right now we're just going to take it to the next level. We have expert training sessions we're getting ready to start, we have apparel, we're going to launch supplements, a lot of cool things. You can keep up with all of those things by following me @TheRealTank on Instagram and Twitter.
YouKnowIGotSoul: This album "Stronger" really shows growth in your music with a lot more uptempos and all live instrumentation. Talk about the growth you experienced creatively.
Tank: As an artist you grow into your comfort zone and find the things that work and get rid of the things that don't. For the most part we've concentrated on one thing and now it's time to expand and show the change and show everybody else that Tank is capable of a lot of different things and do them well. Like on the first single "You're My Star", you've got some tempo, some good love music, some Michael Jackson "Heartbreak Hotel" sample. People want to hear good love r&b uptempos because you want to see people with nice clothes on doing nice moves. We're giving it to them and they're responding.
YouKnowIGotSoul: A lot of your fans like the sad Tank, the Tank who was in pain. How do you convince them to come with you on this next phase of your career?
Tank: Well if they want to be sad all of your life, I can't help them with that! *Laughs* If you are a person that desires to evolve and get better and to live your life to the fullest, this project is for you. If you keep doing the same thing, you're going to get the same results. We're trying to get new results and push past new thresholds and get stronger and get better as individuals. In order to do that you've got to evolve, expand, and sometimes get uncomfortable. That's what we're doing, just making the push to be better, and hopefully everybody is on board.
YouKnowIGotSoul: You've mentioned that Justin Timberlake inspired this album and you talked to him when creating it. What was his reaction to hearing the songs?
Tank: He loved the music. When I played it for him, the exact words were "That's it Tank, that's it!" It wasn't so much what he said, but it was more of just seeing him perform good music on stage in front of 30,000-40,000 people every night and the response to it. People come out to have a good time and everybody is feeling happy and loving to hear this good music. They sing along and dance along. That just confirmed that people want to hear this type of music and feel it.
YouKnowIGotSoul: Anything you want to add?
Tank: "Stronger" is in stores, get that now!