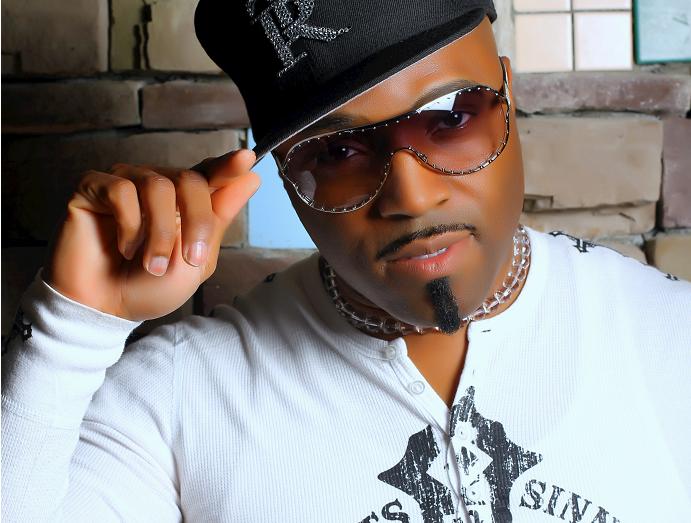 Over the course of the past 25 years, arguably nobody has done more to influence the sound and direction of r&b than Teddy Riley. Famous for pioneering the New Jack Swing sound of the late 80's and early 90's, he went on to have tons of success with his groups Guy and Blackstreet. The success wasn't limited to just singing, as he landed over 700 production placements over the years with every big name you can think of. Not only has he influenced many artists in the new generation, but also many producers, including superstar production duo The Neptunes who he discovered and groomed. It was an honor for us to finally catch up with this living legend, a man whose life work stacks up like a history book of r&b of the past two and a half decades. We were happy with how gracious and forthcoming he was in answering our questions, giving us some great history and classic stories. Listen to Teddy speak about astonishing Michael Jackson with his way of creating chords, creating the New Jack Swing sound originally, being a producer as opposed to a beat maker, artists he hopes to work with in the future, and much more.
YouKnowIGotSoul: A lot of people don't know that you along with Guy set off the whole Uptown Records movement that spawned Jodeci and Mary J Blige. Can you talk about those days in the beginning?
It was so great to be creative and have fun with it. We did what we loved to do and we didn't have to worry about piracy. Those days were the fun days where you had tons of male groups, tons of female groups and tons of solo artists male and female. Everybody got to go platinum and do great. There was no threshold and it was all about sharing great music. Those were the great ol' days.
YouKnowIGotSoul: As a producer you were a pioneer in bringing the street sound to the radio and infusing hip hop and R&B. Can you discuss how that came about?
It came to me because I grew up on R&B and Pop music. I also grew up on Rap when it wasn't Pop music. It was Rap in the projects and the backyard where people started doing it by spitting lyrics first. I just wanted to marry all of those things together. I wanted Rap, R&B, Pop and Classical genres and fuse it all together all in one bag.
YouKnowIGotSoul: When you look back at that New Jack Swing era, do you see how much you impacted music with that?
When I look back on it, I feel like I'm a part of what is going on today in R&B because there is still R&B in Hip Hop. I feel like I'm still a part of the creation of it. People don't know today that they're doing New Jack Swing which is fusing and mixing R&B singing with rapping. No matter how you do it or whatever way you do it, it is New Jack Swing.
YouKnowIGotSoul: One of the most notable things about your records is the songwriting. A lot of your songs are classics that get replayed by so many people. How important is the writing to you vs the production?
I'm more the creator of the hook, that's the part that hooks people into the actual creation. It starts from that hook and then that's what makes the great writers out there like Tammy Lucas and Diane Warren. That's what makes them the greatest because if you have that producer that arranges, great music with a great hook will allow you to write the greatest words to evolve around that actual composition.
YouKnowIGotSoul: Many of the newer producers cite you as one of their greatest influences. How does that make you feel?
It makes me feel like our greatest legends out there like Quincy Jones and Herbie Hancock, those people are imprints on my influences. All I'm doing is passing what was given to me. All the influences that were given to me, I'm influencing others and I didn't make it so hard for them to become producers and creators. Quincy didn't make it hard for me, he was the one who introduced me to Michael Jackson. He was like "I'm not going to do the next record, you need to call this guy here." That's what Quincy said, so I give him all the credit. If it wasn't for him, I wouldn't be doing what I'm doing and what I've done.
YouKnowIGotSoul: One of those production groups that you influenced was The Neptunes. How did you discover them?
It came about when I moved to Virginia. It was not a music scene or a music influence there. When I went there, I just helped open a whole music scene there. I did talent shows at the High School Pharrell went to. I gave an annual talent show and my first talent show, these guys performed. Pharrell, Chad Hugo and Mike Etheridge performed and they didn't really have a concept. They were just doing it from the top of their head. Pharrell was rapping from the top of his head and he was just doing what he would do at the school hallway. Everybody loved Pharrell, they would be in the hallways listening to him do his thing and spit something. They would go to the music class and watch him play drums. They would check out Chad playing the saxophone. Chad was also a DJ and he just picked it all up. The chords that he plays are so different, just like the chords that I play. A lot of my church musicians and all of the musicians that I know, their chords are different from mine. I never picked that up until recently, a producer came up to me and was like "I'm one of the producers that's under your camp" and he was like "I'll do anything to learn your chords." I was like "I'll teach you my chords if you teach me your chords." It was like "So when you play a chord, I'll play a relative." I hear chords different than a lot of real keyboard players. I'm a straight producer that knows what I want to hear and play what I want to hear. It's the same thing with Michael Jackson. When I was letting him hear all the music demos for the actual "Dangerous" album, he pulled me in the back after the 5th song "Remember The Time", I thought he was going to fire me. I thought I was off the project because he heard something he didn't like. He pulled me in the back and didn't smile. He was just like "Can you come to my room" and I was like "Yeah." I went to his room and he sat me down at the piano and was like "Can you play those chords from that track?" and I played those chords. He was like "Your chords are different, what is that chord called?" I was like "I don't know" and he was like "You don't read music? All of this is by ear? I've never heard that chord before!" I was like "Yes you have, it's just different from the way your keyboard player would play it." I play mine like way different from theirs. It's almost like they didn't understand my chords and when they play a chord it's like "I know what chord that is, I just play it different." I'm working with The Underdogs now and we're slowly putting hits together doing some stuff and they called me for a track with Jennifer Hudson. I was just so delighted to just work with them and be able to be a part. I love being a part of a team. That's why you never saw me go out there and go solo, I like to be a part of a team. I'm a team player. When you hear the new stuff, I have a new group. I'm just the man with different groups. I have a new group coming and I haven't named the group yet. I'm leaving it to my friends and fam, everybody says fan so I'll say fam, to help me name this group. It's not really about the name, it's about the music. They'll give the music, I want you to give us the name.
YouKnowIGotSoul: Since technology has made so many leaps in terms of recording and producing music, how has it affected you?
It's never affected me because I've been using the computer since 1988. My first computer was an Otari which isn't even out today. *Laughs* I used Emagic, which is Logic today, and I was one of the first African American producers with Emagic. I actually had about six Otari computers because they would break down. We would use the floppy disks and that's where all my music were at. I still have the floppies actually just to keep them. I'm about to frame them. I already have the names on there like Michael Jackson and Guy. I did all of that stuff on Emagic. It didn't affect me, I'm still old-school and new-school. I still have my patch phase, I call them the spaghetti to patch my actual devices along with my computer.
YouKnowIGotSoul: You had success with groups like Guy and Blackstreet. We've noticed in recent years, male groups aren't having success like in the past. Why do you feel that's the case?
That's the case because of piracy. There's a lot of good groups like you had B2K, they were a good combination and reminded me of the Jacksons. You had B5 and Pretty Ricky. The groups of today like Mindless Behavior, they're having a good run out there. I can't say so much as far as selling records, but now it's really about sponsorship endorsements and building your catalog. If you can keep building the catalog, like my catalog is 700 records plus, I'm just still building it because it's going to come back around.
YouKnowIGotSoul: What is the major difference between being a producer and being a beat maker?
The difference is that a beat maker or beat master is one that comes up with the great beats and rhythmic elements on top of samples or different things like that. They kind of create around the beat. They make the beat and that's pretty much what they do. They master making the beats. I have a few of my camps and to make it clear, they are important. Now, a producer doesn't necessarily have to make the beat. Their thing is producing, arranging and creating synergy, chemistry, knowledge and the combination of the beat, the hook, the lyrics and basically the reason for the actual record and composition. That is what the producer kind of creates. Now you have producers that are just producers that don't create and they bring in the musicians and pretty much tell them what to play and how to play it. They understand the notes and basically the theory of that composition. Look at someone like Puffy, he understands how he wants that beat to sound. Another type of producer is Quincy Jones as he plays, arranges and he actually produces. He brings in the chemistry and musicians but he can play as well. That's what I do, I produce, arrange, chemistry and bring in everybody and put it all together. My sergeant father composes the strings, his name is Benjamin Wright who is one of our famous African American composers. He created all the compositions for Michael Jackson's "Off The Wall" album except "She's Out Of My Life". He also did stuff for Earth, Wind & Fire, Marvin Gaye, The Temptations all the way to Whitney Houston and everybody. He's 70 going on 25 because he's still relevant today working with Justin Timberlake. He did the whole composition and string arrangements for Justin Timberlake. That's the difference between a producer and a beat master. You can call it pro-ducer or producer versus a beat master.
YouKnowIGotSoul: In R&B now, the emphasis isn't on the vocals anymore. A lot of songs are now very beat-driven. Is there still a place for the true vocalists? They've got pushed away in recent years.
There is a place for the true vocalists. Rhythmic AC and Urban AC is the new Pop. That's why a lot of people are saying R&B is kind of taken a backstep, but if you listen to Urban AC, it's all R&B and they're playing the old stuff more than the new stuff because those people understand the music. They understand real creation and chords. It's like I'm hearing something that's touching my heart and it's not the words, it's the actual chords or melodic things that's going on around the music. The music today, a lot of the great singers are settling and they're settling because back in the day, people couldn't get a deal unless they did great music like the Motown groups back then. Now switch to the next generation with New Jack Swing, a lot of people couldn't get a deal unless they did New Jack Swing. That is why Jimmy Jam & Terry Lewis switched over to New Jack Swing and did "Rhythm Nation". That is why Babyface switched over and did the "Soon As I get Home" song. Then everybody was switching over because you couldn't get a deal unless you did that stuff. Now this generation, unless you do southern oriented music, you can't get a deal unless you find non-educated words to sing about. Now the radio is starting to play records that have curse words in it. It wasn't like that before. Back then, we had to be educated and savvy in writing real songs and great songs, that's what it was about. You still have your great rappers out there like Jay-Z, Common, Wale and people who are actually saying things and not always about what they have. We need to stick to women because that's who is going to buy my records. Wale started doing that and Jay-Z is still speaking to the women. He's also speaking to the kids and it's substance. Eminem is trying to change his life around and Kanye West is saying things that are meaningful to our culture. They're also starting to put real music behind their raps since a lot singers aren't putting it in their music. I'm hearing rap songs with real strings and music and bands. Now rappers are starting to go on tour with real bands because with a DJ, there is no synergy or action. Now, rappers are starting to have bands and they're banging out. Those are the ones I'm applauding because bands are coming back and real music is going to come back because those band members are from the church and they're going to start sticking those chords in those rap beats and then watch out.
YouKnowIGotSoul: You have 700 plus credits to your name. You've worked with so many names throughout the years. Are there any artists you still want to work with?
I never had a chance to work with Mary J. Blige. I've remixed her records, but I've never been in the room with her. I've never worked with Beyonce or Fantasia. I never got a chance to work with Seal or Lenny Kravitz. I never got a chance to work with Celine Dion or Jennifer Hudson. Now I worked on her song, but I never worked in a room with her. I just think that when I get in a room with a real singer, all heck is going to break loose. The only way real music is going to come back is if you do it yourself and just put it out there. I'm so happy to see The Bar-Kays come back out with a record and it's so crazy that it's doing well on the charts. They're top 20, so I'm looking forward to bringing out this good music and hopefully I'll be working with more people. People kind of forget if you're out of sight and I've been locked in here in Atlanta, so I'm not really out in California on the scene and being seen in the clubs or with that artist. I'm not that guy anymore, I'm a family guy. I'm at home and if I get a call like I got a call from my boys The Underdogs (Harvey Mason Jr and Damon Thomas) and I got a call from Tyrese and happened to get on that new TGT record "Sex Ain't Never Felt Better". I'm just delighted to have that sound out there and people recognize it. People are like "Is that Teddy?". They didn't even mention me in the song, but people know. It's like when I did "The Show", I was never mentioned until Doug E. Fresh mentioned that I worked on the song with them. Hopefully Tyrese and the guys will mention that I worked on the song with them and I did the vocoder part on there. That would be fine, but if not that's cool too. It'll get around. It was like when I was young, people didn't know I did the Keith Sweat album until later my name appeared on the records. A lot of people didn't know I did a lot of records back in the day like "Wild Wild West" and many other songs until later when I made it important that producers are visually seen.
YouKnowIGotSoul: I believe Blackstreet will be at The Essence Music Festival as well as TGT. It would be cool if TGT acknowledged you at the festival.
I would love to. I haven't heard from the guys, so if they don't call me then I'm going back home. *Laughs*
YouKnowIGotSoul: You had success a few years back bringing Korean Pop music over here to the US market. What is the difference in the markets overseas and how they appreciate the music compared to here in the US.
They appreciate the music because they never really had it, so just to get producers from over here to go over there and produce K-Pop music and bring our sound and synergy over there, it's almost like a brand new funk. They're embracing it. They love the club music. PSY's music and the girl group Girls' Generation are huge. They're bigger than American artists. They're selling their music and they have great huge views like over 50 million views on YouTube. That tells you right there that they really appreciate their music and culture. Whoever can contribute to it, they're going to appreciate it because they're dedicated fans and very loyal over there. They love you.
YouKnowIGotSoul: You've been doing touring with Blackstreet this year. Talk about the touring a little bite.
Teddy Riley: Touring is my love, I love to get out. Especially with the new guys who are the new generation of Blackstreet, Blackstreet 2, which we're not going to call it that name. We're going to have a new name and we're going to let my fam call it whatever they like and if we get a name that is being said multiple times, that's the name we're going to go with.
YouKnowIGotSoul: Anything you'd like to add?
Teddy Riley: I just want to thank everyone for still believing in the music and still following my music. I appreciate it and I'll always do what I can to keep the music flowing and going as long as I am able.