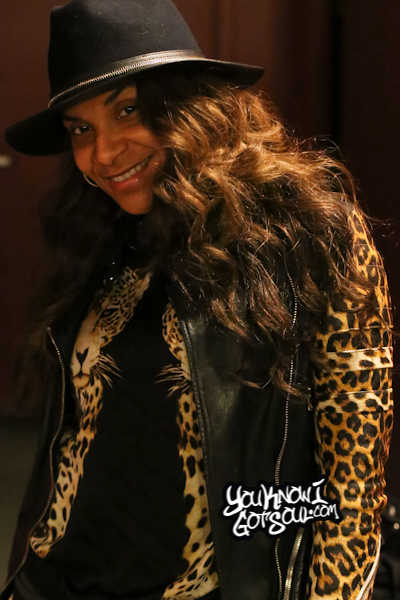 Teedra Moses has been a master of using mixtapes and EP's to sustain her career over the past decade since the release of her debut album "Complex Simplicity". So even though she hasn't given us an official sophomore album, the quality of the music on these side projects has been way more than you'd expect on a typical mixtape. Especially exciting is the news that broke during this interview that she had signed a new deal and her album is due out early this year. We've heard rumors of her album coming many times over the years, but now with the backing of Shanachie Entertainment (look up their track successful record), it should happen very soon. YouKnowIGotSoul sat down with Teedra prior to a recent performance in NYC and discussed the new "Cognac & Conversations" album, how she ended up signing the deal, sustaining her career over the years, and much more.
YouKnowIGotSoul: Talk about the new EP "California Vibes" and how it came together for you.
Teedra Moses: Most music that comes randomly like that from me is out of frustration. When I look for help from people, I tend to wait a lot. This time, I was like "I don't want to wait anymore. I have a million songs here!" I was in LA a lot working and doing music. I was like "Yeah, this is the vibe right now!" I was in the studio with a friend until 6 in the morning and we just talked. He was like "Just put your music out and stop waiting". I decided that night three months ago that I would do it for my birthday. I think it ended up being a gift that I could give to myself.
YouKnowIGotSoul: Your mixtape and EP work usually have songs that are album worthy. Do you feel the same about your music?
Teedra Moses: What is an album now? What is it? I love the art of an album and the body of work, but just because it's not put out commercially doesn't mean it's not an album. It's an EP which means it's a small amount of music, but I thought well about the concept and which songs I would use. I don't think it is any less professional because it's not an album.
YouKnowIGotSoul: You were one of the firsts to do the mixtapes and EPs. How do you feel like they've been able to help you?
Teedra Moses: They definitely sustained me. I think people will love me for one album and I'm grateful that people love me for "Complex Simplicity", but at the same time, I don't think I would be able to win over the fans like I have for the past ten years or would I sustain the fans of "Complex Simplicity" if I didn't continue to give them music and remind them that it's not something that I did once, I can do this every day if I want to.
YouKnowIGotSoul: You are working your new album "Cognac & Conversations", so what can you tell us about it?
Teedra Moses: It's a conversation. I want to make it clear that as an artist and human being, we just want to be understood. What I'm trying to do is make sure people understand who the music is coming from on "Cognac & Conversations". I want to make sure that who I am as a woman and an artist and where I've grown from "Complex Simplicity", all of these things are conveyed well. It's a conversation and musically, it's my vibe. It's heartfelt and sometimes aloof and free. It's sometimes smoky and airy. It's my same vibe and I can tour with it. Until it actually drops, I won't know nor will you know what those songs will be.
YouKnowIGotSoul: You know your fans have been waiting for an album for so long. What kind of pressure do you have knowing your last album "Complex Simplicity" came out a decade ago?
Teedra Moses: I don't allow the pressure from outside of myself when it comes to music and art. When I break it down, as much as I want people to love it, I'm really doing it to relieve my soul. If I start bringing in outside entities, I don't think it could be honest.
YouKnowIGotSoul: What are you looking at for a release date?
Teedra Moses: I signed with Shanachie Records. I'm supposed to be turning in the album in a couple of weeks. We want to set up everything properly. So I'm not totally sure about the dates, but we're thinking March/April.
YouKnowIGotSoul: What made you feel like Shanachie records was the right place for you?
Teedra Moses: Avery Sunshine. I don't even know her but she's doing a great job. I look at her hustle and I hustle like that but I just don't have anybody pushing. I just feel like having a team as far as a label is going to help a lot. I look at her and her hustle and her grind and I match my hustle and grind to hers. I think with a team I could get the same results that she got. I told the label head that Avery Sunshine is the reason I'm here. I watched and saw what she did before she went there and what she's doing now that she's there and I like that.
YouKnowIGotSoul: What do you feel is the legacy of your debut album "Complex Simplicity"?
Teedra Moses: Honesty. I think that is the most honest music I've ever written. I don't think I'll ever make anything as honest as that because the innocence of not knowing what you're doing, I can never get that back. I didn't care about being famous. I just wanted to make music. I don't think I ever cared about people liking it. I just knew I had it in me and I think it was honest. I think it was really honest.