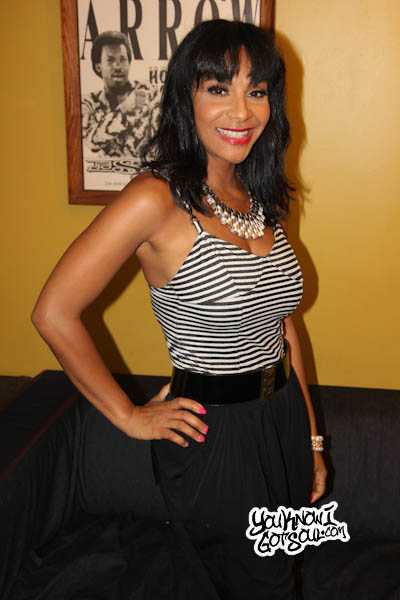 Teedra Moses is certainly an enigma in r&b. Even though she's only had one album, her debut "Complex Simplicity" which released nearly a decade ago, she's been able to tour successfully for years while gaining new fans along the way. On the flip side of things, her mixtapes have been enough to hold those fans over for awhile, but many have been craving her sophomore album that's never come. With the announcement of her upcoming album "The Empress Pride Collection", things might be about to change. See Teedra has reached a point in her life when she has more clarity than ever, and from the sounds of it, she's got some serious backers ready to roll with that vision. She's never disappointed on us with any release to date, so we should expect nothing less than greatness with this new project. YouKnowIGotSoul sat down with her prior to a recent performance in NYC and discussed what to expect on this new album, pressures to follow up her classic debut, how the business side of things have held her back, what to expect to come from the rumored "Young Lioness Project", and much more.
YouKnowIGotSoul: "The Empress Pride Collection" is coming next month. Tell us about this project.
Teedra Moses: This project is a collection of songs from a period of time in my life where I'm really clear on who I am as an artist. The sad thing about it is I'm second guessing putting it out next month only because I have interest in people backing me right now. I kinda wanna hold off and I'm waiting so I can get a little more exposure for it. The backing would bring me exposure. It's so important that your project gets heard. I might have to hold off from the June 25th release date, and you're the first person I've told this! That was the date I had set and had everything ready to go, but I think I might work "Can't Be Luv" a little bit more because I think it's a good song and needs to be heard more.
YouKnowIGotSoul: Would this be considered your next album or is this something you'd call another mixtape?
Teedra Moses: Yea, it's going to be an album. It's all original songs.
YouKnowIGotSoul: Sonically, what's the direction of this album compared to your previous work?
Teedra Moses: As you hear with "Can't Be Luv" it's a little bit rock-pop there, but I'm also doing kinda hip-hop/soul, because that's my era of music. I'm doing a lot of pianos and banging drums and layered harmonies; just staying in a soulful direction.
YouKnowIGotSoul: Since it's been nearly 10 years since "Complex Simplicity", which is a classic album and one that's got you a huge following, do you feel like there's pressure to follow that album up with another classic?
Teedra Moses: No, I can only make the music that comes from my heart and that God plays on my spirit. I can't really get caught up in the pressure of anything. I just hope that somebody can relate to these crazy thoughts going on in my head. I don't really take it that serious. *Laughs*
YouKnowIGotSoul: I read in another interview you mentioned the business side of things held certain things back at some points. Do you feel like there's a certain situation you need for it to be the right time to release an album?
Teedra Moses: Yea because I won't sit up here and say I'm the greatest business woman, I have people to help me with that. I've never been on a major label ever, I've had a record 10 years ago on a indie label and I'm working off of that with my mixtapes and whatever work I put out. People hit me and be like "Yo I just got your album, I'm so late." It's so funny that they are still like that today. I can only rely on my talent and pray that the business side of it comes together. I focus on my talent and craft because I can't sit up here and tell you that I know about the business part very well. I know some artists are very business savvy, I don't know if I am so much so. I'm also very head strong, that doesn't make well for coming together with a lot of business people because they want you to relinquish a lot of control and ownership of a lot of stuff that I don't care to. I want my publishing; I'm not letting that shit go! *Laughs*
YouKnowIGotSoul: You've always written your own music and also for other artists. How has your inspiration for writing changed over the years?
Teedra Moses: I was a lot younger when I wrote my first album. Now I'm grown and very clear on who I am! *Laughs* Like for instance the single "Can't Be Luv" we have out now, it's really talking about a long stint of celibacy. I was celibate for an extremely long time, more than most people could. Most people would blow their brains out for how long I was celibate. I had to come to a place of thinking like "Everything doesn't have to be that serious, it doesn't have to be love, it might just be lust for tonight." My subject matter is more dealing with me as a woman than with "Complex Simplicity" where I was dealing with myself as a person growing up. This project is more dealing with me as a woman, I'm a classy woman but a woman that can still get down and dirty and ratchet. *Laughs*
YouKnowIGotSoul: After you did some shows in London a few months back, I heard you mention your fan base in London is just as big as here in the U.S. What does that mean to you?
Teedra Moses: That's amazing. That's really humbling and definitely motivational. It makes you feel like "Who gonna stop you if the world is with you". If it's pockets of people all across the world, that's enough to keep me going and putting my music out and getting my message across.
YouKnowIGotSoul: I read an article where you mentioned Prince's "1999" album was your top album. What type of influence has the album had on your music?
Teedra Moses: Prince is an artist that has always been very clear on his sexual side. I like to come across sensual in my music even if I'm singing about something that has nothing to do with sensuality or sex, I like to come off like that because in life I'm a little bit aggressive. In song I'm soft and sleek and this chick that I want to be in my head. In life I'm really aggressive and gully you know! *Laughs* Prince does that to a tee. I love just how broad his spectrum is. He can do any kind of music, you name a genre of music and Prince can do it and do it well. Hip-hop not so much, but we'll let him slide on that, he was born a long time ago. *Laughs* If you listen to the "1999" album, you can put it out now and it would still be amazing. That's just, who's better than that? No one.
YouKnowIGotSoul: "The Young Lioness" project was always supposed to be your second album. Do you still plan to release the music from that project?
Teedra Moses: I'm going to hold that until I can give it the way I want to. I want that to be like my everything. It's not "The Young Lioness" anymore, it's "The Lioness", and that's a project that musically I just want to go places that people don't expect me to. I want it to be broad and grand. Grander than what I can give right now. I don't have the finances and the facilitation to do what I want to do right now. So I'm holding songs that are clearly just for that project. I've collected them over a long period of time too.
YouKnowIGotSoul: Anything you'd like to add?
Teedra Moses: I just want to say thank you so much for always supporting me!