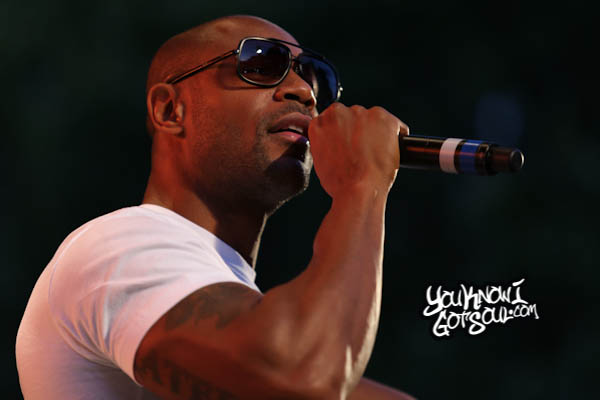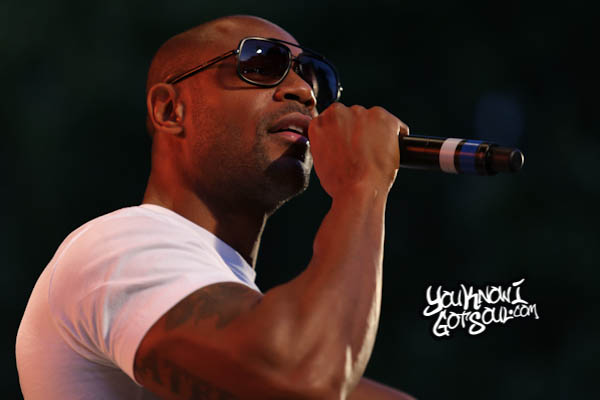 The climb to the top for Tank didn't happen overnight, but these days he's looked to as one of the top artists in r&b. Not only has he had great success with his own albums over the years, but he's also managed to dominate the charts with singles he's written for r&b's elite. What further solidifies his position is that in a time when the radio is more geared towards Pop music, Tank has never compromised his music, yet his music has gradually progressed and become more polished over the years. He's currently preparing for the release of his 5th album "This is How I Feel", riding off of the strength of the first single "Next Breath" which is a testament to how deeply rooted he is in r&b. YouKnowIGotSoul once again caught up with Tank, this time discussing what to expect on the new album, the possibility of TGT happening again, writing for other artists, if he feels like he's made it yet, and much more.
YouKnowIGotSoul: You're set to release your new album "This is How I Feel". Talk to me about the approach you decided to take with this album?
Tank: It kind of wasn't a set direction. In the beginning, I had a real definitive thing that I wanted to do. I had a "Savior" topic and everything was just going to be geared towards this whole "Super Hero" theme and then the more I kept recording records, I kind of just wanted to record and make records without any thought process in mind like "How do I feel today? Let's just make a record about that. How's this track making me feel? Even if it's a subject matter or track that you wouldn't normally hear it on, I'm going to do it anyway." That's basically the approach and the idea of "This Is How I Feel" like "I'm just going to give it to you exactly how I feel It," and not "I'm not sure if my Urban AC fans are going to like this," or "I'm not sure if this is going to help me get to wherever certain people want me to go." I just want to make an album that says how I feel right now at this particular moment and share it with my fans.
YouKnowIGotSoul: I noticed on this album you have features by T.I. and Busta Rhymes, and you also have a song on the CD produced by Danja. Some might look at that as a little different for you. When you're creating a song with someone like Danja, is that in your comfort zone?
Tank: Absolutely. I mean, we all know each other from a producer standpoint. The mutual respect is there and we've known each other and hung out for some years now. For me, it's natural. For people who are just listening to the singles that I've put out, they just see one thing. But if they really studied any Tank albums, even if you saw on the "Now or Never" album, we had Drake and Chris Brown featured on there. We also did the remix with Trey Songz and Chris Brown. The things are there, it's just a matter of us taking those opportunities now with T.I., Busta Rhymes, and Chris Brown and actually making them a focal point so that people understand their associations.
YouKnowIGotSoul: You recently rereleased "Compliments" and put T.I. on the song. What made you decide to release it again as a single?
Tank: It was debated on whether it should be the first single. It was already a single record for us, but "Next Breath" was really a record that would secure the real Tank fans and we wanted to grab them off the top and say, "Hey Tank is back! This is what you know and love." Then "Compliments" would embody that same idea, but a little differently with the tempo and with T.I. and my artist Kris Stephens, she's on there giving the girl's point of view of how she feels about it, so it kind of did the same thing. It was just a little different. It was something that would appeal more to the DJs, the College kids and some of the High School kids as well. We figured that we would break the ice with "Next Breath" and then we come back with this thing right here. It's doing so well for us already.
YouKnowIGotSoul: I know Ginuwine and Tyrese have been tweeting about a possible TGT collaboration. Can you speak on that and if it's going to happen soon?
Tank: It's looking good, I can say that. I think we're more or less just excited about R&B and making something phenomenal happen. I think individually, we all hold our own and we all do great things and i think with us coming together, we'd just be what R&B needs.
YouKnowIGotSoul: Do you have any plans for a tour to go with the album?
Tank: We got some things lined up tour date wise. We're actually letting the album drop and let more heat pick up. We're going to send "Compliments" out at the end of the month to get it going. We're shooting a video for it this Friday. All of the heat from the records and people starting to see the tracklisting and all of that stuff, it's getting promoters and these people interested and actually putting a Tank run together. I have some dates for some artists. I'm doing a bunch of Frankie Beverly and Maze dates. Our goal is towards the end of the summer or maybe the middle. We'll be doing a full Tank run.
YouKnowIGotSoul: Earlier in your career, I know you were part of The Underdogs camp. Talk to me about that whole experience and how that era has helped you become the artist, writer and producer you are today.
Tank: It was good for a bunch of producers and writers with that level of talent in music. Just understanding to be together in one place. We were making music and compromising musically, lyrically and melody wise. It was good because it was of course a one stop shop. Who didn't want to work with Tank, Damon Thomas, Harvey Mason, Eric Dawkins, Antonio Dixon or Steve Russell? These were all names people were familiar with, so it was easy for people to come to the building and in some way, shape or form find exactly what they needed. That was the blessing in it. Moving on past that, it helped me understand the structure of putting together producers and writers and really making a cohesion so that everybody feels comfortable with each other and comfortable just making great music with no egos involved.
YouKnowIGotSoul: One of the artists that I know you worked with during the Underdogs era is Luke James when he was a part of Luke & Q. What do you think his potential is?
Tank: Luke's potential is really unlimited. Luke is actually my young boy for real. He actually lived with me. It's one of things where when I see him now and see him actually getting his shine on his own because when he used to sing backgrounds for me, I'd let him come to the front of the stage and just tear it up. I really wanted people to see him and understand what he was about. It's paid off and so now, people are starting to get it and get it in a major way. He's going to do just fine.
YouKnowIGotSoul: Of course you're also writing for different artists. Who are you currently working with?
Tank: I'm just finishing this album. I'm putting the finishing touches on it. It's been all about Tank. We've got some Kelly Rowland coming up. She's the first person that I was actually able to make some other music for and then of course focusing on my first artist Kris Stephens. She's on the "Compliments" record and that's going to be a big debut for her. We're going to start pushing her situation as well.
YouKnowIGotSoul: Talk to me about the makings of "Your Body" by Luke & Q.
Tank: We were actually working on their album. This is when they were signed to J Records. I was trying to put together a good R&B moment. Something that you felt when you heard Guy or Keith Sweat back in those days. That was the kind of energy I put into that record and to create that record. Eventually Ray Lavender and I covered the record as well because it never came out for Luke & Q. Then the record just never materialized and then it just showed up online and people just started responding to it like "Who is better? Tank and Ray Lavender or Luke & Q?" It's been cool just to watch people's reactions to both records.
YouKnowIGotSoul: Your first album came out in 2001. It's now 2012 and you're pretty much on top of R&B. Along with that, you've written some huge songs for other artists. Do you feel like you've finally made it yet?
Tank: No, not even close. The good thing about my career is that it has always been a progression. I've always climbed and climbed, no matter how slow or how people feel. A lot of people feel like "Underrated" and all the good things which is why I wrote the record, but for me, it's like I'm still climbing. There are still people that are just realizing that I'm producing and writing all these records, and there are people that are realizing that I am the guy who sang "Maybe I Deserve" and "Please Don't Go". Now people are starting to connect the dots and it almost feels like it's new. It almost feels like a new career. Once I did the new deal with Atlantic, it feels like I was a new artist all over again. I'm not even close to where I want to be. I'm happy, but I'm not comfortable or satisfied. I have a lot to do.
YouKnowIGotSoul: What do you want Tank's legacy to be when it's all set and done?
Tank: I just want to be known as one of the hardest working individuals ever to do it.
"This Is How I Feel" is out May 8th.