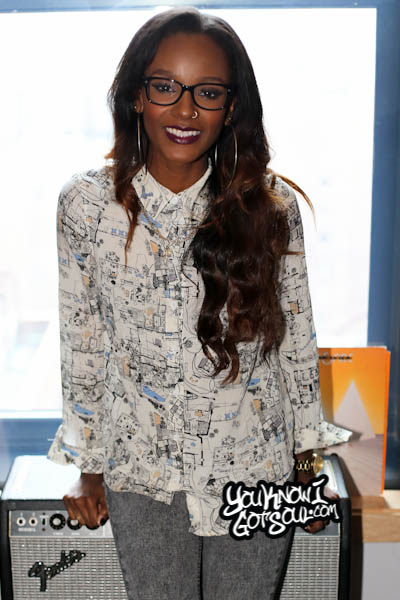 Tiara Thomas was introduced to the world as the girl singing the hook on Wale's hit "Bad" but she's been able to prove that she's more than a one hit wonder. Her unique sound which cleverly combines elements of rap and R&B has brought a fresh new sound to the music industry and that's one of the main reasons why super producer Rico Love decided to sign her to his "Division One" imprint. Tiara's new single "One Night" is a good representation of her sound as she's rapping and singing on the song. Though it may appear like the success happened overnight for Tiara, she's actually been scheming and plotting for years. YouKnowIGotSoul had a chance to speak with Tiara about her initial meeting with Rico Love, her experience in college prior to joining the music industry and her upcoming album "A Bad Influence".
YouKnowIGotSoul: A lot of people know you from your song "Bad" with Wale. How did you meet him initially?
Tiara Thomas: I met him when I was a sophomore in college. I went on spring break with a couple of my friends, so we went to Atlanta and I was 20 at the time. We got in the club, had a fake ID and my friend was like "Yo Wale is here!" I don't know how we got into the VIP, but she got us up there and she was like "Go introduce yourself to him". He asked what I did and I told him I was a musician. We exchanged information and I sent him some of my YouTube videos that night. I e-mailed him and he didn't look at them for a long time. It was a 3 months or something and then he flew me out to New York to work on his "More About Nothing" mixtape where I did this song with him called "The Cloud". Ever since then, I would write for him and get in the studio. I was trying to get placements on projects and stuff. I was in college at the time, so I was doing school and also every now and then coming out for guest appearances.
YouKnowIGotSoul: How important was it for you to finish college?
Tiara Thomas: Honestly it wasn't that important for me because I wanted to drop out of school a lot of times, but I had already taken out $30,000 worth of student loans by the time I was a sophomore. I was in the middle of college and I took out that much money, so I was like "I might as well finish. I only have 2 years left". My parents weren't feeling me dropping out either. *Laughs* It was definitely hard. I remember I typed a 10 page paper in a hotel room and I went downstairs to the lobby to fax it to my professor. A lot of my professors would work with me. I had a couple of mean ones, but they knew what I was trying to do. A lot of them worked with me.
YouKnowIGotSoul: What was your plan aside from music?
Tiara Thomas: My degree is in telecommunications. I was going to get a job at a radio station or something like MTV. I was going to make my way to the music industry that way. I was like "If I don't have a record deal by the time I graduate, I'll get a job in telecommunications and I'll be able to meet people and play my music". It turns out that I signed a deal 8 months after I graduated.
YouKnowIGotSoul: You're signed to Rico Love's label now. How did he originally take interest in you?
Tiara Thomas: I met Rico a year before Wale's "Bad" came out. At the time, it was just my song and I was just playing it on my guitar. I was supposed to have a meeting with a record label in New York and it got cancelled. My manager was like "Let's go meet with Rico Love". I went to the studio and I met with him. I played him "Bad" and he was like "Damn!" I think he offered me a record deal a week later, but I didn't sign with him until almost a year after the offer.
YouKnowIGotSoul: What made you decide eventually that his offer was the right deal for you?
Tiara Thomas: People don't understand that a record deal is a job. You're in a contract and you have to be in a long- lasting relationship. Ultimately I felt that's where I would be happiest.
YouKnowIGotSoul: A lot of new artists wouldn't turn down a record deal opportunity. Was it scary for you or did you have other opportunities?
Tiara Thomas: Oh yeah I had other opportunities. I had other people and labels reaching out. I took a meeting with a lot of people, so I didn't just go off of the first offer. I marinated for a little bit.
YouKnowIGotSoul: Rico has had a lot of success as a solo artist in the past few years. Has that made you more patient or less about putting out your own stuff? I know he's building up his own brand and also label. Has it been tough for you to wait?
Tiara Thomas: After I signed my deal, I needed some time to get my sound together and get some music out there. I feel like if I had dropped my album right after "Bad", it wouldn't have been the music I made today. I took a year to live, experience and write a bunch of music. I wrote 85% of my album, so I took some time to do that. I needed to do that as an artist.
YouKnowIGotSoul: Talk about the single "One Night".
Tiara Thomas: My first single off my album "One Night". I did it with Rico Love and Division One. We got in the studio for a couple of weeks and knocked out a few dope songs. We ended up going with "One Night" for the single. It's up-tempo and I also wanted my first look to be me rapping on it because I've been rapping since 2009 and way back before then. My first YouTube video I posted was me playing a guitar and rapping. I wanted to bring that back to make it very clear that I can do both things. I wanted to display it on that song. I basically sat down and I played a couple of keys and they put some drums over it. It came together fairly quickly. I think Rico left the studio and I had done a verse. I stayed in the studio all night writing the verse. He came back, the verse was written and then we decided to go with that as the first single. With the music video, "Set It Off" is one of my favorite movies and I wanted my first video to be based off of the video. We came up with storyline for the video and we made it work. It was fun.
YouKnowIGotSoul: Will your music be a mixture of rapping and singing moving forward?
Tiara Thomas: Yeah, I rap and sing on my album. I don't have any songs where I just rap, but I rap and sing. I might sing a hook and verse and then the second verse I'll rap. I have a lot of rapping on the album as well.
YouKnowIGotSoul: Tell us more about the album.
Tiara Thomas: The album is called "The Bad Influence". We don't have a release date yet, but I have a song on the album called "Bad Influence" and it's about a girl that's messing with someone that she shouldn't be messing with, but she does anyway. I think that's really common. A lot of people experience that, so I wrote a song about that. I remember a lot of times where someone was a bad influence on me, but it was a good influence in a way because I was able to create from that experience. I based a lot of the songs from things that are a bad influence on me or people that were a bad influence on me and for the obvious reasons, the influence of "Bad" which was my first successful record. I just thought the album should be called "The Bad Influence".
YouKnowIGotSoul: A lot of artists have trouble with the business side of the industry. Did anything in college help you with that?
Tiara Thomas: I took a music industry class in college. I learned so much from that class. The professor was a douche bag, but I learned a lot as far as contracts, publishing and management. I learned a lot about the insides of the industry from that class.
YouKnowIGotSoul: Anything you'd like to add?
Tiara Thomas: Follow me on Twitter and Instagram @Tiara_Thomas