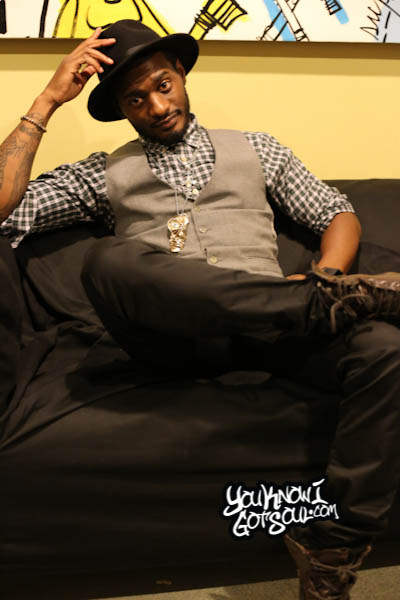 There are certain moments that can't be explained for an artist. Imagine writing songs for most of your life and then finally getting that one song that connects with everyone. Sure, a bit of luck is involved in the process but there isn't a formula to making a song that people will listen to over and over again. Timothy Bloom was able to do that with his record "Til The End Of Time" which is nearly at a million views on YouTube. The musician, who was signed to Timbaland and Polow Da Don, is ready to continue building his name after catapulting his name to new heights with a hit record as well as writing placements for artists such as Chris Brown and Ne-Yo. YouKnowiGotSoul spoke to Timothy Bloom about his latest project as well as his journey in the industry.
YouKnowIGotSoul: Your self-titled album came out earlier this year. It's been a long time coming. How did it feel to finally get that album out?
Timothy Bloom: It felt great to put my album out this year. For the past two years I've been working on it after leaving Interscope. It's been an extreme journey and to be able to birth a child was pretty amazing and liberating. It felt great.
YouKnowIGotSoul: For people who don't know, you were signed to Polow Da Don and Timbaland. What was that transition like going from two mega producers to doing it on your own?
Timothy Bloom: Working with them and then being self sufficient now, even when we were working together, they allowed me to do whatever I wanted to do. While I was with them and the transition, I learned a few things. It's just having fun doing the music. They would have a lot of fun while producing records and I think the joy of doing music is having fun doing. If you love doing it, regardless of if people understand what you're doing, it's just getting a joy from it. I get a joy from doing the music that I love in the capacity I'm doing it in now.
YouKnowIGotSoul: How come you decided to leave that situation?
Timothy Bloom: I think I left the situation just like when a kid leaves the house and goes to college. There has to be some type of separation so you don't get lost in the wilderness. I think on both sides it was a mutual agreement. I think even now we're going to continue to do stuff together and just continue to raise a platform of awareness. One day I'll be like a Timbaland or a Polow. Obviously they are the producer Gods of the music industry.
YouKnowIGotSoul: A few years ago you had the huge single "Til the End of Time". Since then, how have you been able to carry that momentum forward?
Timothy Bloom: I feel like now that's a classic record because even when people for the first time hear it, they are like "Holy smokes, where did this come from?" I think while I was moving forward, I think there was a time and a season and that catapulted and did its thing then and it's allowing me to do what I'm doing now. Everybody knows what's going on, it's cool, I get to take it with me on this journey.
YouKnowIGotSoul: For those who haven't heard the album yet, can you introduce us to it?
Timothy Bloom: This album that I put out is pretty much self-titled. It's a love album. I wanted to put something out to expose the nature of love and how you can feel it.
YouKnowIGotSoul: During the time when you were promoting your single "Til the End of Time", you also had a placement on Chris Brown's album. Do you think having a placement on that made you more patient to put out the album?
Timothy Bloom: I think working with Chris and people like Ne-Yo and Smokey Robinson and those cats, it just goes back to the Timbaland and Polow's. Especially Smokey Robinson, I worked with him when I was like 22 years old. That right there let me know that I was going to be somewhere in the industry doing something. I think it has sustained me for a very, very long time since 2003. It's been over 10 years. Chris Brown, we won a Grammy with that record and we won a Grammy with the Ne-Yo record, so I've just been grinding and doing the music that I love to do. Chris is a badass, he's cool.
YouKnowIGotSoul: Hypothetically since you have these placements and Grammy's now, would you have been content with just being a songwriter and not putting out an album?
Timothy Bloom: It's interesting because when I came into the situation, I wasn't thinking about getting a deal. I think sometimes God kinda brings you to your destiny. I was not looking for a deal and then all of the sudden I was getting all of these crazy phone calls. I used to perform all of the time with my brothers. We used to have a group when we were kids. Then when I graduated high school I went to Germany with the group. So I always knew I was going to be on stage. The capacity of where I'm at today just confirms the journey that I've been on.
YouKnowIGotSoul: Anything you'd like to add?
Timothy Bloom: Go check out TimothyBloom.com. Go get that album "Timothy Bloom" on iTunes.