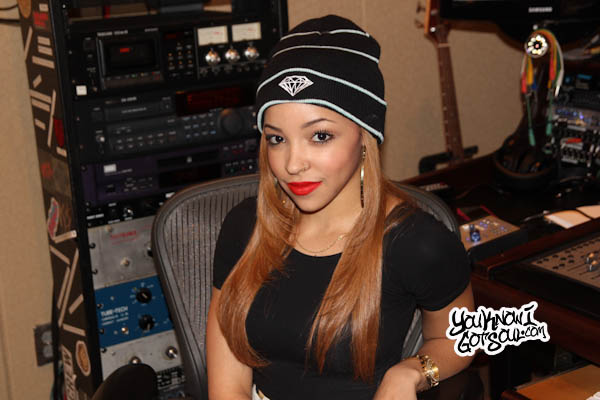 Last year when we unveiled our list of the Future Superstars of R&B, Tinashe was right in the center of things. She's progressed even further since then, releasing her critically acclaimed "Reverie" mixtape with the smash single "Ecstasy". Emerging with a rhythmic pop sound that is reminiscent of 90s r&b, her unique talent is sure to carry her to the front of the pop/r&b world. We sat down with her while she was recently in NYC and discussed her origins as part of The Stunners, signing to RCA Records, the progress of her debut album, her progressive sound as part of the next generation of r&b stars, and much more.
YouKnowIGotSoul: You started your career earlier on in acting and then you eventually signed with Columbia as part of the group The Stunners. How did you get your break with the group?
Tinashe: The Stunners were put together. We actually auditioned. I auditioned when I was 14. I made it into the group. It was never really my dream to be part of a girl group, I kind of just embraced the opportunity at the time until I felt I was in the proper position to go off as a solo artist. Luckily it was a great experience for me and I built a lot of great relationships. Here I am now!
YouKnowIGotSoul: Talk about your influences growing up
Tinashe: Growing up I was heavily influenced by Michael Jackson, Janet Jackson, Sade. My parents played a lot of those artists in the house. Christina Aguilera was always one of my favorites.
YouKnowIGotSoul: After the group split up in 2011, was the transition to solo difficult for you or was it a natural thing?
Tinashe: I think it was exciting to be able to branch off on my own just because I was given to the opportunity to have my own voice. In the group, you necessarily aren't always singing from your personal perspective, so I was excited to have the chance to speak from my perspective and write songs and write music from my perspective. I think it was a very exciting process.
YouKnowIGotSoul: After signing with RCA records, you put out the "Reverie" mixtape. How was it received by fans?
Tinashe: They loved the mixtape. I wanted to put out the second mixtape just to give them something to appease themselves until the album came out. Obviously I knew the album would be a little harder and take a little more time because I would be collaborating with more people and just with extra people and extra schedules, it just goes a little slower than the process of making it on your own in your room. The mixtape I think is a special mixtape in that it's probably the last body of work that they're going to get for free for awhile. They were definitely appreciative of it and I think my fans loved the progression from the first to the second mixtape and they look forward to seeing where it will go with the album.
YouKnowIGotSoul: Talk about your single "Ectasy" and how it all came together
Tinashe: The beat was produced by K-Beatz. He was just a producer I found on Twitter. He's dope. He did a couple of tracks on my first mixtape and then he did "Ectasy" on the second one. I was happy that I was able to make one of them into a single and make a video for it. I think the fans really like the video. It was a really fun video. I got to shoot it under water like I was Little Mermaid. That was fun for me!
YouKnowIGotSoul: So like you were saying, there's no more free music for the fans. Does this mean your album is next?
Tinashe: *Laughs* There will definitely be a couple of songs here and there. As far as a whole mixtape or album, I'm still undecided as to whether I'll be releasing one around the album, but I'm focused on putting out an album right now.
YouKnowIGotSoul: How's the progress on the album?
Tinashe: I've been working on it for a few months now. It's a process and obviously a learning process going from being alone in your room working on music to being in the studios working with producers. It's a learning process of how to adapt and still stay true to yourself. It's fun, it's exciting, it's hard, but it's fun.
YouKnowIGotSoul: Who have you had a chance to work with?
Tinashe: I've worked with T-Minus, Boi-1da, Clams Casino, Fisticuffs, Best Kept Secret, Ritz Reynolds. I'm working with a lot of really cool people. I'm excited about it.
YouKnowIGotSoul: A few months ago, we put out an article picking you as one of the future superstars of R&B. Talk about your sound because we feel you have some moodiness that's apparent in R&B. Talk about the overall sound of it.
Tinashe: I think my sound is kind of like an Urban/Rhythmic/Pop and it has influences from like an Indie/Alternative kind of world and a Hip Hop world. That's what makes it interesting. I'm more attracted to darker vibes and darker moods and I think it makes it interesting to have the juxtaposition between the darker music and my brighter personality and just my light, higher and softer voice. I like to play around with sonics and I think that's the fun part about R&B right now. It's not defined in a category anymore and it's kind of a new genre.
YouKnowIGotSoul: How much is acting still part of your career?
Tinashe: I took a hiatus for a couple of years from acting. I wanted to break as a music artist just so people would take my art seriously. I plan on getting back into acting in the future and it's a big passion of mine and I grew up acting and being in movies in stuff, so I'm ready to get back into it.