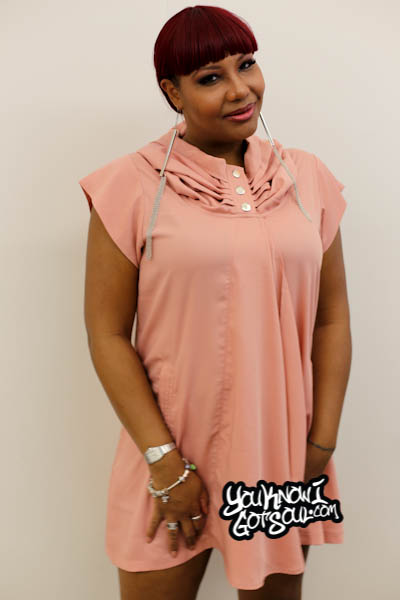 Traci Braxton's dream of releasing a solo album was a long time in the making and very close to not happening. After signing with her sisters as the group The Braxtons, she stepped away from the spotlight to give birth to her child and pretty much left the industry. However, when sister Toni got the opportunity to do the reality show, she brought she sisters with her, allowing each of them to shine in their own right. Now Traci is getting the chance to fulfill her dream and will release her album "Crash & Burn" later this month on eOne Entertainment. YouKnowIGotSoul sat down with Traci and discussed what to expect on the album, never giving upon her dream, the new opportunities that reality TV has brought her, and much more.
YouKnowIGotSoul: Your album "Crash & Burn" is coming out soon. It's been a long time coming, what's it going to mean to you when it releases?
Traci Braxton: It will mean so much to me because it's like I accomplished something. Sometimes I'm not a finisher, so I really got this one. That orgasm is there, I did it, it's gone, yes! *laughs* It's going to feel really great. Finally having the product and having it out for my viewers and fans to listen to.
YouKnowIGotSoul: This solo project has been in the works for years now since you were part of The Braxton's in the early 90's. How did you never give up on your dream?
Traci Braxton: Actually, I was kind of discouraged because me trying to put out music, a lot of people would be like "You are Toni's sister, can you sound like her?" I'm like "I'm Traci Braxton, I'm not Toni Braxton, give me a chance, I have my own distinct sound." One day I was in the office and my manager Cliff Jones was there and I was singing a song for one of the producers. He was playing this song and I just kept singing it from my heart and Cliff finally was like "Traci!" and I didn't know what he meant because I didn't do anything wrong on Twitter, I didn't start any beefs. He said "You are playing around, stop playing, you need to learn that song in two days and come back!" And it went from there. And now I'm signed to eOne! *Laughs*
YouKnowIGotSoul: You chose "Last Call" as the single to lead this album. What made that song the one?
Traci Braxton: You know I'm going through a little difficult time with my husband on Marriage Bootcamp. I forgave him a long time ago when we first got married, it was infidelity. I did it back to him because I was mad with him. With "Last Call", I still have love and I still want that there and I want you to do right. This is the last time and then I'm going to have to give up on it. The dude comes back *Laughs* and makes me happy and I want to kiss him in the mouth all the time. *Laughs*
YouKnowIGotSoul: Talk about the rest of the album and what we can expect on there.
Traci Braxton: I've got a duet with Raheem DeVaughn, it's called "Stay Sippin". Tank wrote on the album. My brother wrote a song also. The song my brother wrote was supposed to be for Toni, it's called "Reasons" and he gave it to my sister a long time ago when my mom and dad went through their divorce. Toni never used the song and I was like "Hey I would like to use this song, I love this song!" I asked Toni about it and she said yes, and I thought she had passed the torch to me because when Anita Baker passed the torch to Toni, it was several songs from Toni's first album that Anita Baker was supposed to do. So there you go, thank you Toni! *Laughs*
YouKnowIGotSoul: I read in your bio that you were dubbed as "The Wannabe" on your reality show with The Braxtons. What type of a statement is it going to make when you release this project to those who doubted you?
Traci Braxton: Oh wow. I had to grab that and put it in my own perspective, because me being a "Wannabe", I want to be successful, I want to be singing, I want to have my own salon. I was a good "Wannabe" and I made it a reality.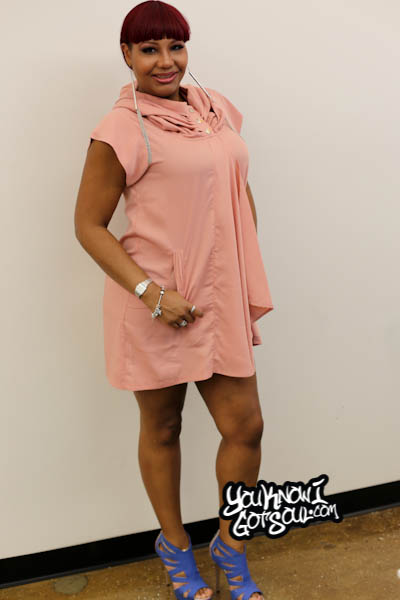 YouKnowIGotSoul: Besides the reality show and the album, what are some of the other things you dream about doing in the future?
Traci Braxton: Me finishing hair school. Me going back to dancing classes, I need that, oh my God, I miss it. I used to be a ballerina, I did tap and jazz. I really miss dance classes, it's a different kind of expression, you express with your body and your flow and angles. *Laughs*
YouKnowIGotSoul: In terms of the reality show, I know you had left the industry for awhile and were out of the spotlight. How much do you think the show was able to help elevate you back into things and allow you to achieve these dreams? Would it have been possible otherwise?
Traci Braxton: I have to say me singing and pressing on and following my dreams, the reality show really helped a lot. It catapulted my ability and capabilities in singing and hearing the family sing and knowing that I can sing. I think it helped a lot of us a great deal. Toni was already in the spotlight and then you have my baby sister Tamar have her album out. A lot of positive things came out. Trina, she had a little single out, and Towanda is doing a sitcom with Bruce Bruce. So the sky is the limit and I thank God for the reality show and I thank God for Toni saying she'd do this. If it wasn't for Toni, it wasn't a show.
YouKnowIGotSoul: Was there ever any hesitation about doing the show initially?
Traci Braxton: At first there was because I was like "I don't really want people to know my business, I have too much to say, and everybody knows my mouth is out of control at times!" When the first season came and I was more laid back and next season I started progressing like "Hey, I have a lot to say too!"
YouKnowIGotSoul: We love to hear the history. Talk about what you remember about signing with Arista back in the day and being with The Braxtons in the late 80's.
Traci Braxton: Oh my goodness! In 1989, we signed to Arista Records and it was so rewarding because we had worked so hard. My baby sister was only 10, just singing with my sisters and having that harmony and being as one, it wasn't nothing else to say. We as one were the same heartbeat. Then when Toni got the opportunity to sign with LaFace record label, Toni and Tamar were 10 years apart, so Toni couldn't do certain songs and expect Tamar to do them. I'm going to tell you what happened, when Toni signed, she had her sisters singing backgrounds. So it was like we weren't missing a beat, she was just out front. For her to share her spotlight is the ultimate thing. I'm so proud of her because she still doesn't have to share her spotlight but she does. When my sisters were signing to Atlantic, I found out I was pregnant, I was four months pregnant and didn't even know, so when they told me I had to make a decision, I decided to keep my baby. He's 18 and he's wonderful and he's an entrepreneur, he has his own business. I'm so proud of him. I wanted to punch him in the face because he had a letter of acceptance to Stanford and he didn't go. I'm just so proud of him.
YouKnowIGotSoul: Final question, this comes from one of our readers, between the show and making music and your family, what do you do to relax in your downtime?
Traci Braxton: Wow. Make music and sing. I work out. That's relaxing. Like I said, going back to dancing classes, I'm quite sure that will make me more lean and make me feel more better. I feel good because it was a milestone for me to lose the weight that I lost. I was 230 pounds! And I feel wonderful and great and I'm not even on any medication. I feel wonderful!
YouKnowIGotSoul: Anything you'd like to add?
Traci Braxton: I would like to add thank you guys so much for supporting me and being my backbone when I felt as though I did not want do it and press on and when I was having a pity party. Thank you for continuing to say "You know what Traci, stop that, that's not what you're about". They helped me get up and brush myself off and keep going. I owe it to my fans. Thank y'all so much.