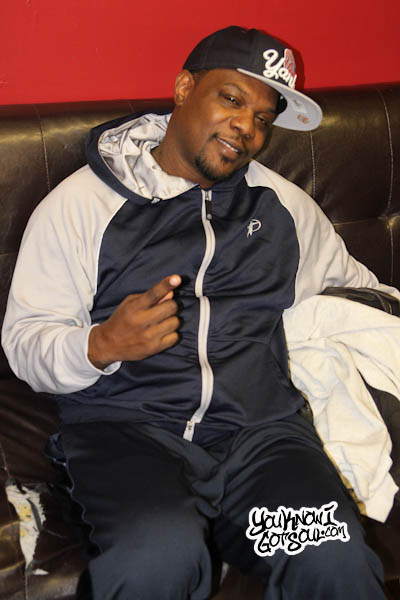 Over the years, we've seen Tre Williams pop up on many featured collaborations, then as the protege of Nas, and finally with the band The Revelations; yet we've never had a project from just him. However, the time for Tre Williams to stand alone is now. Although his debut "Depth of my Soul" never came out due to label conflicts, he won't let anything stop him from getting "Depth of my Soul" Volume 2 to music lovers. The best part is that he's making timeless his own way; pure soul music with live instrumentation. YouKnowIGotSoul sat down with Tre prior to a recent show in NYC and discussed his origins in music, what led to the signing with Nas, performing with The Revelations, standing on his own now, and more.
YouKnowIGotSoul: Take it back to your origins. I read you're originally from Florida and came to New York to try and get your break. How'd that go?
Tre Williams: I came to get a break cuz I was broke! You know man, I knew that coming from Florida at that point in time, in order for me to get where I wanted to be, I had to come either here or L.A. and this was a lot closer. I met a dude that actually brought me up here. When you get here, the first dream you've got is "Let's do the Apollo and it will make me a star!" I got a chance to do that but it didn't make me a star. It did give me a little ego boost, it did help me out and it let me know that I belong. That's the thing about this music business, you've got to know you belong in it. So many people will discourage you. After I got here and working myself through the weeds, I jumped on the Petey Pablo track "Diary of a Sinner" and we did that for his album. That was the first real time that I was nationwide. That right there really amped me. The first time you could go in the store and pick up a CD that you're on, it really, really fuels you. So after that I started full blast recording man. Me and Styles P hooked up on numerous joints, like constantly. I've got to say that Styles P was one of the major contributors to me being in the business. Whatever I asked him to do he did, and whatever he asked me to do I did. He constantly made sure my name stayed out there, which lead me to sign the deal with Nas.
YouKnowIGotSoul: So how did you originally link up with Nas and sign with him?
Tre Williams: I was trying to figure out what I was going to do. I had been going through numerous contract issues, who I was going to sign with. If it doesn't materialize in front of you, understand that it's not real, no matter what nobody says to you. If the ink doesn't dry, no deal is real. It's not. As I was coming from one office who I didn't know if the deal was going to go through or not, I got a phone call from Mike Brinkley which at that point in time was Nas' President of Ill Will and now he's the manager of Big Sean. Mike called me and said "Listen, Nas wants to sign you." I was like "Ok, where's the gag at?" I thought I was being punked for a minute. But he was serious. So I gave him my address for them to meet me and I'll be damned if I look out the window and black cars were pulling up. I knew right then, oh my goodness, this was real. Once Nas said he wanted me with him, I was all down. After I did that and signed that deal, I just knew after that it was easy money, but it was a struggle still.
YouKnowIGotSoul: When you were with Nas on his label, you were working on your debut "Depth of my Soul". What do you remember about creating that project?
Tre Williams: What I love most about it is they allowed me to be me. Nobody was sending me in a certain direction to sound like the hot song at the time. I basically wrote the whole thing. That was really, really an ego boost for me too because for somebody like Nas to say "Just go and do your thing" was big. But like I said, unless the ink is dry, it's just an idea. "Depth of my Soul" was just an idea because it never materialized. Nas started going through various issues with Def Jam over his contract obligations and things of that nature. I do appreciate the utmost that he gave me the opportunity to be in front of millions and millions. I went from being a dude very few knew, to being known all over the world just by this dude saying my name everywhere he go. That right there, you can't buy that, there's no amount of money that can give you that type of publicity or notoriety. I was grateful that I was even allowed to walk in that light! Many don't even get to walk in his light. We did the song "Let There be Light" on his "Hip Hop is Dead" album, and why it wasn't a single I don't know, but it definitely was classic. I gotta say that it was a high and a low point in my career. High, being with him, low, the album not coming out.
YouKnowIGotSoul: Where did you turn after the Nas situation?
Tre Williams: After the contract was over with Nas, I decided I'd wander around and see what I could find. I linked up with Bob Perry and we decided to work on some things together. Through working with him, we both had the idea of let's do something different with soul music. Let's not just do CD's, let's get a band and make it live; do it with the way it should be done. We pulled in The Revelations which was a house band that was bad. We got down and started making this music and we made some really, really good music. That's the best thing that I got out of that, we made great music, timeless music. It's times that I do songs that nobody knows, but because the songs are so powerful, people love them.
YouKnowIGotSoul: What have you been up to since the last album with The Revelations in 2011?
Tre Williams: I decided that it was actually time for Tre to be just Tre. Throughout all I've done and as long as I've been in this business with the mixtapes and features and The Revleations and Nas and Styles P, it's never been a Tre Williams project. Some people say The Revelations was me, I sung everything on it, but it doesn't soundscan Tre Williams. I decided that it was actually time for me to do that, besides doing my shows all over and staying on that stage and keeping the bills paid because at the end of the day if the lights go out, we have a problem! We make sure we keep the lights on and we tour around and I do my shows. I've been slowly but surely putting together "Depth of my Soul" Volume 2 and I'll say "It's in the vaults, don't worry about that one!" One day Volume 1 will come out at some point in time. I'm working on "Depth of my Soul" Volume 2. For those who know me and my plight, they know where I come from and understand what Volume 1 is and why it never came. I'm doing it the same way, live music, soul music, and really staying with the grassroots that I put together with The Revelations that I'll continue now. I feel no reason to deviate from anything that I've done. It just allows my name to stand alone. I think it's time for that and I think I'm due for that.
YouKnowIGotSoul: Anything you'd like to add?
Tre Williams: I'd definitely like to thank those who followed me with Nas and those who followed before Nas and those that followed me with The Revelation and I hope to God they continue to ride with me as I take this new journey. That's what it's about, the journeys, it aint where you been, it's where you trying to go and how you get there. I'm going to take my time and get there because I didn't do this, this is all God who put me here. I messed up my chances so many times so this chance right now aint on my time, I had my times and I decided that I wasn't going to do what I needed to do to push forward. Now we're going to push forward because we're on his time now. We're going to enjoy it, we're going to do it stress free, and it's going to work out. I want to thank you for even coming out here and giving me a little light!