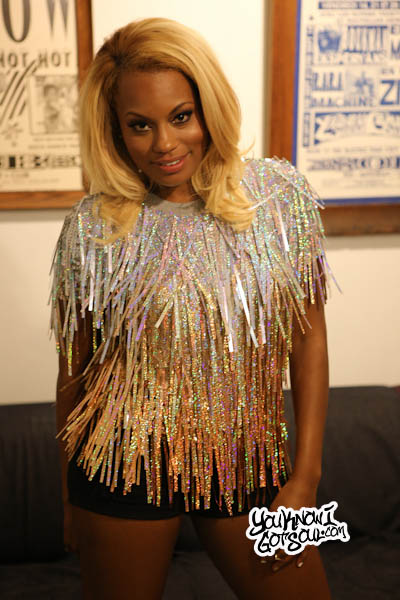 Although Treasure Davis has just released her debut EP "Heart Flavored Summer" following a string of dope singles, she's no overnight sensation. In fact after paying her dues writing and singing background vocals in the industry, she's been developing with Mark Pitts' ByStorm Entertainment label under RCA Records. The results are an artist who has blossomed lately, giving us a fresh take on r&b with her jazzy/soulful vocals. Following in the footsteps of her peers from Los Angeles, Treasure looks poised to make a serious impact. YouKnowIGotSoul sat down with her after a performance at our Sol Village show and discussed how she was discovered, developing on RCA, her new EP, her Los Angeles influence, and more.
YouKnowIGotSoul: Talk about your origins in music. We read that you had met a producer at McDonalds, so talk about that.
Treasure Davis: I was near my home and we were walking down the street and stopped at a local McDonalds. My cousin always had the habit of introducing me as her cousin who could sing. I was just like "Yeah, but can I live?" I sang for them and someone happened to be walking by and he was just like "Yo!" I was young, so I was like "Sure, I'll give you my number". Long story short, an introduction led to anther introduction and I just really discovered it was a true love for music and there was something that could be done with it. I always had a musical family between my mother and brother, but the reality of seeing how they come to fruition like being in the studio and literally making something from nothing and then hearing it on the radio is amazing. I think my first experience with that, there was a writer/producer I was working with and his name is Storm. He was working with Robin Thicke at the time. I was just someone who was hungry and eager to learn about music as much as I could get. We were up in Robin's house and I was just like "He could sing!" Then I heard "Lost Without You" on the radio and I was like "I was on the balcony when he was recording that! It's right here!" It was just beautiful happenings like that and it followed me throughout my journey up until this point.
YouKnowIGotSoul: I know in the beginning, you were doing some background vocals. How were you originally discovered by ByStorm/RCA and got signed?
Treasure Davis: I was actually on tour before I met with Mark Pitts. I got a random phone call one evening and I just happened to answer this unidentified number. It was the music director for Jay Leno or something and they asked if I wanted to sing backgrounds for Keyshia Cole. At the time, I was really trying to figure out where I wanted to be. I knew I had a strong love for it and I had a situation, so I was waiting for the perfect home and place that understood what it was that I wanted to convey. A random phone call led to another call and then I went on tour. While I was on tour in New York, a couple of producers who I was working with at the time, we created a dope body of music. We were like "Let's do something with it". We took a couple of meetings and I met Mark. It was an instant understanding and it felt like home.
YouKnowIGotSoul: You've released a couple of singles. How has it been developing as an artist while you've been signed and waiting for your turn to come out?
Treasure Davis: It's a beautiful process and it's an awesome journey. Everything prepares you for where you're going. Those singles were all during the process of just understanding emotion and how to share it and still be true. The Slick Rick record was somewhat of an informal introduction. The other records were just me hinting at an introduction to the world as we were preparing a more in-depth story which is what I hope to convey with "Heart Flavored Summer" this summer.
YouKnowIGotSoul: On "Simple" with Kid Ink, you voiced a real bold statement on how you felt and your emotions. How did that record come together?
Treasure Davis: I was in Philly working with Pop & Oak and Flippa and we were just talking. The conversation was just like "What have you been going through? What's been going on?" It's hard to even recall because you don't notice when it's happening. We're just talking and then somebody feels something and starts playing the guitar. Someone will start stomping their foot and then they'll be like "That feels like something!" We'll start talking and we're just making light of all the dumb shit that we do. Everyone plays a fool and it's just like "Let it go". That's how that one came about.
YouKnowIGotSoul: Introduce us to this project you're working on.
Treasure Davis: That's my baby. It's called "Heart Flavored Summer" and it's a compilation of 4 songs. It's an introduction to the album we'll be releasing later. They're all centered around the issues of the heart and that's something everyone can relate to from young to old. We've all had a crush in elementary school. It's something everyone can relate to. I'm just excited. I don't want to give away too much. I want you to listen to it and be open to the experience. It's grooving in the summertime because it has some knock, but if you listen and you're going through something, you'll find yourself in some of those situations.
YouKnowIGotSoul: How has being from Los Angeles affected your lane? Right now it's controlling the airwaves right now.
Treasure Davis: It's actually really dope. I was just talking to somebody earlier because it's a great thing when you can look around and see your friends being successful. It's so dope because I remember when we were just at the Record Plant trying to hop on a Chris Brown record. Just seeing my friends like Eric Bellinger and Jhene Aiko come into their own, it's our time. We let the South have their moment but it's our time.
YouKnowIGotSoul: How did you come up with your name Treasure Davis?
Treasure Davis: My mom gave me that name. I guess she knew. I'm an only child, so it probably has something to do with that. That name was probably derived from that. That's my birth name.
YouKnowIGotSoul: Anything you'd like to add?
Treasure Davis: I'm just really excited for everyone to get their hand on this music. I put my heart and soul behind the pen. I colored every song with love and I'm excited for everybody to jam to it this session and for everyone to fall in love through the music and with the music.