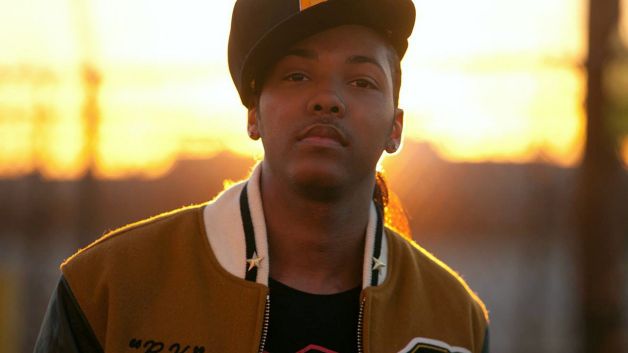 With 27 weeks on 106 & Park's Top 10 Countdown under his belt (courtesy of the smash single "Be My Girl") along with his "Closer To My Dreams" tour, Trevante has already made an impact in the industry and looks to continue that with his upcoming album "I am Trevante". In this interview, we discuss the struggles of being a young artist and how he attempts to overcome it with his music, work ethic and positive mindset.
YouKnowIGotSoul: Talk to me about the tour you were on and what that experience was like for you.
Trevante: It was incredible. It was my first tour and it was really exciting. I got to meet some incredible people and made a whole bunch of new fans. Every city showed me so much love. It was just a great experience. Girls were crying and screaming. It was really unbelievable. I had so much fun.
YKIGS: You also had an opportunity to perform live with Bow Wow back in the day, so what kind of things did you pick up from him?
Trevante: I was around 12 years old when I got to tour with Bow Wow, B5 and Marques Houston. Pretty much, I really admired Bow Wow and B5's stage presence. The way they would get on stage and just turn their character on. That's what a show is all about. Just having character and it's like a play almost. When you go on stage, you have to act and it has to be believable. That's what I respected about their shows because when they would go out, they would leave it all on the stage and it would be so believable. I really admired that and I just studied. I love to study different artists like Michael Jackson, Bobby Brown, New Edition and watch their stage presence and how they react to the crowd. That's what it's about.
YKIGS: You mentioned Michael Jackson and Bobby Brown. Both of them are artists who can sing and dance on stage. How important do you think it is for yourself to be able to do both?
Trevante: It's such a blessing because I remember a time when I wasn't really a dancer. I do dance, but I will never call myself a dancer. A dancer is like Chris Brown. I love to dance, but I'm a singer first so the fact that I can do both of my talents is really cool because I remember at a young age, I wasn't really the best dancer. The fact that I know how to move around the stage and do choreography is such a blessing.
YKIGS: How did your single "Be My Girl" come about?
Trevante: It was written and produced by Troy Taylor and Chef Tone. If you don't know Troy Taylor, he's the mentor of Trey Songz. He's worked with Trey, Boyz II Men, Brownstone, Aretha Franklin just to name a few. I really look up to Troy. Chef Tone did "Please Excuse My Hands". They're really incredible people. Pretty much the song is about the first crush. You're having a crush on the girl and you think she's so cute and she's the girl you're looking for, so you ask her to be your girl. It's just a real innocent song just talking about young love. I actually recorded the song back in 2009 when I was 16 years old. It's just a great record. I'm very happy I got to do that record.
YKIGS: What was the feeling like to have your video being played on BET's 106 & Park?

Trevante: It was incredible because I've always been a fan of 106 & Park since the beginning. I remember being young watching Bow Wow and everyone else on it. So the fact that my video was on the countdown for 27 weeks, it was really incredible. It peaked at #3 and it's still doing well. It's a blessing and I was really exciting.
YKIGS: You're a young artist and there are a million young artists who are trying to make it. You've succeeded in doing that so tell me about your work ethic and how you crafted your style.
Trevante: Everybody always asks what kind of music I do. I like to call it Jukebox music because if you go to a jukebox, you hear all these different styles of music, not just one particular sound. That's what I want to do, I want to give good music to the world. Pretty much for my work ethic, I just love to go all in. I love to write, I love to sing. I have a partner as well, his name is Dan Curry. We have our writing team called The Concept. We love to write. I just love to work. I love to stay in the studio all night and sing and do what I love to do. I have this thing where I say is "Kill or be killed". Pretty much what I mean by that is if you're not on your grind, if you're not practicing, somebody else is. That's why I say that. If you stay on your grind and give 300%, you have to do that to be at the top. I live by those words. I just live to give 300% of everything that I do. It's the same thing with performing. It there's two people in the crowd or 2000, you just got to give a show. It's all about the character. It's all about the drive. You should never do anything just to make money. At the end it's about money, but you should do something because you love it. This is definitely my passion.
YKIGS: You write your own music which I found interesting because a lot of younger artists don't do that. What's your writing process like?
Trevante: I was taught by my father Trevante Halliburton. He's an incredible writer and producer. He taught me everything I know about music in general. If it weren't for him, I wouldn't be singing. Of course I was inspired by Michael, but my dad taught me everything that I know at a very early age. I didn't really want to write in the beginning because I didn't understand it. I just wanted to sing the records. Once I actually started writing, I realized I had a passion for it. Pretty much, what I would like to do mainly is I'll hear the track or half of the time I won't even need the track. Me and my partner will just sit there and come with different melodies and we'll lay the melody down and start writing to that. I love to get the concept, that's why I named my writing team The Concept. I really get off of what I'm feeling or what I'm going through. That's how I do my writing. I always think positive, never negative.
YKIGS: Talk to me about the album you're working on and what people can expect from it.
Trevante: The album is called "I am Trevante". What you can expect is good music, all different styles of music. I got to write on the album with people like Chris Brown, Diane Warren, Darkchild, Troy Taylor, The Underdogs, Mishka and a bunch of others. It's just good music. I have a song on there I wrote called "Change The World" which I'm really happy about. It's kind of a mixture of "Heal the World" and "Man in The Mirror". It's just about being positive and making the world a better place, but it starts with you and me. There's also a song called "Out Of Sight Out Of Mind" written by Chris Brown which I really love. I have some great records on the album.
YKIGS: For a lot of younger artists, a lot of times they're criticized because of their age, not even their music. We're seeing it with Justin Bieber right now. Do you feel this is something you're going through and how do you respond to something like that?
Trevante: I just keep doing what I'm doing. People are going to talk about you regardless. Look at how they talked about Michael, the President and legends who sold millions of records. The new artist is the same thing. Of course people criticize me for loving Michael Jackson as much as I do and not denying it. I would never deny that because if it wasn't for him, I would not be singing. He truly inspires me and he was just a great all around entertainer. At the end of the day, it's about being positive. As long as you're happy with what you're doing and give positivity to the world, that's what it's all about. Don't worry about the haters, just stay motivated.
YKIGS: A lot of artists come and go. What do you think it is about yourself that's going to keep you in the game for a while?
Trevante: Pretty much because I'm really thinking great music. I don't want to put out trash or songs for the moment. I want to put out timeless music and that's the difference between a lot of people in the industry now. They're just trying to find the hit for the radio, but it's about giving great music. That's why I always go back to Michael Jackson, Bobby Brown, El DeBarge. 50 years from now on, you're going to hear songs like "Billie Jean". Even Britney Spears, I have so many people that I look up to. That's why it goes back to the jukebox. For me as an artist, I want to give great music for a life time, not just for a season. Most important, I want to inspire people.

YKIGS: Anything you'd like to add?
Trevante: Thank you to everyone who has supported me from the beginning when I was independent to now. Thank you to everyone who voted for "Be My Girl' and went to my tour.