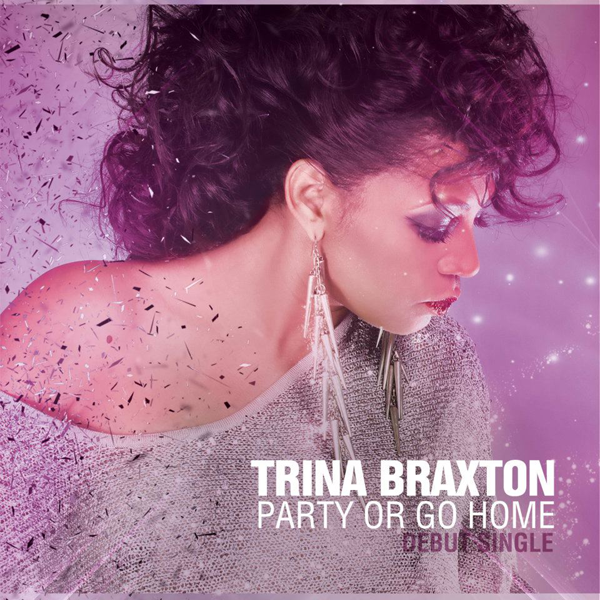 If you watch TV, you've undoubtedly noticed the surge of r&b based reality TV shows that have popped up over the past couple of years. In a time when the genre no longer prominently in the limelight, these chances for exposure are as important as ever. One of those shows is "Braxton Family Values" featuring the Braxton family who, aside from Toni, had been absent from the spotlight since the late 90's. Trina Braxton has certainly benefited from her presence on the show. Although she's been pursuing acting roles and embarking on business ventures, the show immediately put her back in touch with her music fans and allows her a new musical life. See the music industry sometimes likes to define at what age an artist is done, but for Trina Braxton, she's now able to break that stigma and create her new album without those limitations. YouKnowIGotSoul caught up with her and discussed the origins of her time spent with "The Braxton's", her upcoming EP "Time of my Life", her experiences on "Braxton Family Values", her current business ventures, and much more.
YouKnowIGotSoul: I want to take it back in your music career. As part of The Braxton's, how did you guys originally sign your deal with Arista, what led to your break?
Trina Braxton: Woooo, we're gonna have to take it back for this one! Wow that was a long time ago, I was still a teenager, probably about 13 or 14 years old. We had a showcase for LaFace Records and they had already signed the group TLC so they were only looking for a solo act and they chose Toni. So Toni was like "Well can my sisters come with me?" And we ended up being her background singers. L.A. Reid's brother Bryant Reid left LaFace to go to Atlantic Records and so the four girls went with him to Atlantic Records and that's when we became The Braxton's. Then my sister Traci ended up getting pregnant so we ended up forging on with just the three of us.
YouKnowIGotSoul: I know that you guys kinda bounced around a little bit as The Braxton's; you were on Arista, then moved to LaFace, and then finally to Atlantic where you released the "So Many Ways" album in '96. What was the journey like and was it discouraging at all?
Trina Braxton: I have to be honest, I think I was too young to appreciate it. Now that I'm doing my new current music and it's under my own label, I think I took for granted the fact that the record company does everything for you. They give you a publicist, and book tour dates, and pre-approve your budgets. You take it for granted until when have pay for it out of your own pocket! *Laughs* Again I was 13 or 14 years old when we were with Arista. I didn't have a real appreciation for what was going on in my life.
YouKnowIGotSoul: Now here you are as a solo artist and doing things on your own. What's this new journey like for you?
Trina Braxton: I would have to say it's very fulfilling because I'm doing something that it's my heart to do. It's been awhile since I've been there as an artist, so like I said, the appreciation level goes up tenfold.
YouKnowIGotSoul: You've got out the single "Party or Go Home". Talk to us about that.
Trina Braxton: The single "Party or Go Home" is everything Trina, it's fun, it's bubbly, it makes you want to get up and dance. This is not to sound conceited, but when I go to work out it gives me that extra push when I want to go that extra mile on the elliptical. It pushes me further to do that extra workout, I love it. If I didn't do it, I would be a fan. Is that conceited? *Laughs*
YouKnowIGotSoul: You're also working on this EP "Time of my Life". What can we expect on there?
Trina Braxton: It is set to be released around the same time the third season of "Braxton Family Values" comes on. The new single "Game Time" is coming, you guys will hear that within the next couple of months.
YouKnowIGotSoul: Tell us about "Game Time".
Trina Braxton: "Game Time" is the woman's perspective of the football, basketball and baseball season. Women enjoy sports as well, we enjoy having a light beer and watching the game! But you never hear from the female perspective, so it's a really fun song. There's a great drum line in there, it's a really fun song.
YouKnowIGotSoul: The third season of "Braxton Family Values" is coming early next year. The show has been a huge success for you guys. How's the experience been like?
Trina Braxton: The best part is I get to work with my family. The worst part is I get to work with my family. *Laughs* The good thing is we don't live together, if we live together then we probably wouldn't have a show. I get to work with people that I trust and love and respect.
YouKnowIGotSoul: Would you say that's definitely your favorite part of doing the whole thing?
Trina Braxton: That's definitely my favorite aspect. I've never worked with a cast as closely as I do with my sisters. The good thing about it is we fight hard, not physically, but we love hard too. It's not like we're with a cast of people where we are supposed to get along. We naturally organically have that family chemistry, and that's what I love about it.
YouKnowIGotSoul: I know you have a passion for acting and have been in numerous acting roles throughout the years, but reality TV is a little different. How would you compare both types of roles?
Trina Braxton: Oh my gosh yes. Acting involves a person to become someone else for that moment. When you are reality television, you are you 100% raw, at least it is for us. The one drawback about reality television is when people see you, they are seeing the real you who you are. However, they only get to see one hour in the whole scope of your life. They'll judge based on that one hour that they see, so it's not all encompassing.
YouKnowIGotSoul: In terms of a reality show and r&b artists, more and more are popping up, and it seems like it's a good thing for r&b, especially in a time when it's not in the spotlight like it once was. Reality TV seems to be creating more opportunities for the genre. Do you feel that's the case?
Trina Braxton: I think that's absolutely true, but I think one of the things about this music industry is they give you a shelf life. One thing about television is it's ageless and limitless. So you're able to forge on into the entertainment industry without the limitations of age that we sometimes tend to give each other.
YouKnowIGotSoul: You recently completed a business degree and it's helped you with some business ventures. How has that helped you to build The Braxton brand further.
Trina Braxton: When I first went to school and got my degree in business and communications, the one thing is I didn't do it just to build a brand. I did it because I wanted to complete something that I started. It's definitely aided in being able to read the contracts and being able to understand the marketing and financial aspect. It's been a real blessing. It's amazing when you decide to take these roles and create these goals, everything happens for a reason and you never really know why it happens. Now when things are starting to come to fruition, you are starting to see why.
YouKnowIGotSoul: Can you talk about some of the ventures you're now involved in outside of music and the show?
Trina Braxton: We're opening up a retail and apparel store in Atlanta which will sell clothes, shoes and accessories. It's called "Braxx" and I'm super excited about it because fashion has always been a passion of mine.
YouKnowIGotSoul: Anything you'd like to add?
Trina Braxton: I just want to say thank you for your time and your support of me and my family. I want to thank my Boom Booms because they've been so supportive. You can see anything Trina Braxton on www.TrinaBraxton.com including my webisodes.