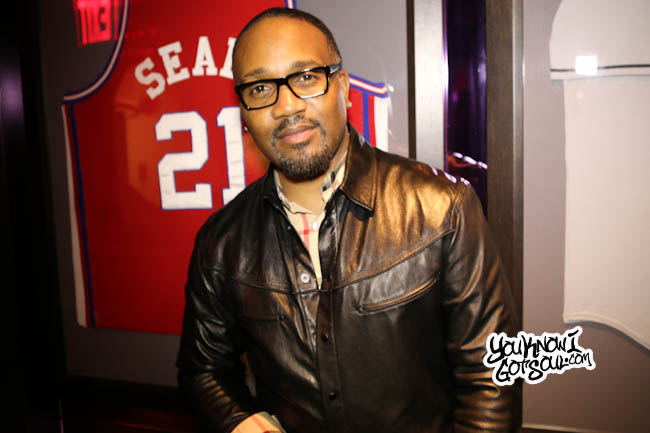 The success of Trey Songz wasn't overnight, and in fact it took until his third album before he really became a superstar. But what many didn't see was the man behind the scenes developing him as an artist, and that was super producer Troy Taylor. That is just one of many accolades in a very successful career for Troy, who originally started out as an artist signed to Motown before stepping behind the scenes. Over the years, the Grammy Award Winning Producer has worked with Mary J. Blige, Ginuwine, Brian McKnight, B2K among many others. In fact, his story began many years ago in New Haven, CT after linking up with Carl Thomas, a revelation Carl made to us in our first interview with him many years ago. Now Troy is locked in on his next project, helping to develop and craft Kevin Ross into the next r&b star. YouKnowIGotSoul caught up with Troy Taylor at the listening event for Kevin's upcoming debut album and discussed his history with Trey Songz, artist development with Kevin Ross, his production history, and more.
YouKnowIGotSoul: We're here at the listening event for Kevin Ross' upcoming debut album. Talk about your involvement with the album and him as an artist.
Troy Taylor: Kevin is signed to The Bar Music Group, that's Ezekiel Lewis and myself. He's a prolific artist, he's incredible. I met him in 2007 officially and saw him on the BET Music Matters. When I saw him I couldn't believe his voice was so amazing. A friend of mine called me and asked me if I had heard him and was watching him on the show. I was like "He's probably got a manager or production deal, or already signed." It turned out he wasn't, so I got in touch with him and he basically was at Berkeley College of Music. I told him to finish school and then come to Atlanta and that's what he did. In 2009 he came to Atlanta after he graduated, and then we began artist development. I'm really big on artist development because that's what truly makes stars. People think that you can just be dope and sing, but it's really about the artist development. He went through his courses, wrote for different people like Jamie Foxx, SWV, Trey Songz; he just really developed and got solid. We decided to start paying him some attention and had him showcase for Ethiopia at Motown. She ended up seeing him and loving him and signing how, so that's how we got started.
YouKnowIGotSoul: Talk about his debut album and what we can expect on there.
Troy Taylor: "The Awakening" is the album by Kevin Ross. Right now we're such in ratchet mode, and it reminds me around the time when Marvin Gaye decided to do the "What's Going On" album and how Berry Gordy thought he was really crazy for it. There was nobody doing it really. For it to come back and end up an iconic album, I feel like right now is the same feel. With everything going on politically and the community, nobody is saying anything real particularly. No one is talking about substance and really something that you can leave with when you finish listening. Back when I was growing up, people left you with a thought. Michael Jackson, his music left impressions on you. Every time you hear it to this day, you remember where you were when you heard it. Stevie Wonder, Lionel Richie, Billie Joel, Phil Collins. I'm talking about people who sang songs that mattered. I feel like right now everybody wants to be cool and accepted. Right now with "The Awakening" this is a time for us to be daring and finally say some things that nobody is saying. I truly believe that it's going to pop off and when it does, everybody else is going to want to do it too, which is a good thing.
YouKnowIGotSoul: How similar is it breaking Kevin Ross as an artist to another artist you had success in breaking, Trey Songz?
Troy Taylor: It's more of a difference because Trey is a sex symbol more so. The ladies are going to go wild. He's going to really, really hone in on being a sex symbol. His songs are going to be more sexual. As he's older now, he's going to probably turn into getting more sensual than sexual and a little more mature. Kevin Ross, he's everything; he's love, he's sex, he can be political, inspirational. Vocally, he's a monster. You're going to get musicianship, you're going to get true lyrics and thoughts. You see the difference. One is a ladies man and one is a world's man. There is one thing that they have in common is that Kevin Ross wrote "Touchin and Lovin" for Trey Songz and "What's Best for You" and those are two different songs in itself. That describes Kevin Ross, he can be both of those.
YouKnowIGotSoul: You worked with Trey Songz since the beginning. It kinda took him two albums before he really took off. Was that the time frame you guys had in mind for him?
Troy Taylor: Nah. Pretty much, we came in with a finished album with Trey. The A&R at the time really wasn't allowing us to do what we do and what he signed in the first place for. It took two years and it was really unnecessary. Trey developed more, but he was already developed when he got signed. It happened the way it needed to happen I guess, but it just wasn't right because he was already ready to come out. That's why the third album that really set him off was called "Ready" because we felt he cut his braids, he stopped wearing baggy clothes, and just matured up.
YouKnowIGotSoul: Where do you rate helping Trey reach those heights among your personal accomplishments?
Troy Taylor: That accomplishment is great because it's hard to make stars now, it's not the same anymore. To really build an artist with six albums under his belt, it's really not easy anymore. With Trey having six albums and this actually 2015 will be exactly 10 years since "Gotta Make It" came out. So I guess he made it!
YouKnowIGotSoul: Talk about your history in the industry. You were previously an artist yourself and signed to Motown but eventually went into production. Talk about that decision and how it turned out.
Troy Taylor: Of course I started as an artist and I was signed to Motown. At that time, a good friend of mine, one of my first artists actually, Carl Thomas, was with me. At that same time, I was doing Boyz II Men. Of course they weren't the group they were now, but during the making of the album and when it finally came out, I saw I could get the same money or maybe more by singing and arranging without putting myself out there. I wanted to stay as a producer and writer. I could be behind the scenes and write on whoever's album I wanted to and not have to rely on my album being successful. I could just float around and still make money. So I thought it was a good decision because it allowed me to work with all kinds of artists. One was Tyrese "Sweet Lady", Color Me Badd on their first album, B2K, Ginuwine, Aretha Franklin, Whitney Houston, Patti LaBelle, The O'Jays, The Isley Brothers, it just allowed me to spread myself out.
YouKnowIGotSoul: Anything you'd like to add?
Troy Taylor: Get ready for Kevin Ross "The Awakening", right now the release date is August 28th. The single is "Dream" featuring Chazz. I just really want people to embrace the lyrics, the melody, and the true artistry.