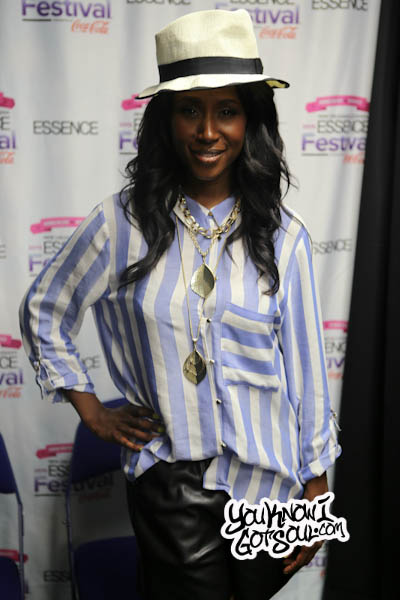 It seems every year, we hear the news that Tweet is coming back with a new album. Unfortunately that has yet to happen, but it seems there is light at the end of the tunnel as Tweet has officially signed a deal with eOne Music. What this means is that she will finally be releasing a new album titled "Charlene" which is set to come out early next year. YouKnowIGotSoul had a chance to talk to the Southern Hummingbird about her new project and some of the collaborations she'll have on the album.
YouKnowIGotSoul: You just announced the news that you're now signed to eOne music, so talk about the signing.
Tweet: It was heaven sent. I'm allowing God to orchestrate, so he's bringing blessings into my life and eOne is one of them. I'm happy to announce that my new album "Charlene" is dropping January 22nd, 2016 and I'm just excited about the whole process. I can't wait for you guys to hear the new music.
YouKnowIGotSoul: What's the project going to sound like?
Tweet: The sound of "Charlene" is everything that inspired me from the beginning. It will be church, Marvin Gaye, quartet and "Southern Hummingbird". You'll get to hear "Southern Hummingbird" times two plus a little bit. That's what "Charlene" is.
YouKnowIGotSoul: Will you be working with Missy Elliott on this project?
Tweet: Yeah, Missy and I are doing a record together. I'm excited! I'm also doing a duet with one of your favorites, but I don't want to announce it yet. You're going to be excited!
YouKnowIGotSoul: It seems like everything is coming full circle with Jodeci returning and everyone from their camp like Timbaland, Missy Elliott, Ginuwine and yourself are all working together again. How did that all happen?
Tweet: I think it's time. I hate to say that music is really struggling, but I think it's time for timeless music to come back. We need good R&B music and who else better to do it than my crew?
YouKnowIGotSoul: You've had a couple of false starts when it comes to your upcoming project. How do we know that this time is for real?
Tweet: They're going to believe it when they hear the music. I'm sorry it's been so long, but it wasn't my fault. It wasn't God's timing at the time. I've been trying and it's finally here. Hold on just a little bit longer!
YouKnowIGotSoul: When can expect the single?
Tweet: By the end of the month, we'll get a new single.
YouKnowIGotSoul: Anything you'd like to add?
Tweet: Thank you guys for the support and holding on. "Charlene" is coming.