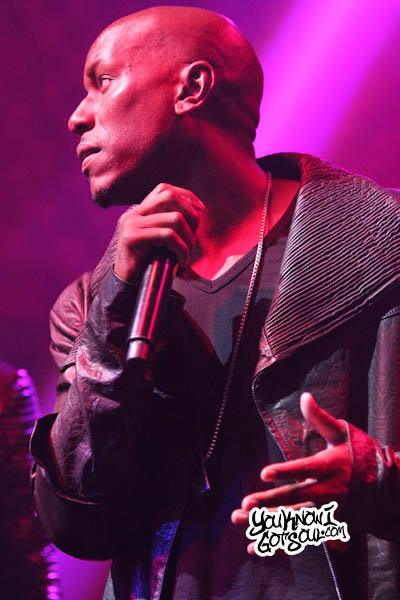 Love him or hate him, you cannot deny what Tyrese has been able to accomplish throughout his career. It seems like he's been able to make something out of every opportunity that has been offered to him from his acting career to his best-selling books. Above all of that, the one aspect of his success that is most impressive is his music career as he's been able to survive as an independent R&B artist, which is not always easy to do in today's music industry. YouKnowIGotSoul had a chance to speak with Tyrese about his upcoming plans for his career as well as his new artist Kristal Lyndriette.
YouKnowIGotSoul: I've noticed with your most recent projects, you've pretty much been pushing to the grown audience as far as the music and the promotion. Talk about that approach because I know a lot of artists are always trying to cater to the younger generation.
Tyrese: That's a really good question and a really good observation. You know your shit, I love it! Look man, I'm grown and I'm proud of being grown. Chris Brown and all of the young guys out there doing their thing, they're supposed to. I've never been competitive or intimidated by somebody else's success. I don't want anybody's hit records, I just want my own. I don't want nobody else's album sales, videos, looks or sold out concerts. I just want my own. I've always been secure in my own skin. As a matter of fact, when I go to the gym to work out I look at pictures of how good I used to look and that becomes my motivation to want to work out. *Laughs* With that being said, I'm 34 years old and trying to turn up and get out of all that younger shit like popping shoulders, talking about making it rain, popping bottles in the club and doing all of that, that isn't really my sweet spot. That isn't really my demographic and I don't know it's believable for me and my actual fan base. I think it's more so instead of purposely running away from the younger generation or younger demographic, it's just me understanding what my target, market and sweet spot is. The reason they're doing it is because that's a part of their demographic and it works for them. For the folks older than me that are still trying to pop and turn up, congratulations to them. Keep it moving! If you can rock it, go for it.
YouKnowIGotSoul: You're more involved with the music than you have been in the past. With Kristal Lyndriette's project, how involved are you going to be with that? I know artists often complain that the upper people sometimes have too much control, so what's the balance for you?
Tyrese: As involved as she wants to be because I'm an artist and I can relate to those sensitivities around them having a voice and wanting to do this and that, it's fine. In the midst of trying to do something for the first time, as much as you want to teach you must also equally remain a student and be open to suggestions and ideas. You don't want to be bullheaded and controlling as far as what you're doing to make everybody feel like their voice and what they want to do is not welcomed here. I don't think I would allow that anyway, but for the most part, I know what I'm doing. I know how to put together a great album. I took the lead on putting the TGT album together as far as the writers, producers and the direction of the album along with Tank. I know how to create an album and a body of work from the beginning, middle and end. I really feel like creatively I represented that with my "Open Invitation" album because you can listen to that album from top to bottom and not skip any songs and it was purposely done that way. It was the same thing with the TGT album. As far as an album with a real body of work, you're going to get that from this Kristal album. It's going to be Kristal. This is not Kristal singing a bunch of Tyrese songs.
YouKnowIGotSoul: Your last album "Open Invitation" was a big success and you put that out on an independent label. The TGT "Three Kings" album was also a big success, but you released that on a major. Did you think about returning to a major after the TGT album?
Tyrese: No sir. The thing is, you cannot deny the huge amount of money, distribution and marketing financial outlets that are out there in a major label. However, not directed at Atlantic Records specifically, but what you will find in a lot of major labels especially with executives that have been at a label for a long time is that trying to survive in a 2013 mode with the mentality of an 1989 record executive can present a lot of challenges because you can find yourself trying to talk people into things that they're just not used to spending money on. You're trying to talk people into doing things and going about things in a very unconventional and non-traditional way and they're like "No, we're not used to doing that. We're not used to spending money on this and that." I don't think that's going to work because it hasn't worked in the 20-30 years in the business. So I think at the end of the day, the reason we sold the amount of records that we sold is because everything that we did was untraditional and it worked. I'm not tooting my own horn because I'm very humbled by the success of "Open Invitation", but at the end of the day, it definitely made a lot of people in the industry scratch their heads and say "Well, we've got 2-3 million dollars behind this album and it did 13,000 the first week. How the hell did Tyrese do 109,000 the first week and go on to sell to close to 480,000 records worldwide? How is that possible?" We only had a staff of 8-9 people and we basically went balls to the wall and never let off the gas until we got as far as we could possibly go. The reason why we stopped is because I actually ran out of money. *Laughs* I would have sold more records than that, I believe it!