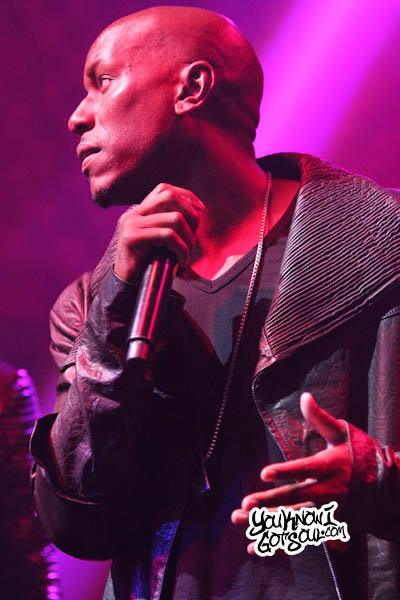 We're now at the point in Tyrese's career when we can legitimately ask the question "What hasn't this man done?" From model to singer to VJ to actor, and most recently bestselling author, Tyrese has seemingly conquered every challenge in his path. Yet, unfortunately for the fans of his music career who have watched him blossom over the years, the album releases have become more infrequent as his celebrity has increased. Rest assured music fans, Tyrese has returned to bring you his first album in over five years with "Open Invitation", and as he puts it, "This is the best album of my career". YouKnowIGotSoul got a chance to speak with Tyrese for this exclusive interview during which we discussed what to expect on the new album, collaborations with Brandy and Melanie Fiona, the video for his current single "Stay", his desire to hear his own songs heard in the club, how he manages to keep all of his fans happy, and much more.
YouKnowIGotSoul: Your new album "Open Invitation" will be out in November. Give us a run through of what we can expect to hear on there.
Tyrese: For me, this is the best album of my career. I feel really, really good. I feel more a part of the process than I've ever felt before in the past. I think right now a lot of albums that are out there, they sound like mixtapes. Artists are working with 30 different producers on one album and they've got 30 different collaborations and it's like, this is an album or this "We Are the World"? For me, I wanted to get back to the old formula of really getting in there with a music team and really flushing out an album. Like Janet Jackson did with Jimmy Jam & Terry Lewis, the way Babyface did with Boyz II Men, the way Usher did with Jermaine Dupri. Just getting back to the formula of hooking up with a crew of producers and songwriters and really molding and shaping the direction of an album. My album has this synergy to it that's going to remind the fans of what it's like to listen to an album that has a certain synergy. That's what I'm excited about the most. I cannot wait to share this album with the fans on November 1st.
YKIGS: I was at your listening session you had in New York City last week, and you talked about how the album came together and how you had a boot camp put together at your house for 4 weeks. Can you take us through that story?
Tyrese: I called it r&b boot camp. I had 14 people sleeping at my house for three weeks. I got a nice sized house so everybody was comfortable. I had my chef there cooking, we all ate breakfast together, we partied together, we prayed together. More importantly, we had five different music setups throughout the house with Logic and Pro Tools, a vocal mic, we were demoing and writing songs and just vibing on each other all day every day. We probably did a total of 28 songs in three weeks and put this album together. It's a very, very, very special and personalized deal.
YKIGS: One song that stood out to me during that listening session was the collaboration you had with Brandy on "Rest of our Lives". Talk about that song and how the collaboration came together.
Tyrese: Well "The Rest of Our Lives" is just one of those records that really stood out. I said to the team I wanted to come out with a 2011 wedding song because I think the most significant moment at a wedding is when you say "I do" and when you do the first dance. So we wrote a song for the first dance and it's called "The Rest of Our Lives" and I think a lot of the fans are really going to appreciate the content of this record.
YKIGS: I know that on Twitter you were looking for Melanie Fiona for a song and a collaboration and then less than a week later a picture surfaced of you guys in the studio. Did you guys end up collaborating?
Tyrese: Yea, we did a record together too, absolutely. We're still mixing on that and figuring that record out right now. That's definitely coming too.
YKIGS: It's been five years since your last album. How did you know it was the right time to do another album?
Tyrese: You know what, I'm a very spiritual man and I just think the timing and the spirit of music just kinda hit me. I just thought the time was right now. November 1st I'm going to invade everybody's world with this music. It's like we got Thanksgiving coming up and a lot of people make love in the winter baby!
YKIGS: So you've got the new video for your single "Stay". Tell us about the video.
Tyrese: Well Taraji P. Henson is my leading lady. I've never been more excited about a music video in my life! Very, very proud of what Taraji has been able to do since we both made our debut in Baby Boy. I mean she's Oscar nominated and she was just at the Emmy's last week with an Emmy nomination, so for her to do this video, she's like "I would never do a music video, especially right now, only for you because I love you." It just kinda reminded me of the power or relationships and just having friends in high places. I think the fans are really going to enjoy the chemistry and the energy from what we did in Baby Boy. It's like me and Taraji, we look wealthy in this video, we look like we've finally made it. *Laughs*
YKIGS: You're releasing the video for "Stay" which is kind of slow jam, adult contemporary r&b. At the listening session you also mentioned you're doing a video for the song "Too Easy" which is more uptempo commercial r&b. Do you think it will be hard to promote both singles simultaneously since they hit different audiences?
Tyrese: No I think right now, I think the worst thing you can do is take an arrogant approach and not give people enough content to wrap their heads around. I think the old school, back in the day, 10 to 15 years ago in music, is like you launch one single and you just let that ride out. Right now, you've got folks like Chris Brown, he just won't let up, he's got mixtape after mixtape, they're playing songs on the radio from the mixtape and then he's got songs on the album and videos and he's got remixes he's jumping on. It's like right now, you've just got to force feed the fans and give them more than enough so that you can just get the music into the bloodstream. That's just what you have to do right now.
YKIGS: I know at the listening session you expressed a desire to do more club friendly music and even mentioned you had never heard your own song in the club. Talk about your desire to make this type of music.
Tyrese: Well my songs have been in the clubs before but more so collaborations than my own records. When I did the record with Da Brat "What'chu Like", when I did the record with Snoop "You Just a Baby Boy", the other record "Pullin Me Back" with Chingy. These are records that were played in the club. It was almost like it happened and it was more accidental than purposely done. So I've been clubbing and popping off in clubs since I was 19. I normally do my ballads and my slow joints, but it's like you can't dance in the club to "Sweet Lady". You can do other things to the record, but now it's time for me to turn it up and finally be in Club Liv in Miami and hear my music coming through the speakers. In the spirit of that and just being young and having fun as well as my bedroom records, I think it's just a great combination of music all on one album.
YKIGS: This is your first independent album after all of your others were on major labels. What's been the biggest challenge so far?
Tyrese: Paying for everything myself. *Laughs* Oooh weee! I've never paid more attention to spending on music in my damn life! When I was on the major it was like "How much is this producer? 80 thousand? Ok cool it's in the budget." Now it's like "How much is this producer? 80 thousand? Hang up the phone right now, hang up the damn phone!" *Laughs*
YKIGS: You've got a lot of fans as Tyrese the actor, and another whole fan base of Tyrese the singer, how do you manage to manage both of those and keep all of your fans happy?
Tyrese: Now I've got a whole nother fan base as an author, don't forget about the book sales, best selling author. That's a whole nother fan base right there when they sit down and get into that book. I think ultimately a fan is a fan and you can't put new things on the fans mind if you don't have an audience. I think it's for my music fans to decide, from my fans way back to the Coca-Cola commercials, you loved me on the bus, why would you buy an album? Now you love me as a singer, why would you come see me in a movie? Now you love me as an actor, why would you wanna buy my book? I think a fan is a fan and when they support you and when they love you and when they embrace you and what you bring to the table, as long as you bring something that's quality to the table they're going to show up and support it.
YKIGS: You mentioned the book "How to Get Out of Your Own Way". It's been out about six months now. How has it been received by fans and people who've read it?
Tyrese: It's on its 14th reprint. In talking to retail and all of the people at the stores like Target and Wal-Mart and Amazon and Borders and Barnes and Noble, they say they can't keep it on the shelf. For the book to be a best seller in one month is a real sign of the anticipation for folks that wanted to read it and wrap their heads around it.
YKIGS: Anything you'd like to add?
Tyrese: The album is coming November 1st. I put my heart on the mic on this album. The fact that I did this independent, I feel every radio spin, every request that goes into the radio, every mention, every blog, every e-mail, every over the dinner conversation mentioning the album. I just want to say thank you in advance to all of the fans that have been supporting me from the beginning. You guys have been wanting me to do another album forever. I know I've been off doing these movies, but I'm here and my put my best foot forward and I just hope that you guys just enjoy this energy this energy that me and these producers and songwriters put together for you guys.