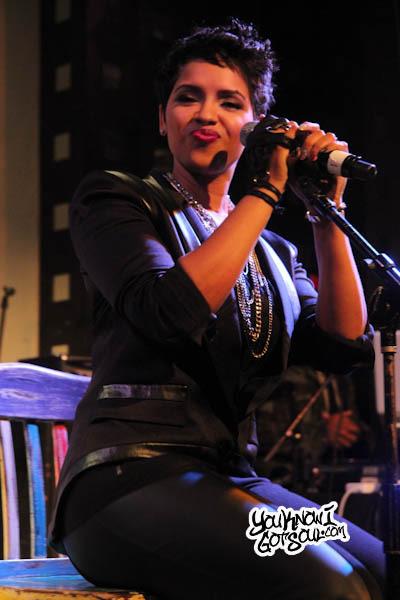 Although you may not recognize her by name, you definitely have heard RaVaughn Brown's voice before as she's done background vocals for many artists including Keri Hilson's "Energy". Now, as the first signee of Compound University, RaVaughn is prepared to make her mark in the industry. YouKnowIGotSoul had a chance to speak with RaVaughn about her journey in the music industry along with her first single "Same Ol' BS".
YouKnowIGotSoul: Talk about your single "Same Ol' BS" and how the song was created.
RaVaughn Brown: I actually had a session with Lil Ronnie at his studio and he played a few records for me and I fell in love with it. I think so many women can relate to the song because I too have been down that road, I had an instant connection to the song.
YKIGS: You do a lot of your own writing so what is your writing process like?
RB: I don't have a particular ritual when I write. I just like to go with what I feel when I'm in the studio. I like to co-write because a lot of times two heads are better than one. I love to have fun in the studio…when you think too much it can take the fun out of the process and then it just feels like WORK.
YKIGS: I know you're working on your upcoming project. What can people expect as far as the sound of project?
RB: I would definitely have to say that it's R&B driven. I think my records tell a story that everyone can relate to or has someone close to them that can relate. I want to get back to when music was really talking about something meaningful, like Mary J. Blige's "My Life" or "The Miseducation of Lauryn Hill".
YKIGS: How did you originally link up with Ne-Yo?
RB: To make a long story short, I was doing demos for just about everybody in L.A. and then some. *Laughs* Eman (a producer that I had worked with a few times) called and asked if I could come to his studio to reference a song he was doing. When I got there, Ne-Yo was writing it! The session went great and he asked for my info so that he could have me come in to do some more references for him. After the 2nd session I had with Ne-Yo, he asked me why I wasn't signed and working on my own project, the rest is history!
YKIGS: Recently you signed a deal with Columbia Records/Compound University. Take me back to the moment you found out you were going to be signed to a major label.

RB: Tango called and told me that the deal was done while I was walking through a mall parking lot after Christmas shopping. All I remember was I couldn't stop jumping up and down in circles. *Laughs* People were looking at me like I was crazy!
YKIGS: What's the biggest piece of advice that he's given you so far?
RB: He's given me so much really good advice I wouldn't know where to begin, but what rings out the loudest is to ALWAYS MAINTAIN A GOOD WORK ETHIC and to remember that you're only as good as your last song… I loved that!
YKIGS: We've heard demos of the songs that were later recorded by artists like Keri Hilson and Brandy. How did you get an opportunity to record these demos?
RB: Just by word of mouth in the industry. I did my first reference vocal with Sam Watters and I continued doing demos for him for years. When he would play a record I referenced, people in the industry would ask who I was so he would give them my info, and that just started a chain reaction.
YKIGS: There are artists that come and go, what is it about you that will make you stay in this industry?
RB: I believe that music has the ability to tie people together regardless of where we come from. My love for music and my passion to touch the lives of people that I don't know personally moves me to work hard and continue to tell stories through songs that I hope will be timeless.
YKIGS: For a young artist, you seem to have a very old soul in your voice. What artists inspired you growing up?
RB: There are so many artists that inspired me growing up, but it wasn't until I listened to "The Miseducation of Lauryn Hill" that I knew this is what I really wanted to do. Artists like Anita Baker, Whitney Houston, Aretha Franklin, and Mary J. Blige to name a few, played a big role in my love for music as well.
YKIGS: Aside from the new album coming out, is there anything else we can look forward to in 2012 from you?
RB: Compound U (My team) and I have a lot of exciting things lined up! You'll have to check out our website, follow me on Twitter @itsravaughn and Facebook for more updates!
YKIGS: Anything you'd like to add?
RB: I'd just like to thank everyone that's played a part in helping me get to where I am now and I'm looking forward to enjoying the success with all of you!! Be on the lookout for Compound, we're hittin' hard this year.