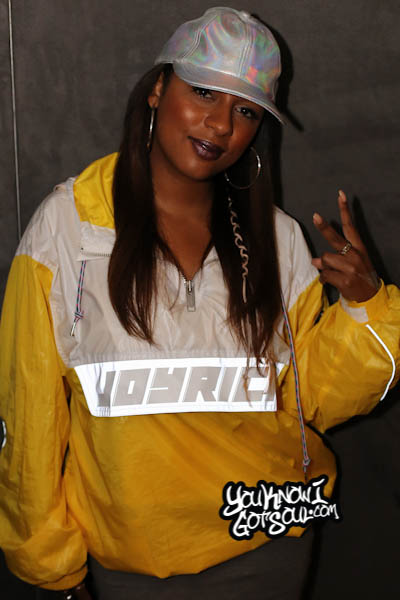 After bouncing around the industry for some years, Victoria Monet has seemingly found where she belongs. Judging by her "Nightmares & Lullabies" EP, she's also found her lane. The Atlantic Records signee manages to combine epic tribal beats from her partner Tommy Brown with her angelic vocals to create a fresh fusion that we've not quite heard before. She's already got writing credits under her belt for Ariana Grande and many others, as well as features on hip hop heavyweights Nas and T.I. So while the path to get here was long, it shouldn't be much longer before she takes it to the next level. YouKnowIGotSoul sat down with Victoria Monet and discussed originally signing with Motown with her group, what lead her to Atlantic Records, the creation of her sound, her upcoming projects, and much more.
YouKnowIGotSoul: How did you originally get your start in the industry?
Victoria Monét: It's kind of random because I'm from Sacramento and I was working with a producer from there and he would travel back and forth to L.A. a lot. He was putting me up on game on a few producers that I should know about and one of them was Rodney Jerkins. Me being hungry, I researched him and then I added him on MySpace. Two weeks later, he actually sent me a request to come audition for his girl group. I was already in the process of saving up money to move to L.A. to pursue my career, but I wasn't there yet. This particular invite expedited the whole situation because I came to L.A. and I made it into the group. We were called Purple Reign and some of you guys may know that we had a tiny bit of YouTube following because we would do acapellas and stuff. So Rodney signed us and then we got signed to Motown as a girl group. We got dropped unfortunately, but I kept writing songs and I was able to build a lot of relationships. It's been a really exciting process to be in the booth and outside the booth. I also vocal produce and I'm really excited for everyone to hear my music as well.
YouKnowIGotSoul: I know you vocally produced for Ariana Grande on her albums. How did you link up with her?
Victoria Monét: My music partner Tommy Brown and I have known her for awhile now. Tommy is someone I do everything with. He actually did "Just Can't Get Enough" for Black Eyed Peas. We met Ariana years ago when she was still on Nickelodeon and I think it was two years before her first album. We were one of the first people to work with her and I think she has a particular trust in us because we aren't coming after she blew up. We just e-mail her directly with whatever song we feel she would love. We're developing that closer friendship. We go to her house for game night and her mom is really sweet. In the booth, I'm able to be honest with her and she's honest with me. I like the creative process with her, she's an incredible girl.
YouKnowIGotSoul: You previously had a deal with Motown with your group and then you guys got dropped. How did you link up with Atlantic?
Victoria Monét: It's so funny because after we got dropped from Motown, I was really distraught. I didn't want to tell my mom because she was so proud. Being that my grandma loved The Temptations and everyone on Motown, it was just an incredible experience to be a part of that. I was just writing about my feelings and then turning them into hooks. I was sending them to different labels and I was trying to sing them so well that they would keep me on the hooks as a feature. Some hooks I sent to Atlantic, they took me off and replaced with other people and stuff. One meeting, they heard one of the songs that I had written for the company and then Craig Kallman was like "Who is this girl? She needs to come in and sing for us today". It was a random phone call for me. I was in the studio and I didn't expect a phone call. They sent car service that same day. I sang for them a few of the songs I had sent when I demoed some of my songwriting and Craig was just like "We'll have the deal for you in the next weeks". I was like "Really?" I wasn't necessarily looking for a deal. I wanted one, but I hadn't pursued it yet. I'm really thankful for him grabbing it at a random time and thankfully I was prepared for that opportunity.
YouKnowIGotSoul: Introduce us to the new project "Nightmares & Lullabies" and what it's all about.
Victoria Monét: Over the past few years, as I'm doing songwriting, I've been secretly touching my own project in corners and revisiting and changing stuff. I finally come with the project called "Nightmares & Lullabies". I name it that because it's a good description of my sound. I have these dark tribal beats that Tommy Brown makes and on top of that, I'll sing softer melodies so it makes this juxtaposition that I really fell in love with. I dropped it October 30th which is a really exciting move for me because I've been waiting for so long. "Act I" will be October 30th and "Act II" will be November 18th. There are six songs on each. You can support it on iTunes if you like and you really mess with the music. Otherwise, it's for free on my Soundcloud. I just didn't want barriers for people not to be able to have those songs. It's for everyone to enjoy over the holiday break and you're just chilling with the family. There's also a deluxe version which will also include a video and a bonus song. That will come out December 9th. The whole end of the year should be full of Victoria Monet on people's iPods. I'm really excited about the whole thing.
YouKnowIGotSoul: Your project is executively produced by Tommy Brown. What's your chemistry like with him in the studio?
Victoria Monét: It's very beneficial when you can be really honest. I feel like he understands me more than anybody because we live together and we work together. He's very heavily involved in everything. He comes to all the meetings and I've never seen a producer so supportive even though he's my boyfriend. The creative chemistry is really crazy and it's something that you have to hear to understand. He's also part of my live show, so everything you see is real. It's not like week long relationship. It's been four years for us, so I'm really excited.
YouKnowIGotSoul: I know you've been getting a lot of songwriting placements as well as features for artists like T.I. and Nas. Has that made you more patient or less patient to put out your own music?
Victoria Monét: Yes and no. Yes because I was blessed with a few opportunities from doing hooks. T.I. brought me to my hometown to perform in the arena and all my friends family came. He was on the America's Most Wanted tour with Lil Wayne. Also, Nas brought me on Arsenio Hall. So the opportunities that it brought, it definitely made me appreciate everything even more. But my sound as an artist, it's a bit different from the features I'm on. It's a little more left of center and creative. I just can't wait for people hear my music. I've tried to top myself and challenge myself. I go back on lyrics and melodies. I'm open to feedback and open to songs that they want me to do a video to. I'm excited for the feedback that everyone has.
Follow Victoria Monét on Twitter @VictoriaMonet.