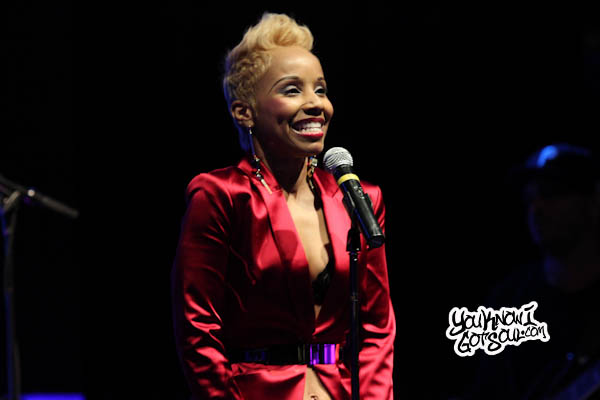 You have to respect an artist that can admit to feeling they lost their way on an album and in the process got away from what their fan base expected from them. When Vivian Green released "Beautiful" in 2010, the album took on more of a pop flavor than music fans were used to hearing from the soulful songstress. Thanks to feedback on social networks and growth she's experienced in her personal life and as an artist, she's grown enough to realize the style of music she needs to get back to for them. Along with that growth comes a refreshed and positive outlook that will certainly be reflected in her new album "The Green Room" due for release next month. A soulful record combined with a mature and positive perspective is sure to be exactly what music fans have been yearning for. With the lead single "Anything Out There" capturing that exactly, we know she's on the right track. YouKnowIGotSoul caught up with Vivian during a recent promotional run in NYC and discussed her growth, capturing fan feedback, her evolution to a more positive artist, memories about her classic debut "A Love Story" and much more.
YouKnowIGotSoul: Your new album "The Green Room" is coming out next month. This is your fourth album now, give us an introduction to it.
Vivian Green: It's a very soulful/r&b/grown & sexy record. My last album was very pop, I went somewhere different basically. I came back to what I know my base wants to hear from me. I did it in a way where I didn't feel I was compromising myself. I really love the work I did with the producers and writers, because there are actually two songs on this album that I didn't write. Everyone who worked on it did an amazing job and I was really proud of it. It feels really good when I listen to it. I know people expect from me some somber or sad music or angry, *Laughs*, but this isn't that but it also isn't "I'm so super happy and my life is perfect!" I think that they'll really appreciate it because when you listen to it, it's still music that's from my heart and it's still soul music, music that reflects my inside. It doesn't have a negative or sad tone to it. There are songs that may be sadder are more reflective, this is not at this moment in time, I'm not going through this right now, it's telling it from this positive perspective. I'm really proud of it and I worked on it for a long time. I'm really happy with the finished product.
YouKnowIGotSoul: That's something I was reading about your approach to the album, there are no sad songs, it's uplifting music. Was that your approach going into the album?
Vivian Green: Well going into the album, the approach was to make a black soulful record because I have to make a record that's going to connect with my base before I do anything else this time. I lost them the last album. I think I lost some of them, and then the other ones didn't even know it was out! *Laughs* I think this time, that was the mindset, go in and think about your fans and what they want to hear and still be true to you and still write from the heart.
YouKnowIGotSoul: How are you able to get in touch with your fans and get feedback to understand what they are looking for from you as an artist?
Vivian Green: I think I've done that with the last record, seeing the response from them on blogs and YouTube and even sometimes Twitter. They'll let me know they weren't feeling musically my work. I think there is always going to be soulful music on my record because it's coming from within me somewhere. "Beautiful" was a very heartfelt record and that is my soul in writing. The music itself wasn't soulful, it wasn't black, it wasn't r&b enough. They were very vocal about it, they didn't like my hair, they didn't like my clothes, they didn't like the music! *Laughs* They were very open about how they felt about things. I don't think this time I said "I'm going to do exactly what my fans want as far as content", because my fans will say "I love Emotional Rollercoaster, make another!" No, I can't do that. I will make music that is soulful and that is black and that is not too far from what you heard me doing the first time. With the content of it, I wasn't compromising on that, I was going to make a record that they'll love. It's a different perspective, pretty much and grown and sexy versus a 20 year old girl who is super heartbroken and writes her life story. *Laughs*
YouKnowIGotSoul: Is this the first time you've actually listened to fan feedback when going into creating an album, or have you always done that in the past?
Vivian Green: This is the first time I've ever heard this much of it. With social media and the information age now, it's very different than with my first record. There was no Twitter, there was no YouTube, or maybe it just wasn't popular as it is now! *Laughs* Now you can definitely go on any number of outlets and get exactly what people are feeling. This is the first time I've been able to do that.
YouKnowIGotSoul: We love your new single "Anything Out There". Talk about the creation of the song.
Vivian Green: I did not write that one actually, it's one of the two songs out of the 12 that I did not write. Vidal Davis wrote it, and he's a very successful producer. Dre and Vidal produced so many records from Alicia Keys to Destiny's Child to Jill Scott to Michael Jackson to Ciara to Usher. They worked with everybody and I've known them for a really long time but we never actually made published work. We have records that never made albums, but are friends. Vidal came into the studio when I was in there recording the "Soundtrack for a Revolution". Vidal was next door working in his room and he's like "Viv, not another album is going to happen if I'm not on it. I'm tired of this! I have this song and I want you to hear it. I know how you are about other people's material but you gotta hear it and be open minded!" This is a great song and I love where the range of the song is because he's always loved the deeper part of my voice which I really don't showcase that much. I showcased it on "What is Love" from my first album. I went in and listened and I liked it. It was like a one listen and then "When are we recording?" type of thing! I loved it, there was nothing I could argue about, I loved the song and wanted to record it, it was that simple. Shortly after, maybe a few weeks later after I got to sit with it and learn it as if I did write it, I went back in and recorded it, I just thought it was amazing. From that moment, I've been telling my label "That has to be the first single!" I just think it's so fresh and it's very refreshing. If you exclude "Beautiful" which a lot of people did not know about, I've been gone for six years or maybe seven. I think "Vivian" came out in 2005. That's a long time. Times change, music changes, and you notice the movement of the trends, but you definitely hear the movement of the time as far as sound. It shouldn't sound how it sounded 10 years ago. I just thought it was so fresh and refreshing and it was very sexy, it wasn't sad, it was talking about how much you love your guy. I love the lyric "Anything out There", I never heard anybody write a song that their love is better than anything out there. I couldn't deny and I just love the record, it's a really amazing record.
YouKnowIGotSoul: I've read some quotes from you talking about your evolution as a person and also your evolution as an artist and how they're kinda related. How have you seen yourself evolve over the past few years?
Vivian Green: It's just growing up and really maturing and learning. Just growing up is just a wonderful thing. When in you're in your 20s you do all the dumb stuff, but when you cross into your 30s you start to really get it. Some of the things that you've done that you'd never think to do, it's like a completely different mindset. I've totally grown in that way and I definitely think my music reflects that, even from the content of the last record. A lot of the content of this record as well, you can see that I'm not sad, negative or cursed. *Laughs* Nobody has got under my skin. Outside of love I'm just in a really happy place that I've been for quite some time now. It doesn't pay always to be mad or sad. *Laughs* You gotta look at the bright side of things and even turn negatives into positives. There is something you can learn from any situation whether it be good or bad.
YouKnowIGotSoul: As an artist from Philly, there have been a lot of talented artists like yourself who have come out of there. What can you say about the music scene you've experienced coming out of Philly?
Vivian Green: I think it's been amazing. I mean from The Roots to Jill Scott to Jazmine and everything in between. A Touch of Jazz and all of the producers there like Carvin & Ivan and Dre & Vidal. I just think that we have a lot of music coming out of Philly whether it's music we produced or artists. I think that it's really a great and wonderful thing. There is a new artist named Leah Smith who has a lot of good buzz right now, she's super talented, and she's actually featured on one of the songs on my album as well. The musicians in Philly as well all play for very huge acts such as Lady Gaga to John Legend to Mary Mary. People come to Philly to get their bands. Adam Blackstone is one of the biggest music directors out there right now, does all of the big award shows, puts the bands together for Jay-Z and Kanye, you name it and he's done it. I think it's just amazing how we are definitely on the map in a lot of different ways. I think we should all be proud of that.
YouKnowIGotSoul: Your debut album "A Love Story" is one that many consider a classic and its sound certainly paved the way for a lot of artists who came after. What do you remember about creating that album?
Vivian Green: I was excited but I feel like I wish I knew then what I know now. I made it, I love that album because it was my first album. I think it's never been my personal favorite because I listen to it and I'll listen to so many things that I would do over or do again. My voice was a little different, it's 10 years later and I feel like I'm a better writer and a better singer. I feel like I've grown so much as an artist and a songstress. I listen to it sometimes and I'm like "Turn it off!" When I was making it, I was definitely happy and I never wanted to be a starving artist. I always did really well in school and my parents didn't think I was going to be singer, they thought I was going to be a doctor! For it to happen was really critical. I was 21 and it was really a cool experience. To meet Tommy Mottola who was still there at the time, to be wined and dined on the 55th floor restaurant. It was like a whole new world opened up and I was so young and it was just amazing to be going through that at that time. That first album, even with the second one, they were really supportive as a label, so I felt really appreciated and supported by the label and that was definitely a good feeling to be so young and have a record label that you felt was really behind you. A lot of the people that used to work there, it's like everybody was fired and nobody is there from when I was there pretty much. I still keep in touch with some people who worked there that I became really close with. I always think about that first time and first album and first label and it always being a really great and positive time to remember. It was definitely turning point in my life and I would have gone to school just a year later. I was going to give up, I was done and over it. I was not going to be a starving artist. I was getting older, I just wanted to go to school and that was going to be it. But then I met Eric Roberson, who is a really dear friend of mine, and he's like "No, what are you talking about? You're super talented, I want to help you, you're going to do this." He was very, very, very instrumental in helping me get my first demo together that eventually got me signed to Sony.