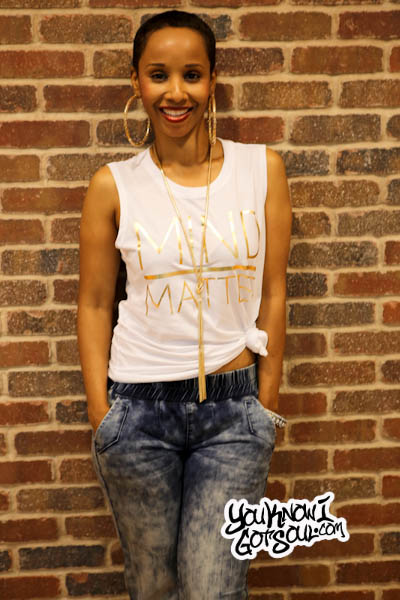 When Vivian Green released her single "Get Right Back to my Baby" last year, many r&b fans were quick to note that it was a new direction for her; an uptempo party song over a sample heavy production. After spending years being unfairly termed as "The sad girl", Vivian is ready to give us something new on her upcoming album "Vivid". The project is her first after signing to Kwame's Make Noise label in a partnership with Caroline Records, and will be a great reflection of the energy he's pumped into her music. You're still going to get vintage Vivian Green, but you'll be hearing it in a fresh new way. For a supremely talented artist who has flown under the radar for years now, what a great way to reintroduce herself to r&b fans who may have lost track. YouKnowIGotSoul sat down with Vivian Green during a recent promo run in NYC and discussed the sound of the new album "Vivid", her decision to sign with Kwame and have him produce the whole album, her history in the industry, and much more.
YouKnowIGotSoul: The new album "Vivid" is coming out later this Summer. I was reading it's a more uptempo direction for you. What made you go that route?
Vivian Green: Working with Kwame led me in that direction of a brighter, more uptempo sound. The entire album isn't uptempo, but the music just has so much more energy than my previous music. It's full of life and just different than stuff I've done in the past. I know artists always say that *Laughs*, but this one really is. The good part is the album is not gimmicky or trendy. I'm not trying to be a nineteen year old kid; it still appeals to my audience. I just think my music needed a breath of fresh air and burst of energy to really introduce me to a lot of the people who think I haven't released music since 2005. I have released two albums since then. There are a whole demographic of fans that weren't aware of me being present so I felt I needed something to grab their attention. I feel the lead single is that. The way people are responding is in such a positive way, I'm so excited. It feels different. I haven't felt this way since the early 2000's, so I'm really excited about it. People are responding to this different sound I'm putting out in a positive way.
YouKnowIGotSoul: You talked about the positive response to the first single "Get Right Back to My Baby". I was reading that you initially fought Kwame over that one, you didn't want to record it. Tell us about that story.
Vivian Green: Yea, the whole album is produced by Kwame. We definitely fought over it. I was into singing over the sample, it wasn't me, I had never done anything like that before. I guess I was afraid of it in a way. He said "Listen, you have so much personality, you're funny, you're fun, you crack jokes, there are so many sides of you people don't know. People think you're the sad girl and that's not true. So you have to show people something else." We fought about it and eventually the song was written and the rest is history. It definitely wasn't an easy process. The whole album wasn't an easy process actually. *Laughs*
YouKnowIGotSoul: Do you think that was because you were forced to step outside of your comfort zone?
Vivian Green: Out of my comfort zone definitely, but more so stepping out of the box that people put me in. Sometimes you get stuck in a box that you didn't put yourself in and then you get comfortable there. I definitely needed to step out because there is so much more to me than that box. Kwame saw that and wanted to bring it out in a way it wasn't brought out before. No disrespect to my previous music, I love all of my albums, even the ones nobody knows about. *Laughs* I put my heart into everything I do. This is just a new baby, and this baby is different from the others. It's very much a reflection of me, of different sides of me that people just haven't seen yet. I think the video was a great visual of that fun side. I'm just excited about it and it just feels good. The record has only been officially released for a month now. It's just a different feeling in the air than it has been the previous two albums. So I'm excited!
YouKnowIGotSoul: Speaking of Kwame, you signed with his Make Noise label, coming off of a couple of albums on eOne. How did you know this was the right place for you to continue your career?
Vivian Green: I had the two commitments to eOne and then I was a free agent. There were some options. Kwame and I had pretty much made the majority of the album and shopped the album as a whole to get a deal. In the process of that, he was offered the label situation and it just felt like the right thing to do. I love the people at Caroline Records, they were really excited about the new music and the energy of the new music. It just seemed like the perfect partnership with Kwame and Caroline Records. The access to Capitol Records is great as well. It allows us to get the awareness out there like it has not been and allows us to get to radio and do the things you do on a major label. You get the best of both worlds. I trust Kwame in so many ways, he's a true veteran. He's been around since 1989 and still thriving. I respect his hustle and longevity that he's had in the business. I'm honored to be a part of this journey him.
YouKnowIGotSoul: It's great to see the success that "Get Right Back to my Baby" is having at radio. We were happy to be the ones approached to originally premiere the song on the site last year.
Vivian Green: Yes! Kwame put the record out there last Summer as a buzz record to see how the response would be. He put it out there without telling me. YouKnowIGotSoul was the first outlet to post it, we love you guys! You've always shown me so much support my entire my career, I love that! You were part of the story from the very beginning and here I am, the song is on the charts now and most added to Urban A/C radio last month. The story of this record is exciting and people are getting energized about it and it feels so good.
YouKnowIGotSoul: Let's take it back to the beginning now. You had an original label deal wtih Columbia/RuffHouse and your parents made you turn that down? How did that situation go.
Vivian Green: Yes! I used to be managed by Michael McCary from Boyz II Men. At that time I was just in high school. We recorded a lot and this situation came about with RuffHouse, who had The Fugees, Cypress Hill, Kriss Kross. Michael had a relationship and I sang at a party at the piano and they were ready to do the deal. My parents weren't feeling it! *Laughs* My parents love me a whole lot and I love them. Rest in peace to my father. They just didn't think I was ready at that time, and I respect that, as a parent now. I respect it twenty times more than I did then. They wanted me to be a kid for a little while longer. I continued to write, that's how I landed my first publishing credit and plaque on my wall from Boyz II Men's "Evolution" album, a song called "Dear God" when I was still 16 in high school. That's what I did every day after school, I was in the studio. Some cool things came of that. i was able to work on Britney Spears' demo before she signed to Jive. I was nurturing my craft at that time, I was still very young. He wanted me to write as much as I could and record as much as I could to grow. That was such an important time in my life.
YouKnowIGotSoul: Back then you created your demo with Eric Roberson. We know the great work you've done with him over the years, but didn't know he was there for your demo. What do you remember about that?
Vivian Green: Yes! There is this story, because I used to sing background for Jill Scott which was great, but there's a grapevine story that a Sony exec saw me at one of her shows and signed me instantly! That never happened! *Laughs* I was simply a background singer and didn't get signed because of it. Eric worked with me on my demo tape which included almost half of the songs from my first record. We met working with a producer named Malik Pendleton, who worked "Seven Days" for Mary J. Blige, as well as Heather Headley and more. We just totally clicked and he just adopted me as his baby sister! He said "I really believe in you, I know you had this situation when you were younger, but you're going to get another situation, I'm telling you, I'm going to help you!" He was wonderful, he helped me. I made the whole demo at his home studio in Jersey. That's what went to Sony Music. That's why you guys know who I am today because of Eric! I sang at his wedding, I love his wife, we have a great relationship. He's a man that I really love and appreciate for who he has been in his life. I'm so happy for his success! He's so famous now! I just love it, love it, love it. I want it to continue on and on and on.
YouKnowIGotSoul: Anything you'd like to add?
Vivian Green: I just want to again reiterate that I'm so excited about "Vivid". I just hope you guys get it and just understand and embrace the energy of it because it's different but it's still so me and soulful and musical. It still has messages that I've had throughout my whole career; empowerment, love, loss, self love. It's just interpreted in a different way. It's not trendy, I'm not poppin and droppin it like it's hot! *Laughs* It's still grown and sexy, just a different approach that is still very much soul and r&b music. I just hope people get it and live with it, run to it, cling to it, drive to it. I really love this album and I hope you love it to!