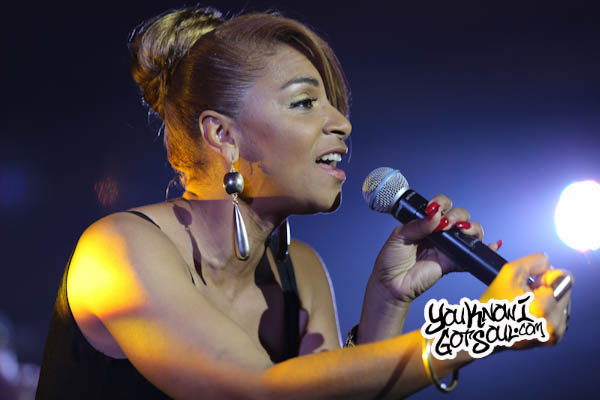 Teedra Moses came into the music industry and quickly gained a reputation for constantly grinding to keep having success in her career. Even with her recent signing to Maybach Music last year, her mentality hasn't changed, and she continues to grind like she has no backing. It's very easy to admire an artist who takes that approach, and put that together with the timeless music she's made over the years, that is the main reason Teedra will always have our support. YouKnowIGotSoul caught up with Teedra backstage prior to her performance at the City Winery in NYC earlier this month. We talked to her about the progress of "The Young Lioness" album, how Maybach has helped her elevate her career, how her mixtapes have helped her remain relevant, her "Luxurious Undergrind" documentary, and much more.
YouKnowIGotSoul: You're here once again performing in New York City, and I heard you'll be premiering some new music tonight. Can you talk about the new songs?
Teedra Moses: I love performing in New York City and there are a couple of records that I really just want to show some of the diversity on my new album "The Young Lioness" so I'm going to do a little snippet of each. One song is six minutes long, so I'm going to do a snippet of the first verse and the hook, and that one's called "War for Love". I'm also going to do a snippet of "Incredible" which is a record that is so vibed out and it feels really good, so I'm excited about doing it. I think the best place to preview new music and get a vibe for how people are feeling it is New York City.
YouKnowIGotSoul: Speaking of "The Young Lioness" album, people have been waiting on that album for awhile from you. Talk about the progress of it.
Teedra Moses: It's really good. I'm one of those people that I work, work, work and I'm hard on myself. I never think I have enough, I never think it's good enough, I'm really, really hard on myself. I continuously will throw out things and start with something new. But the compilation of what I have now, the zone that I have, the vibe I have, is so exactly what I've been trying to do. It's grown, it's sexy, it speaks to that demographic that's not being served, the 30 and up. People forget that there are really sexy vibrant people in their 30's. They pay bills, they have problems, and they go to the club sometimes but we lounge because we work hard so we don't really want to get crunk in the club all of the time. So it's a really, really good vibe that I'm getting on this album that's progressing. I'm excited; I've never been so excited about where it is.
YouKnowIGotSoul: You've been with Maybach Music a little over a year now. How have they helped you elevate your career?
Teedra Moses: The affiliation with Maybach Music has been so helpful because of the things that have come to me. I've been doing singing, music, grinding, putting out mixtapes all on my own since 2003. I've been doing this for years, but something about having an affiliation to someone that everybody has already approved makes people want to extend more to you. Some of the same things that you've been trying to get accomplished for a long time, when you have an affiliation, people extend more opportunities. So it's been very helpful to get that affiliation because as everybody knows I grind, so if you give me an inch, I'll take a mile. *Laughs*
YouKnowIGotSoul: Maybach has the "Self Made Vol. 2" compilation coming out. I know you were on Vol. 1, did you have a chance to get on Vol. 2?
Teedra Moses: I did not. That's more so because I was secluded off into doing my own thing. I went over to do some vocals for Ross' album, but I just really focused on having this thing completed and feeling really good about this album. I think sometimes when I'm working, I need to focus. A lot of the times when I went off to write for other people and then I try to write for myself, it gets confusing because I have ADD. This time I just focused on what I was doing because I had a deadline for when I had to submit the project.
YouKnowIGotSoul: You mentioned your mixtapes and of course after "Complex Simplicity" back in 2004, you've put out mixtapes over the years. They've always felt like albums since they had a lot of original material and they helped sustain your career. Talk about the impact they've had on your career.
Teedra Moses: I think that the mixtapes have been the thing that has really locked and secured my relationship with the fans of "Complex Simplicity". I think that I definitely didn't come on the mixtapes and do what I did on "Complex Simplicity", but you saw elements of it on each mixtape. I also think that I came back around. I feel like "Luxurious Undergrind" and "Royal Patience" feel more like the vibe of "Complex Simplicity" than any of the other mixtapes were. I think that was something that I had to experiment and get out the different things I wanted to do to come back around to what the next album I should put out. I think the mixtapes were helpful for me in securing the fan base and the fan base of music to know that I'm still doing it and I still do it at the level that they expect.
YouKnowIGotSoul: Currently you have out the single and video for "Another Luvr". Do you see yourself putting out another single soon?
Teedra Moses: Yes, that's why I want to play a bit of "Incredible" because I just want to see what the vibe is like. If the vibe is really good on "Incredible" tonight, I'm going to stay over in New York and do a video, me in the streets of New York just that whole sexy vibe because the song is really sexy. So hopefully New York likes it. *Laughs*
YouKnowIGotSoul: You're also slated to perform in the Essence Music Festival in your home town of New Orleans next month. I know you've also been shooting the "Luxurious Undergrind" documentary and the last shots will be at Essence. Talk about that.
Teedra Moses: Well it's been a journey period. The reason why I wanted to really shoot the documentary is because people don't understand what it is to be an artist; they just see the outcome of the music. They just see you on stage, they just see the video, they don't understand what the hustle is, they don't understand how things are going down. I just want them to see my "Luxurious Undergrind" and I wanted to make a documentary that shows exactly what it takes to be an artist on the level that I'm on. An artist that's on the underground but shines bright like an artist that is on a commercial level. I thought the best way to do it would be to have a goal set in mind of completion. Getting to this festival that I've always wanted to perform at, and it's not that big of a deal for a lot of people, but for me it is because that's my hometown and all of my family is going to see me. It's a big platform for soul music and I think it's also a platform for growing and growing a fan base. I think it's just like the best way to show people the direction of where I'm going and where I've come from.
YouKnowIGotSoul: I know you had also reached out to the fans to contribute in putting that together. How has the support been?
Teedra Moses: The Kickstarter support has been super phenomenal. I want to say thank you to everyone that has supported because I didn't know what to expect, that's why I made the number really low. Not only have fans of the music reached out, but outside Kickstarter, corporations have extended money to me to help. Shout out to Bombay Sapphire and a couple of others. Corporations have come and extended to me saying that "We see what you're doing, we appreciate what you're doing, we respect what you're doing, and we want to extend to you". It's super cool. I've got far more than I thought I was going to, but you never know. In urban music, people don't understand support in art. More people understand than I thought, it was successful, I'm past my goal.
YouKnowIGotSoul: One thing I've always been taken with you as an artist is people are still continuing to find "Complex Simplicity" and love it and become fans of you. What is it about that album that people can still pick it up for the first time today and love it?
Teedra Moses: What it is about that album is the main reason why I can't just throw out a second album. My intentions are to make timeless music, my intentions are to make music that you can listen to 10 years before now and appreciate it, you can listen to it today and appreciate, you can listen to it 10 years from now and appreciate it. You can put it in a capsule and bury it in the ground and listen to it 3,000 years later and people can still appreciate it, that's my intention. So when you try to make classic music, it's not microwavable. I think that the years I've taken may have been a long time, but I just feel in my heart that because I'm taking my time to do it, it will have an impact like "Complex Simplicity". I took my time to make "Complex Simplicity" and put my heart into it and talked about what was really going on in my life, people took to it. I want to make that same impact with "The Young Lioness".
YouKnowIGotSoul: Anything you'd like to add?
Teedra Moses: I'd like to say thank you, thank you, thank you to YouKnowIGotSoul for always coming down to my New York shows. I appreciate you guys so much, all of your fan base. I really, really appreciate you because the support from blogs like YouKnowIGotSoul keeps me going.