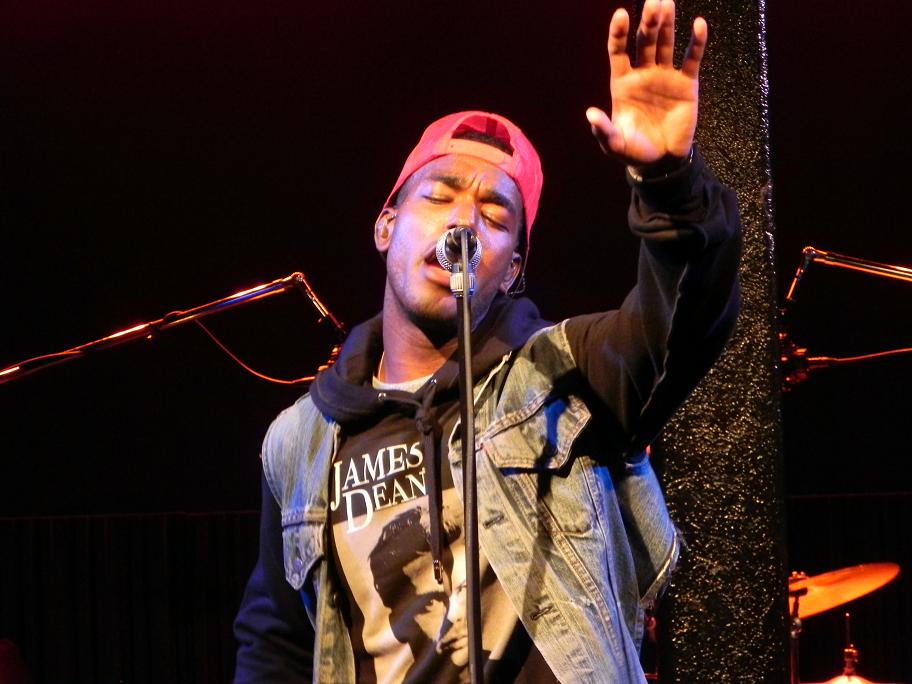 It's rare, but every so many years a special talent comes along that no matter where you are and no matter what you're doing, when you hear their music, you stop what you're doing and pay attention. I was first introduced to Luke James as part of his group Luke and Q, but I really became captivated with him as an artist after seeing him live at a showcase in NYC a couple of months back (click here). The kind of music that's timeless and will stick with you forever is the kind you can feel, and in a time commercial radio is dominated by catchy pop/r&b, Luke James is giving us something we can feel. In this exclusive interview with YouKnowIGotSoul, Luke James talks about how he originally sang backup for Tyrese, why Luke and Q didn't work out, writing hits for other artists, linking up with Danja, his current single "I Want You", the feeling in his music, his role in Melanie Fiona's "4 AM" video, and much more.
YouKnowIGotSoul: I read that you originally sang backup for Tyrese. Talk about what you learned from him and how you came up with him.
Luke James: Basically, I was in a group in New Orleans during high school and we did a lot of shows throughout the city singing everywhere. After a performance, we were driving down Canal Street and we ran into the Singers Theater where Michael Bolton and Tyrese were performing. We just decided we were going to take a chance. We jumped out of the car and stood outside of the building where the backstage entrance was and just started singing hoping that someone would notice us. Frank Gatson, who managed Tyrese as the time, we sitting in the limousine. He got out of his car and came up to us and introduced himself. We sung for him and he brought us into the concert and we sung for Tyrese. After that, we traded information and we stayed in touch throughout high school. When we graduated, he asked us what we wanted to do, and we told him exactly what we wanted to do. We moved to L.A. and the next day we started singing background for Tyrese. That's basically how it happened.
YKIGS: I notice you go by the moniker Luke James but your real name is Luke Boyd. What's the reason for that?
LJ: James is my middle name. I'm named after my late uncle, his name was Jimmy. So Luke James Boyd, I went with Luke James because I felt it rings and it rings like Michael Jackson or James Dean or James Brown or Rick James. It just felt like it was powerful, it's two biblical names.
YKIGS: Take us back to when you were originally signed to The Underdogs as part of Luke and Q. How did that whole situation come about?
LJ: Basically in singing background for Tyrese, we were able to meet a lot of people and a lot of people that influenced us musically. Stevie Wonder, 112, different groups and different acts, like Tank and so on. Tyrese of course had the album around the time we met him and started singing for him called "I Wanna Go There" which was produced entirely by The Underdogs. So with singing backgrounds for Tyrese, of course we got a chance to meet the Underdogs; they would come to shows and rehearsals and what not. It was just me and my brother at the time singing backgrounds, my other brother had went home, it was three of us originally and then it became just two. I think The Underdogs were trying to get a label deal and of course they were able to get a label deal because they produced all of these beautiful records for J Records or BMG for the American Idol cast. They were trying to get a label deal and they needed an artist. I believe Clive Davis told them he had his Jodeci, he wants his K-Ci and Jo Jo and he presented that to them. They said they have the right guys, they were thinking of us. They asked us one day and they gave that night to think about it. That afternoon they called us and said could we meet them at the Beverly Hills Bungalo. The next day we met with Clive, we didn't have a demo or anything, we just went in there and we didn't have any super fancy outfits or anything. Me and Q just went in there, we had a conversation with Clive, The Underdogs were there, Frank Gatson, our other manager Greg Park and Larry Jackson was there at the time. He just posed the question to us asking us "Why should he sign us, what makes us different, what makes us unique?" We could have given him the generic answer but instead we knew what it takes, we just stood up and we said "How about we just show you?" We sung for him, we did two songs, we sung individually. It felt like we were in the mafia or something, he was like "My boys!" That was that.
YKIGS: As part of Luke and Q you released a couple of singles over the years but eventually things didn't work out, you didn't really get a chance to release an album. Why do you feel like the whole situation didn't work out?
LJ: It goes with saying people have to believe in you, and we were always fighting. We didn't have a lot on our side, and people could only do so much without losing their job. It didn't pan out. I feel like it was meant to happen that way, it made us stronger as individuals to go through that disappointment and that letdown. We were two dudes from New Orleans trying to make it and this is our opportunity and we had a shot. We got to tour, we got to meet so many people, and it fell through. Looking at it now, I can tip my hat to it and say "It was meant to happen and I don't regret it." Then I was super depressed and it was really not good. But I chalk it up to just people believing in us and what we had to offer. We wound up going on the tour thanks to our management and we ended up opening up for LL Cool J. We got a chance to just tour the country by opening up for him and making people believe us. People didn't know really who we were, people heard the single and knew the single. Our single was top 5 or top 10 around the country on urban radio, but people didn't know what we looked like. They assumed because we had soulful voices that we were older dudes, they didn't know we were 19 and 20 years old singing real grown music. I think that played a big part in it because this is a very visual world. My generation is very visual. We need to see everything, we need to feel like we discovered you, all that kinda stuff. I feel like just the label itself didn't really work in our benefit doing that, so I think that's why it fell through.
LJ: I'm sorry for rambling on.
YKIGS: *Laughs* No it's all good, we love to hear the history!
YKIGS: After things didn't work out with Luke and Q, I know you did a lot of writing for artists like Chris Brown, Britney Spears and Justin Bieber. How did you get those opportunities and get put in those situations to write for them?
LJ: When you have really nothing to do and you're signed to a production team who basically was the face of r&b at the time, The Underdogs, you just have the opportunity of meeting some different writers like Tank and Lil' Steve and Eric Dawkins and Damon Thomas and Harvey Mason and Tony Dixon. Just being around them you'd be a fool not to try to learn. It's like having the opportunity to live with Babyface and pick his brain and just be able to sit there and watch him create a song. I've been writing songs since I was young, that's probably why I didn't do so well in school, but I have been trying to write songs. I just took it upon myself to really nurture that. The Underdogs were really big on learning the fundamentals of writing and how important writing is; it's like real estate. Being an artist is one thing, but writing songs, you get publishing for 100 years. It's investing I guess with this music thing with your skills. So therefore, I had no choice but to try to learn how to write real songs. My first song that I wrote that ever got placed was "Change Me" by Ruben Studdard. So I had an opportunity to do that and as soon as I got the bug I just never stopped.
YKIGS: As you started to have more success with the writing and have all of these placements, was there ever a time you considered just being a writer and not even trying to be an artist yourself anymore?
LJ: Never. I never will. It will never boil down to that point. It's weird, I try to say that I'm a realist, I'm not, and I feel that that's the thing that makes me who I am. To keep the belief and to keep going and to keep trying to show the world what I have. I always looked at writing songs for just another door for me to get into being an artist. When I was writing songs, I developed my craft and I developed my sound. I'm still developing my sound and I've learned a lot about music and just how to write songs and how I like to write songs and how to express myself; me personally. I said I would only go to writing if that didn't work. I wanted to write to stay afloat, but an artist is what I am and an entertainer is what I am.
YKIGS: Give me some background on the song you wrote for Chris Brown "Crawl".
LJ: I met these guys Nasri and Adam, their production group name is The Messengers, they're from Canada. I met those guys when I was working with Tank with Jamie Foxx and they were in the same studio facility working with Brian McKnight. We got acquainted and they played some music and I just thought their music was so moving. We didn't trade numbers or anything like that, but I just remember hearing their music and hearing the lyrics and just the musicality of things and how they did things. I was working with JoJo and I recommended that JoJo's team reach out to The Messengers because I believe they had something that she would love. They wound up getting my number from JoJo's camp and they called to thank me and they just wanted to work. We decided to work the next week, our first time working together and we came up with "Crawl". The Chris Brown situation was also good and we just came up with that song, it was our first production together. They've also written a bunch of things with me on my project.
YKIGS: How did you eventually link up with Danja and become a part of his label and that situation?
LJ: I linked up with Danja through Marcella who is his partner and who is also an engineer. I was working with Keri Hilson for her first album. I met Marcella through Keri Hilson. We just got tight and she introduced me to Danja and she introduced me to their whole family and we just became cool. It wasn't on some business or some them interested in me as an artist or anything like that; we can write together, we can make music together, it was beautiful. It wasn't like that was the initial thing. We just became cool and became friends and it just seemed only right. I'm an artist and I've been pursuing my artistry while being friends with them so it felt like the right thing to do. Musically, we just felt the same way about music and doing more than the average. So that's how that happened.
YKIGS: I want to talk about your solo project now. You've got the first single out "I Want You". Give me some background on the song and how you created it.
LJ: What I do sometimes when I create and write is if I don't have the music, vocally I'll try to write and create the music, whether it be a barbershop harmony or me simulating a horn or a drum. What I had intended to do was create a feeling like the song that Danja and Kevin Cossom had wrote for Keri Hilson, "Knock You Down". I had intended to create a song with the same feeling, not like the song, but the energy of the song. Of course, it didn't turn out that way, but that always happens, you set out to do one thing and it turns into something else. I basically kept it simple, just going off of something I was dealing with personal in my life of decision making as far as being in a relationship and that's how I wrote it. When I did that, I only created the first verse and the hook "I Want You". It was just a sketch, it was rough. I got introduced the producers Kadis and Sean by Stacy Barthe and we clicked. I had always been wanting to work with them because I had been working with Stacy Barthe and I wanted to work with them on my project. I played them some things and I played them the rough idea of "I Want You". It wasn't really intended to be a full song but they heard it, they loved it, and they felt like they could create some music around it that would accompany it and make it be the thing it is right now. Basically, that's how that happened, it was very organic.
YKIGS: I'm glad you mentioned the word "feeling" and trying to go after a feeling. I went to a showcase you had here in NYC a couple of months ago and that's what I experienced, there was so much feeling when I saw you perform on stage. You looked like you were actually experiencing emotions on stage and it was amazing to see. Talk about the feeling in your music and what you experience when making music.
LJ: For me, I was raised in the church and I'm an only child so music has always been my everything. Growing up in church, when you see people catch the holy spirit, it has to do with what the preacher is saying, and how he's saying it, and what the organist is playing, it's the chords, it's the different movements in the music. I always feel the music, it feels like the heavens have opened up. I always wondered what that is, I could feel it, I never felt the holy ghost, but I always wondered what that spirit was. Then when I watched Michael Jackson and I saw people faint, the energy that he possessed and when he sung songs and just let himself go and it didn't feel contrived, it was no thought, it was almost like he was there by himself, he forgot he was performing in front of millions. So many artists, Marvin Gaye, I always look at that and I use that for when I create music. If I don't feel, it won't work. If it doesn't move me, a song could be good or be ok, but for me I feel like music that really stays with people are songs that move people and speak to them in a whole 'nother language that is beyond us. It's huge when you actually lose yourself in the music or a song and the lyrics. So that's what I really try to use, I really try to go off of that and I try to use that in my music and performing as well. I have to feel it. I'm a true believer in if I don't feel it, you're not going to feel it.
YKIGS: I wanted to ask you about a recent music video you were in. We want to know what you were doing out at "4 AM" while Melanie Fiona was sitting home sad and crying. *Laughs*
LJ: *Laughs* First of all! I'm going to go ahead and get into character! First of all she told me I can go out, I'm going out with the homeys, I was going to come out of course, it was just a night out and I got drugged, I didn't even know it! I got roofied! I was being good as you see in the video, I was being super good, I wasn't trying to play that game, I was trying to get home, I pulled over and went to sleep and the police came and got me. So that was that. Nah, that video, she called me up and I was on the treadmill and she asked me if I wanted to be in her video. This was two or three days before she was shooting the video. Of course I said yes. That's how that happened, that was great.
YKIGS: Anything you'd like to add about your upcoming album?
LJ: I just want people to just give it a fair listen, that's all I want. Just give it a real solid heart to music listen. It's that kinda listen. Just please believe in me, if you don't believe, I will make you a believer by any means necessary.