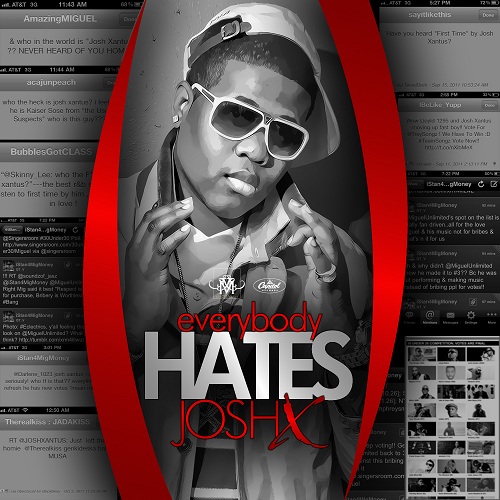 It's inevitable that when an artist starts finding success in the industry and getting all that comes along with it, the hate is going to follow. It's just like they say, "If they're not hating, you're not doing anything". Not only was Josh Xantus getting hated on by those he came up with, but also other artists who for some reason were upset at his popularity. Thus, it was only right for him to name his new mixtape "Everybody Hates Josh X". I can tell that Josh is focused and plans to use the hate in a positive way; to keep him motivated as he continues succeeding in the music industry. We caught up with him once again, this time for a live interview while he was working on a track with Jerry Wonda at Platinum Sounds Studios. We took the time to discuss what to expect on his new mixtape, the hate he's received over the years, being in control of his own career, his wildy popular single "First Time", and much more.
YouKnowIGotSoul: You just released your new mixtape "Everybody Hates Josh X". Talk about what we can expect to find on there.
Josh Xantus: Pretty much on my new mixtape you can expect to find some dope music. I like to keep the music updated, fresh. It's definitely a different type of vibe from my other mixtapes. It's more original songs. On my first two mixtapes I did a lot of songs over tracks that were out. I'm sure people are going to love it. You can expect fresh music and to see where I'm kinda growing as an artist and what's becoming of the music.
YouKnowIGotSoul: Talk about the title. Why does everyone hate Josh X? *Laughs*
Josh Xantus: Josh X was getting too much money out here! *Laughs* There was a little Twitter beef I was involved in on Singersroom. They put me on the "Top 30 Artists Under 30" and I came top 3 after Lloyd and Trey Songz. It was kinda crazy, there was a lot of beef, a couple of the artists on that list were a little salty. Basically my fans were getting at some of the artists fans and it was pretty crazy. I took that and started to address the everyday's of hate that you experience when you're coming up. A lot of people that I was coming up with felt that I was coming up too fast and started making too much money and started driving crazy cars. When we start doing well, a lot of people tend to hate, not everyone is happy for you. I came up with that title with the Twitter beef and real life hate. I came up with "Everybody Hates Josh X".
YouKnowIGotSoul: Over the past few weeks you've put some of the songs out there from the mixtape. I wanted to ask you about the creation of a few of those. Talk about your collaboration with Swizz Beatz on "Movie Star".
Josh Xantus: Swizz is a dope cat, that's my homey. We were definitely in the studio cooking that one up. Swizz came up with the concept "Movie Star" and he actually wrote the hook. He was vibing and he was like "You just need something, the girls want to hear that slick talk!" We went on from there, he did the track and he wrote the hook and I did the verses. We were just vibing and it came out, definitely a dope record.
YouKnowIGotSoul: You recently released a video for "Take 2". Talk about that song.
Josh Xantus: "Take 2" is straight for the shorties, I wanted to give the girls something to show them what the second date is like when you're with Josh. The video is smooth, I used a lot of the props that I own, the Bentley in the video is my car, the lofts and the apartments. I just showed the everyday situation when you're with Josh. Definitely a dope video, I like it, we're going to be going to TV with it in a couple of days.
YouKnowIGotSoul: Talk about "Love Games" with JadaKiss.
Josh Xantus: You know girls be wildin, complaining every time you're in the studio and getting mad thinking you're with the groupies and all of that stuff takes place. I definitely was addressing a past relationship; I didn't want to play anymore love games. Jada is family, so he wanted to be on there, he held me down and we put it out.
YouKnowIGotSoul: I know last year you were building up some buzz with "I Don't Care" and you had a few remixes out. After that you weren't really in the spotlight for awhile. People have been waiting for your debut album, so talk about that whole situation.
Josh Xantus: Basically I fired everybody that was working for me! *Laughs* Not Think Tank [Marketing], shout out to them, they're still on deck. I was going through the transition of just rebuilding the team. I think for my first album, you've only got one shot to put your first album out, and I want it to be perfect. I need everybody to understand the vision of it. Last year, like you said we were locking and popping all over radio, Wacka Flocka, Ace Hood, everybody was on the song. It was cool to see that, so I know what I can do. I just wanted to make sure that when I come out with that debut that it's the right time. When I put it out, it's the right time.
YouKnowIGotSoul: Does it get frustrating at times? I know when I saw you perform at BB Kings a few years ago, you were talking about the debut. Is it frustrating as an artist to have to wait and go through these phases?
Josh Xantus: Nah, it's not frustrating; me being an artist that owns part of the label that I'm on through Capitol Records. It isn't frustrating because I get to be in the office and know what's right and what's wrong. A lot of artists don't really have a choice. They put their records out and the label throws them out there and they go and recoup that money. If they flop, they are outta here. To me it's good, right now I'm chillin, I want to make sure that when this record comes out it's definitely going to come out and get the looks that it needs to get. So I'm not frustrated by it, I think it's actually a blessing that I have so much control of the situation like that. I can hold off on it and not be on a clock or have a big guy in an office like "Yo we're putting this out whether you like it or not!" So I think it's more of a blessing.
YouKnowIGotSoul: Talk to me about your single "First Time". It seems like every time I see people on Twitter talking about you, they're talking about that song. Why do people love that song so much?
Josh Xantus: I can't get them off it! I don't know man, because Stevie Wonder was bopping with it! Who knows man. It's like a gift and a curse because at the end of the day I put out other songs and I'm trying to get the fans to check them out. But that "First Time" is always on their minds. It's a good thing, but why do they love it so much? I think because everyone can relate to that. Especially for females, the audience that it grabbed, a lot of girls just start reminiscing about their first time or if they're about to experience their first time. I think I hit it real, real good on the topic. It's been done before, but I think how I did it, breaking it down from the first steps until you get to the business, I think the girls just can't get off it. I'm not mad, as long as they keep going to iTunes and keep buying that record and spreading love because it's definitely one of my biggest records.
YouKnowIGotSoul: You've got the mixtape out now. I know you do a lot of collaborations for rappers. Where can we expect to hear you next?
Josh Xantus: We put out a record I did with Jim Jones. It's called "Life is a Party". We did it about two weeks ago and it's already on the radio spinning and getting love right now. That's my collaboration with a hip hop artist that's coming out.
YouKnowIGotSoul: Anything you'd like to add?
Josh Xantus: Shout out to the fans and everybody that's holding me down. Follow me on Twitter @JoshXantus, Facebook.com/JoshXantus. Everybody check out the mixtape "Everybody Hates Josh X", it's crazy.