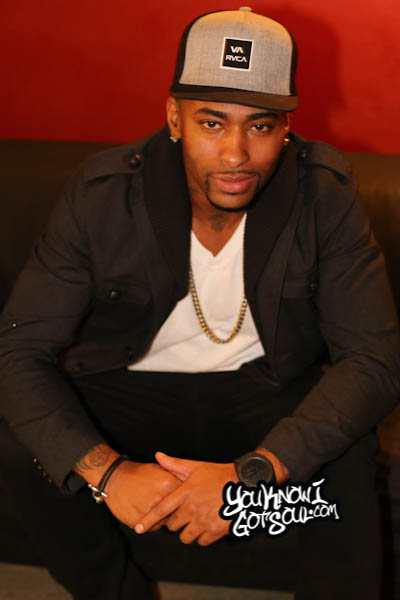 The concept of r&b groups having success as a whole and then splitting up to find solo success is not a new one. Just about every successful group has had its members try their hand at solo success at some point, and in most cases it ends up helping the brand as a whole. It should come as no surprise that the members of Day26 would try the same, especially since they were originally solo artists before being brought together as a group on reality television. Willie Taylor has been perhaps the most successful of them so far, not only building a fan base of his own, but also branching out and starting his own label to develop artists. He realizes the power of his brand outside of Day26, and seems intent on continuing to build that even while rebuilding the Day26 brand. YouKnowIGotSoul sat down with him during a recent appearance in NYC and discussed his upcoming mixtape, balancing both brands, future plans with Day26, and much more.
YouKnowIGotSoul: You've got the new single out now. Introduce us to it.
Willie Taylor: The new single is called "Blast Off". It's an amazing single and just something I felt was missing in the industry right now. I just wanted to be the one to give it to them. It takes me back personally to a day of D'Angelo, Maxwell, and those types of feels. I felt in today's industry it was missing and I wanted to fill the void. I feel like "Blast Off" is the perfect record to fill that void.
YouKnowIGotSoul: This is the first record from your upcoming project? What are you looking to release?
Willie Taylor: This is the first single from my new EP "Sex Tape 2". "Sex Tape 1" actually did one and a half million downloads. That was a free situation. This right here is a little different. It will be the same enjoyment but a more upgraded experience. I feel like I took it to a whole nother level. Anybody can put sexual content to music, but I feel like I took it to a next level where it's a mood or feel. I feel like "Sex Tape 2" is a mood you can feel.
YouKnowIGotSoul: You're back with Day26 now and touring with them. How's it different creating with them compared to creating your solo material?
Willie Taylor: When you're creative and you're going for the top, nothing really matters. When I'm in Day26 and I'm doing my thing there, I'm really in that zone and I put myself there mentally. When I come back to my Willie Taylor thing, it's a whole different vibe and I'm a whole different person. I really put my all in it and I know what the Willie Taylor fans are expecting versus what the Day26 fans are expecting. I really put my soul and my heart to be able to maintain both at the same time.
YouKnowIGotSoul: You guys came back together earlier this year as Day26 and put out "The Return" EP and have been touring. How's it been reintroducing yourselves?
Willie Taylor: I can't act like it's been the easiest thing ever, but the diehard fans have been there and we've been able to give them our all. They've been able to leave saying it's the best concert they've been to in years. It's been that type of atmosphere every city we've been to, the crowd have been amazing. I'd never trade that for anything in the world. I feel like the brand can continue to grow. I think it's at a point where it can come back and be really big.
YouKnowIGotSoul: I know some of the other members of the group are also doing solo material as well. What are the plans for the group in the future?
Willie Taylor: I feel like we can be a group and understand we are Day26 together, then we can go out there and do everything we want. Like Brian, I support everything he's doing. The other members of the group doing what they do outside of the group, I support them. We support each other. There's still a Chris Brown, there's still a Trey Songz, there's still a Jeremih, there's still a August Alsina. So all these people are still out there as solo artists, so why not us? Why do we have to be contained to just being in a group and can't do anything else? As long as we let everybody know Day26 is the hub, but however there is a Brian Angel, a Robert Curry, Michael McCluney, Qwanell Anthony, and a Willie Taylor.
YouKnowIGotSoul: Do you feel like it helps the Day26 brand when each of you has solo success?
Willie Taylor: I definitely do because I feel like Willie Taylor has stepped out and I have a brand of my own. Whereas when I go to places sometimes this audience wants to hear Day26 music but they've fallen in love so much with the Willie Taylor brand that they want to hear "Soakin Wet" and "Taste You" and songs like that. Sometimes I haven't given them that and I really got scalded for that! They say "I came to see Willie Taylor and you gave me Day26!" You get caught in between and you don't know. "Sex Tape" was underground. Then you've got mainstream albums from Day26 so you know they'll know that. But sometimes you get to a point where they feel cheated because they came to hear Willie Taylor music. I feel like that's when I knew that Willie Taylor's brand was different than Day26 and the separate things that they wanted to hear from me.
YouKnowIGotSoul: What are your plans for a full length album in the future?
Willie Taylor: Most definitely. I did an independent deal with a company called Full Court Press. I'm still in the contract and the album is actually done. "Sex Tape 2" is music that I've done recently because I wanted to create another bonus outside of the album. The album should be coming top of the year for Willie Taylor. Let me tell y'all when you hear that album! The EP and the album really put you in a place. I really want you to really know the name. I don't want it to be stuff I'm just saying. I want it to be to a point where you just hear the music and you know that when I put something on the record, you're going to get what you're looking for and worth what you have to pay. That's what I strive for every time I'm in the studio, to make sure that y'all love it and that I'm not giving y'all something I'm expecting you to buy. I want y'all to want to buy it and want to hear it again. If you like it, go get it, if you don't, throw it out.
YouKnowIGotSoul: Anything you'd like to add?
Willie Taylor: Follow me on Instagram @Willie_Taylor, Twitter @WillieTaylor, Facebook.com/WillieTaylorFans. Just keep rocking with me because, this is how I feel as an artist. I feel like every time I step into the studio if I hear a track I'm going to put it down and give it 110%. The reason I give it 110% is because I don't want to cheat you of your money. So when I do it, I do it. There are some songs you won't hear, and that's because it didn't pass my test. If it passes my test, it's worth your 99 cents at least.