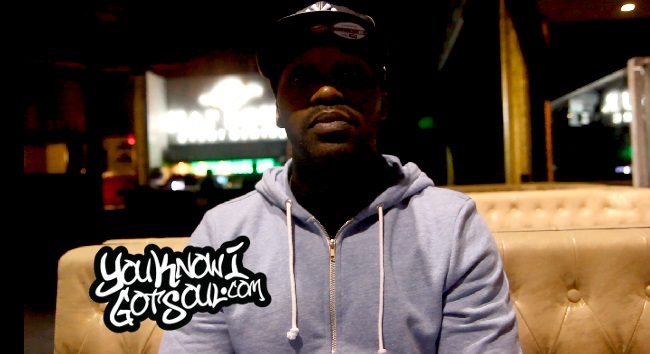 Jagged Edge's last album "J.E. Heartbreak II" marked a successful return for the group as they made it to the top on the R&B charts with that project. The album brought back the sound and feeling that they captured with the original "J.E. Heartbreak" and reminded people on why they fell in love with the group in the first place. YouKnowIGotSoul had a chance to sit down with Wingo to talk about the group's history and some of his personal favorite records. We also talked to Wingo about his side project with Q. Parker from 112 and RL from Next.
YouKnowIGotSoul: Last time we heard from Jagged Edge, you guys dropped "J.E. Heartbreak II". Talk about the reception for that album.
Wingo: The album got awesome reception. We went number one the first week, so thank you to all the fans. We love you guys! For all the fans who don't know, it's our eighth studio album and we dropped it last year. Get ready for that ninth album, it's on the way. We're just excited! We still have awesome fans and we're still out here doing it.
YouKnowIGotSoul: Talk about how far you guys are into that new album.
Wingo: We're halfway almost done with that project. We're always recording so we go into the project with twenty records, but we're not going to use everything. We consider about twelve for the project, so that project is ready. Whoever we do our situation with, we'll get a few records from someone else. We just have to come up with a dope title though.
YouKnowIGotSoul: Will you have production from Jermaine Dupri and Bryan-Michael Cox again?
Wingo: More than likely we will. We just did a joint venture with So So Def. They're always going to be family. Those are our go to guys. We can always get some heat from them.
YouKnowIGotSoul: "Hope" was the first single and "Love Come Down" was the second single. I believe "Getting Over You" was also part of the mix, so what made you guys go with "Love Come Down"?
Wingo: We actually did a poll and let our fans pick. At the end of the day, our fans are the most important people in our careers. Our fans are the ones that actually go out, support and make us number one. We just did a big poll and it was unanimous. That's one of my favorite records to perform. We actually started rehearsing it with a band and that song is going to be really fun to perform with the Al B. Sure! sample. It's going to be dope.
YouKnowIGotSoul: You guys have always been good at picking your singles. Are there any songs you wish you were chosen as singles?
Wingo: We just put out our eighth album, so imagine how much music we have out there. Just songs like "The Rest Of Our Lives" and "Head Of Household". I could go on and on about records we could have dropped, but ultimately you might only get four or five singles. Well back then you would only get three singles and then you were off to the next project.
YouKnowIGotSoul: One of the songs that stood out to me was the song "Remedy".
Wingo: That's another one. That's why we named one of the projects "Remedy". You can't drop everything and we've been overseas before and we've had fans be mad at us when we got off stage because we didn't sing one of the album cuts. We could do an almost two hour show just doing singles!
YouKnowIGotSoul: What's the first thing that comes to mind when you hear "Let's Get Married"?
Wingo: That's one of the biggest songs ever. We are the new wedding singers! It was a great marriage especially with Rev Run doing the remix. He was actually a pastor and he could actually marry you.
YouKnowIGotSoul: What about "Where The Party At"?
Wingo: That was a fun record. Just the sounds Jermaine used on the track and it made people get up and dance.
YouKnowIGotSoul: What about "Promise"?
Wingo: That was another great ballad. We're just thankful for the fans and just to still be here.
YouKnowIGotSoul: We haven't heard your voice on too many Jagged Edge songs throughout the years. Was that by choice?
Wingo: Basically when you're in a group and you're trying to establish a fan base, you don't want to confuse your fans. Every time you try to put out a new record, you want your fans to say "That's Jagged Edge!" Sometimes people say that there are lead singers. but all of us sing the same. We all have the same type of voices and we can all do the same dynamics with our voices. Whoever sounds the best on the verse usually goes on it. It's been Brandon and Brian for awhile now and they're doing a good job, so good job brothers! *Laughs*
YouKnowIGotSoul: The one song you got a chance to sing lead on was "Season's Changed". Talk about that song and what the fans' reaction was when they heard you singing on it.
Wingo: Every time they hear me. they go "I knew he could sing! I knew he was a church boy". That was another record that was crazy. Much love to John Legend. You see what he's doing now. We just respect talent at the end of the day. We play to the level of our competition and they make us step it up. We're just thankful for it. We just love singing. I posted something on Instagram earlier and I just said, "Mama I just want to sing!" It's just about singing for me.
YouKnowIGotSoul: How does the group make a decision on a single? I know you guys all have different influences.
Wingo: That is hard. I'll give you a perfect example of that too. On our second album, I wanted to drop "Let's Get Married" first because it sounded great and it was something everyone can associate with. But everybody wanted to drop "He Can't Love U" first. I like the record, but it wasn't better than "Let's Get Married" to me. We ended up dropping "He Can't Love U" and that song ended up doing half a million singles, so I will never question anybody because you never know. Every song isn't a smash, but every song has a possibility to be.
YouKnowIGotSoul: What do you hope to accomplish moving forward with Jagged Edge? You guys have been in the industry for 20 years now. What's left?
Wingo: Just putting out records and keeping our fans happy. We want to make it to our fourteenth album. We want to put out a catalog that goes down in history and the fans will say "Jagged Edge is a household name. That was one of my favorite groups of all time!" That's what we want to set out and do. I don't care about the star status, I just want to sing. I enjoy singing and my fans have kept me on stage. That's all it is about.
YouKnowIGotSoul: Bryan-Michael Cox had mentioned in an interview with us that he was afraid Jermaine Dupri didn't want to put out a single unless it was produced by himself on the "JE Heartbreak" album, but the first single "He Can't Love U" was produced by B-Cox. How did that happen?
Wingo: The twins brought B-Cox over to the studio and they wanted someone who could just play. Brandon and Brian are awesome writers and the marriage was there. I can understand B-Cox's fear at that point because he was an unknown producer and Jermaine was a super producer. A lot of times you do get into different egos in the business, but Jermaine wasn't that. Jermaine just wants to win, so whatever sounds good, he's willing to put it out. That's all it was.
YouKnowIGotSoul: I believe you were working on a project with RL from Next and Q. Parker from 112. What's the latest on that?
Wingo: We just put it on hold for a second. At the end of the day, those are my brothers. Me and Q used to live with each other for a year back during the early 112 and Jagged Edge days. RL is just a really good guy and we just put together a project. We had named ourselves WQRL. We just put it on the backburner for a minute because we're celebrating the genre of music. The music is timeless and we can put this music out five years from now and it will still have the same effect. We did over twenty seven records, so we still have to narrow them down. I'm just excited to be able to work with everybody in the business. Much love to Dru Hill and Jodeci. At the end of the day, I love music!
YouKnowIGotSoul: What are we going to hear from Wingo that's different from your music with Jagged Edge?
Wingo: You'll hear a different flavor, but I wouldn't even have the opportunity to do other things without my Jagged Edge brothers. I'm just very thankful and humble that people even want me on a record. For that project, they were just like "We want you on a couple of records" and it was on from there. I'm doing some solo stuff also. It's just about music. We do so much music and the computer is filled up. I'm trying to get this music out and I'll even put it out for free. I just want people to hear the craft.