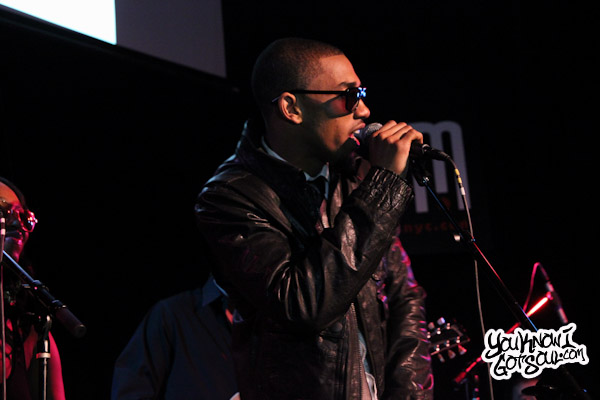 Although Brandon Hines has recently come to the attention of many r&b fans after linking up with Jermaine Dupri, signing with Epic, and releasing his smash "Yes You Are", he's actually been on his grind as an artist since 2006 when he released his debut. Now with a major label backing, he's poised to bring back that 90's r&b sound that many fans have yearned for over the past decade or so. He's certainly off to a good start; "Yes You Are" is a throwback reminiscent of something Jermaine and Bryan-Michael Cox helped create for Jagged Edge over a decade ago. We got reintroduced to Brandon recently during a performance he had here in NYC, and we came away thinking his future sure seems bright. Following the performance, we had a chance to sit down with him and discussed his origins as an artist, how he signed with Epic, his current single "Yes You Are", the sound he's looking to create, his upcoming album, and much more.
YouKnowIGotSoul: You released your debut album back in 2006. It's been a journey since then, so talk about how you originally got your start and that debut album.
Brandon Hines: That debut was entitled "Love Music…Falling In, Falling Out". It was basically a combination of my college experiences. I was inspired by the love I received on the Howard University campus and all around the college circuit. It inspired me to believe that I could really pursue music as a career. Since then, I moved to New York with hopes of making it happen. I started networking and I was able to get a chance to go on tour with John Legend and Estelle, and I got to open up and I got some experience performing. That just kept inspiring me and inspiring me to want to get a major record deal. I had a lot of interest, but never someone that would put the deal on the table. I partnered up with Joe Nicolo who ran Ruffhouse to put out a free EP "In Search Of" and that was in 2010. After that I was gaining some interest, and I ended up hooking up with Jermaine. I was fortunate to get signed to Epic Records after that, when L.A. [Reid] signed me, I was one of the first acts he signed. That's a big honor for me because he's had a huge part in the history of music as far as I'm concerned for our generation. That's where I'm at now; this is the beginning of my professional music career. I've got a lot in store and I'm ready to show the world what I've got and to touch hearts.
YouKnowIGotSoul: Talk about how you were originally discovered by Jermaine and L.A. Reid and how that whole situation came about.
Brandon Hines: For awhile I was putting up YouTube videos. A lot of artists inspired me to do that, so to reach my fans, I'd put up videos. That "Pretty Wings" video that I put up received a lot of attention, I got approached by R. Kelly's people, Beyonce's people, and Jermaine really liked that and thought it was special. It's not the easiest thing, writing songs with Jermaine, but it's always a lot of fun. It's a challenge and an honor to work with Jermaine in the r&b realm. That's pretty much how he got involved; he took notice of that performance, and it went from there. Joe Nicolo also had also worked with Jermaine Dupri with Kriss Kross and a couple of other earlier acts. Jermaine really brought my music into Epic's office and was playing it and it piqued L.A. Reid's interest. From there they showcased me and that was the moment that changed my life.
YouKnowIGotSoul: One thing that really appeals to us is your sound. You have a younger following, but your sound also transcends generations and you appeal to older crowds as well. How are you able to reach such a broad audience?
Brandon Hines: That's a blessing. I think it's about musical influences from Stevie to Marvin Gaye to The Beatles to Nickelback to hip-hop with Jay-Z, Kanye West, and Waka Flocka Flame, even Chris Brown. I love good music, I could see greatness in other artists, whether it be any type of artist. I want to be compared amongst the greats; Michael Jackson, The Beatles, Mozart. I want to be a master of my craft, so I think that's something that pushes me to make music that's going to reach all audiences. I feel like I have a long way to go, but I'm working and this is just the beginning. I'm going to work to make the greatest music that people can always listen to when they are feeling in a certain mood or make music that's always going to appeal and be true and touch people.
YouKnowIGotSoul: I want to talk about your current single "Yes You Are". We love the single and we've featured it as our Featured Song of the Week. I feel like the sound of that single really touches a lot of people, especially r&b fans who grew up in the 90's. Talk about the creation of that song.
Brandon Hines: I love that song. I look at that song like a Hallmark card. It's definitely 90's inspired, it's that music that if you like r&b, you're going to love that because it's got a Mint Condition influence, it's got a little bit of Usher "Confessions" influence, it's got a little bit of….
YouKnowIGotSoul: Jagged Edge?
Brandon Hines: Yes, it's got a Jagged Edge influence. I thought that would be a nice introduction to Brandon Hines. If you like r&b, you're really going to like the rest of the album.
YouKnowIGotSoul: Talk more about what we can expect on the rest of the album.
Brandon Hines: You can expect the album to cross genres, cross cultures, and also it's going to be rhythm and blues and soul as a common thread, but there's definitely something in there for everybody. I want to create a body of work that I can be proud about. The album is about 75% done and I'm really going in and trying to make something that's really special. That's all I want, for the album to have that respect.
YouKnowIGotSoul: You're working with Jermaine Dupri of course, and he recently talked to Bryan-Michael Cox and he mentioned work with you as well. Talk about the sound they're helping you create.
Brandon Hines: R&b fans are going to love it. The sound is unique, it definitely sets me apart, and it's a little something for every mood, for every type of vibe in everyday life. Everybody can relate to it. Of course Bryan-Michael Cox and Jermaine Dupri, to be working with them, I'm totally excited about the music we've been creating.
YouKnowIGotSoul: Anything you'd like to add?
Brandon Hines: I'd like to say again that this is just the beginning, I'm very excited about the love and support that I've been receiving. I want to share that love and share that music, and fans can look forward to some really, really great music that should be comparable to the great music of old.