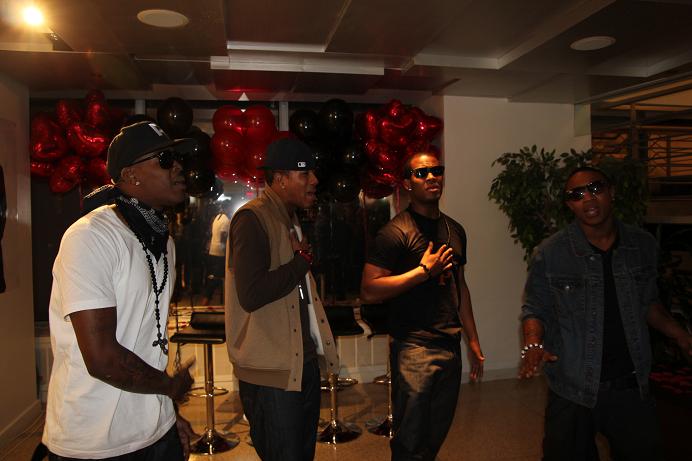 When you have legendary 90's r&b groups like Boyz II Men, Tony Toni Tone, Jagged Edge and 112 co-signing you, there's a pretty good chance you're something special. Additionally, with Andre Harrell, the man who discovered Jodeci and Guy, as your mentor, there's a pretty great chance for success here. Still, we haven't even touched on the talent and bond shared by these young men. Each of these qualities applies to Hamilton Park, the group signed to Atlantic records who seem pretty dead set on not only making it as a group, but also "putting love back in the universe". We got a chance to sit down with the group recently at their EP listening party in NYC. For this interview, we discuss what to expect on their recently released EP, how they linked up with Jermaine Dupri for their "Thing Called Us" remix, how they decided to cover a Guy song, why they released an EP instead of a full album, their experiences on the Scream Tour, sticking together as a group, being compared to Jagged Edge, and what's next.
YouKnowIGotSoul: You just released your EP. For those who haven't heard it, what can they expect to find on there?
Hamilton Park (Anthony): You can just expect to get to know the potency of Hamilton Park. You can get to know Mr. Marcus in a very intimate way, you can get to know Royce P. in a very intimate way, Chris Voice in a very intimate way and of course your boy Anthony in an intimate way.
HP (Mr. Marcus Lee): We took our time, we didn't go get any major producers, we wanted you to for this first piece get to know us.
YKIGS: You guys just shot the video for the remix of "Thing Called Us" with Jermaine Dupri. How did that collaboration come together?
HP (Mr. Marcus Lee): We actually shot that two days before we left to start our tour. Jermaine Dupri came through and brought his own girl to the video, that's JD for you. It was such a fun experience to be an Atlanta child and grow up on the streets and to have that Jermaine Dupri Atlanta stamp, he's the king of the remix. He was out there doing the Atlanta step with us.
YKIGS: On the EP you guys did a cover of a Guy song. I just spoke with Andre Harrell and he said that was his idea. Would you give him credit for putting you guys onto that one?
HP (Mr. Marcus Lee): Absolutely! He made Guy! It only made sense for us to do that record, it was a no brainer.
HP: (Anthony): I think he informed us that it was one of his favorite records so just to have a new creation such as Hamilton Park recreate the Guy record was a wonderful thing. We were in the studio playing it back over and over and over again, and Andre would just sit in the chair rocking and smiling. It's a great thing just being tied to that whole legacy of Andre, it's a wonderful experience.
YKIGS: What made you want to decide to go the EP route instead of putting out a full album?
HP (Mr. Marcus Lee): It was such a demand, people wanted something from us. "We Do it for the Sheets" and "We Do it for the Sheets Reloaded" had been out for awhile and they really wanted something they can buy and support us. So we had to give them something. So we put the EP out and we just wanted you to get familiar with us.
HP (Royce P.): At that time, our mixtapes were us at a little premature stage. That was our young stage and we transformed into young men. As Andre Harrell said we are putting love back into the universe. This was like our first mix of records where we actually used love in the forefront in a more tasteful and graceful and sensual way that the young ladies could definitely understand and appreciate.
YKIGS: You guys have recently been on the Scream Tour. What's that whole experience been like?
HP (Chris Voice): It's crazy! It's the tenth anniversary of the Scream Tour and we're the next generation. Just being a part of that is a very humbling experience. Just watching Lil' Bow Wow when the Scream Tour was coming up, Chris Brown, T.I., Pretty Ricky. Right now we're on the same platform for our careers to pretty much do the same thing that theirs did. It's very humbling; we are very appreciative, shout out to everybody that came out to support.
HP (Mr. Marcus Lee): Just to see how they organize and get us young artists, all of us are really young artists, and taking us city to city and getting us pushed. It's been selling out too, out of the shows, five or six of the shows have been sold out. Two people had to be carried when we started singing, it's real! I see why it's called the Scream Tour!
HP (Anthony): We got mobbed in St. Louis, shout outs to St. Louis. We were going to go do autographs and a group of young ladies saw us and just started screaming and everybody turned too and it turned into a whole lobby of ladies! Royce lost his shoes! They were pulling on our jackets! It's the stuff you see in movies, but it really happens.
YKIGS: What's it like sticking together as a group? A lot of the groups I grew up listening to in the 90's have broke up. For you guys, what's the biggest challenge of making this work as a group?
HP (Royce P.): First, I'd just like to say we have a bond that's like none other. What I mean by that is there was one night when I was on the other side of the city and I was thinking about my brother, and I called him, and he said "Yooo, I was thinking about you too at the same moment!" It was just crazy. That was Chris Voice. Another time I was with a girl and my brothers had been telling me, these are my older brothers, "Royce, we know you are going to do your thing, but leave that girl alone." So I was at her house, something told me to go check my phone because I had left it in the car because I knew they were gonna be calling! I went to my car and had mad missed phone calls, voice mails, but that's where it starts, it's the bond. The family that prays together, stays together. We pride ourselves on that. We also grew up in the church and have a solid foundation. We all know each other's background and we all respect each other's background. We all appreciate each other's background and each other's family. Chris' mom is my mom, Anthony's mom is my mom, Marcus' mom is my mom. That's just how it is.
HP (Mr. Marcus Lee): We really pride ourselves on having that bond, a lot of groups don't take the time to do that.
YKIGS: Speaking to us earlier tonight, you mentioned that one of your influences was Jagged Edge. I've already heard you guys being compared to them, especially now that you did a remix with Jermaine Dupri. How do you feel about those comparisons?
HP (Mr. Marcus Lee): It's so close to each other! We're from Atlanta, they're from Atlanta. JD was on our remix, JD signed them. It's dope.
HP (Anthony): Mr. Marcus Lee didn't mention this, but October 11th we had an official EP release party. Jagged Edge came up on stage with us and basically gave us the torch and told us we were next. They just really gave us words of wisdom and encouragement and really just poured into our lives as a body and coming from a group that's from Atlanta that we studied and listened to. It was just a wonderful experience. Like Mr. Marcus Lee said, it was just like the whole room stood still for that moment. For them to say those words to us was amazing.
HP (Chris Voice): We have a couple of people that are passing us the torch in this direction. Slim from 112 came and sat down with us in the studio and really just poured into us and started talking about songs. Earlier, we also had Boyz II Men speaking highly of us.
HP (Mr. Marcus Lee): It can even go as far back as the support we got from Tony Toni Tone, they were supporting us from the beginning when nobody really knew who we were. Specifically Dwayne Wiggins, he really helped support and talk to us. He played on one of our tracks, "After Tonight", that's his guitar solo. No one knows that! This is the first time we ever told somebody, that's Dwayne Wiggins from Tony Toni Tone.
YKIGS: I'm actually really glad to hear that as a fan of r&b that these groups are passing down the torch to the next generation. It makes me feel really good about you guys being the future of r&b.
HP (Mr. Marcus Lee): We're bringing it back to the fore front.
YKIGS: What can we expect next from you guys?
HP (Mr. Marcus Lee): Well since we've been on the Scream Tour, we don't want to name anything specific yet, but we're about to flood the media. So much has opened up, by the second show we had offers, so much is coming in. It's showtime!
HP (Anthony): Just to sum it all up, just stay tuned because this is just the beginning, the best is yet to come, and I can't wait to see what the end is going to be with these guys. I'm talking about 30 or 50 years down the road, we're trying to do New Edition on them!
HP (Mr. Marcus Lee): Make sure you check us out on our website at www.HamiltonParkMusic.com
HP (Chris Voice): or you can hit us up on @Hamilton_Park because if you follow us, we're gonna follow you!