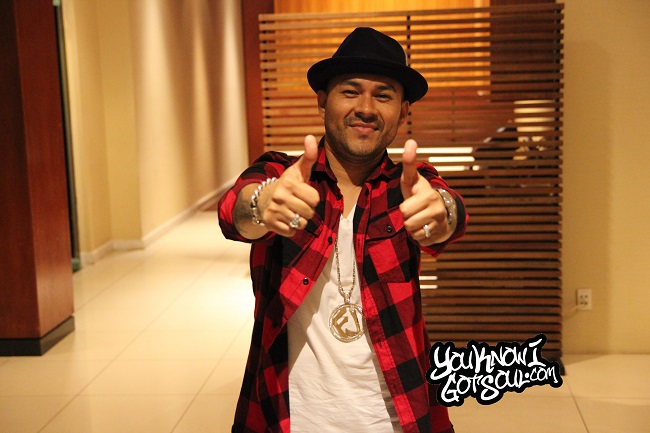 Frankie J introduced himself to the music world in 2003 with the single "Don't Wanna Try" which ended up being very popular on both Pop and Urban stations. He followed the success of that song with "Obsession" and "Suga Suga", both of which would go on to have even more success. YouKnowIGotSoul had a chance to catch up with Frankie J to find out what he's been up since his last album "Priceless" which was released back in 2006. Frankie talked to us about his new single, new label and his decision to return to the music after a long hiatus.
YKIGS: I want to take it back a couple of years to your most successful album to date so far "The One". What do you remember most about recording that album?
FJ: I remember working with so many producers and co-writing a lot of songs with a few writers. I just remember the adrenaline rush and excitement of recording a second album. My very first album with Columbia was "What's a Man To Do" which had the hit single "Don't Wanna Try" that I had written and produced. Due to the fact of that success along with "Suga Suga" featuring Baby Bash, that's when Columbia decided to do this second album. I was blown away because I didn't really know what was to come of the success of the first album. When they asked for a second one, I was like "Wow for Sure!" and I was definitely excited to work on it again with my good friend Happy Perez. He's been there for me since day 1 and working with my brother Baby Bash. It was just really fun and exciting.
YKIGS: I've noticed you've had a hand in writing most of your songs. Take me through your writing process.
FJ: I just really like involving myself in the writing because I like coming from the heart. Don't get me wrong, I love recording songs from other people and of course enjoy melodies and lyrics from different writers. Sometimes though, I like to take the lead in that before jumping into someone else's product and I think that's what's been very successful for me since the very beginning. Who knows me better than myself? I know what to look for in the song and also in the production. I started writing since a kid. I was writing poems when I was 8-9 years old in class. I was winning little contests here and there in elementary school. It didn't really mean anything, but it was just cool putting words together and rhyming. My teachers loved that. After that, I just started taking music seriously and started writing my own songs. My very first big break was writing songs for a group called the Kumbia Kings which I was also a part of. Kumbia Kings were originated in the city of Corpus Christi, Texas. I was working along with A.B. Quintanilla, which is of course Selena's brother. God rest her soul. When they allowed me to be part of the group, they already knew that I was a writer because I had mentioned to them that I loved writing and I had them some them demos of stuff that I had done in the past that were not out in the market, but they were songs that I had written. When that took place, it gave me the opportunity to keep going and keep writing. I was very involved with the group and that was my ticket to do a solo thing. That's when my first single "Don't Wanna Try" was born. I have a little passion when it comes to that. *Laughs*
YKIGS: You've been on Columbia for the majority of your career, but now you're on an independent. What's been the biggest difference so far?
FJ: Being more involved and being more in charge of my project. When I was with Columbia, there were a lot of people involved in the decision making when it came down to the single, the art work and the marketing plan. I think that doing things on an independent level, it now kind of opens up doors to just being in charge. Not that I wouldn't want to be on a major, but I think right now with doing the independent thing, I feel very comfortable with it. Whatever the song I write, it's to my liking and if I think it's something that the fans will love, I can automatically just throw them out and promote it. I think I've accumulated a strong enough fan base that I think I am able to pretty much just go out to the world and expose the music and give it to the fans. It took me a long time to figure that out, which should have been easier for me, but that's why I waited so long to actually come back into the world and really just chase that dream once again. I think I've let the fans wait for so long already that it was just time to start taking initiative in my career and just do things independently. It's my label. I'm pretty much running it right now. The single that I put out is called "How Beautiful You Are". The song is already on iTunes. So you can buy it and check it out. It just feels great to do things independently and just to be more of the CEO and more hands on with everything.
YKIGS: You mentioned your single "How Beautiful You Are". Tell me about how that song came about.
FJ: The song came about one night where my wife and I were having a discussion. She's probably going to kill me for this because I'm exploiting it, but she got downstairs one night and she asked me "How do I look?" and everything. I told her "Regardless of what you wear, you look beautiful". I'd always say that to her all the time and she would always reply back with "Well you love me because you're my husband. You're always going to tell me I'm beautiful". My whole thing with her was that it's not just because I'm her husband and of course her partner, I'm going to give her my honest opinion. We got into a little dispute there, so that's when this song came about. I wrote it for the women out there who really see themselves in a different light like, "These jeans don't fit anymore". I was just like "All women are beautiful in this world. It's just they have to give themselves the credit that they deserve". It's a positive song and one that is going to hit the heart of the women who hears this song and will appreciate it because I think women nowadays need to hear more men telling them that they're beautiful. Of course, it has to be from the heart. That's why I decided to write this song and expose it to the fans out there.
YKIGS: You're probably also working on a new project. What can people expect from it?
FJ: Well I'm working on an EP. I'm putting a few songs together and I'm trying to put it together before Christmas. I plan on putting it out on iTunes. I'm still trying to figure out the song. I know I have a few that are done and I'm just picking and choosing the songs that I want to put out. Those are the perks of owning your own label. I'm putting that together now. For sure, I definitely want to put it out before Christmas. It'll give the fans something to check out until the album comes out.
YKIGS: On a major label, the biggest goal is to sell a lot of records and have the number one hits. For someone on an independent, what's the goal for you?
FJ: The goal for me is just to keep my fans happy. I'm not worried about a number one record or all the sales because I wouldn't be true to myself if I was thinking that way. I just want to feel like I'm making my fans happy with putting out some new music. That's really the goal. Put out the new music and give the fans what they want to hear and still give them some of those love songs that they've always loved. Also give them some mid-tempos to give them moving and vibing. I'm not really looking for this humongous hit or trying to take over the world. For me, it's just giving the fans what they want to hear and what they've been missing for a long time. I just want to tell the fans that I'm still here, I haven't gone anywhere.
YKIGS: I've noticed throughout your career, you've had a handful of collaborations with other Hispanic musicians, both new and old. I wanted to ask you about a song that you did with Play-N-Skillz called "Are You Still Alone?" Give me some background on that song.
FJ: That's funny that you mention that because I'm working with them still. Play-N-Skillz have been friends with mine for a while. I met them at Columbia. We've written songs together. They actually helped co-write the first single off "Priceless" which was "That Girl" featuring Mannie Fresh and Chamillionaire. With "Are You Still Alone", I was actually a writer on that record. That was just an experiment. That was our first time ever trying out to work with each other, and because of working on that song we developed a relationship. They loved my vibe and I loved theirs. Since then, we've just started working. As a matter of fact, they just dropped a mixtape and I actually produced one of the songs off it. The song is called "Won't Be Coming Home". I talk to Play on a regular basis and we're still continuing the journey with working with each other.
YKIGS: Another song I want to ask you about is one that came out pretty recently. It's the one with Jon B called "I Had A Dream".
FJ: That was a leak *Laughs*. That was a mistake, it shouldn't have been out. They did it *Laughs*.
YKIGS: How did that song come about?
FJ: Well, the actual producer of that song is my good friend Happy Perez. He had given me some tracks. I was just writing songs and going into sessions and going out to LA. Jon B was going to be in LA, and we actually met through a mutual friend. I was actually at my friend's studio when Jon B arrived. When he arrived, I was there and he was there so we were like "Why not work?" I had a bunch of tracks on CDs and we started listening to tracks and picked that one. We went ahead and started writing together. We finished the song, but we never got to mix or master the song. Somehow, someway the song was leaked. I'm not sure if it was taken out of a computer of mine or my friend's computer. It went out and leaked. I didn't want that song to be leaked because I wanted to use it for a project. I might just use it and something with it anyway for future stuff, but for right now I don't plan on using the record. It's still out though. It's on YouTube. *Laughs*
YKIGS: Anything you'd like to add?
FJ: I want to give a general message to the fans and let them know that I'm very grateful for all of the support throughout the years. I know there's a few of them that have stopped me at the malls and at a theatre or wherever, and they ask me when the music is coming out. When I'm letting them know now that the single "How Beautiful" is out now on iTunes.
Follow Frankie J on Twitter @therealfrankieJ