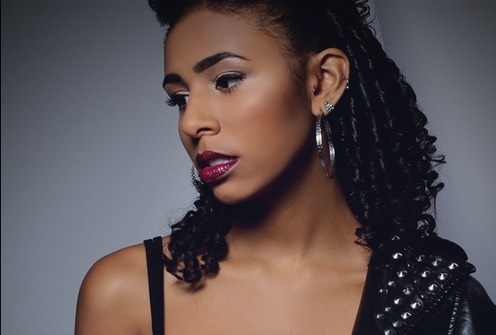 For many young artists who enter the music industry, they come in with the ability to either sing or dance and as time progresses they may eventually develop one talent or the other. Then there are artists such as Angelique Sabrina who have both talents locked down from the get-go. After a performance at a talent competition where she impressed the large crowd with her versatility on the stage, she's continued to make her mark in the industry with her smash "Pull Up". YouKnowIGotSoul had a chance to speak with Angelique Sabrina about her developments as a young artist, the importance of being an entertainer and her upcoming project.
http://youtu.be/ni6a0Dr0aWI
YouKnowIGotSoul: I wanted to talk about your beginnings because I know your dad was involved with music. How much did that influence you to do music?
Angelique Sabrina: My dad definitely influenced me a lot since I was little. I grew up in the studio mainly because of my dad since he's a producer and he was working on so many artists. It was just normal for me to come home from school, go home and then go into the studio and just do my homework there while they were working. That definitely influenced me and I guess in a way you could say that it influenced my passion for it as well because I watched how hard they worked and the outcome. The things they produced and the product really inspired me.
YouKnowIGotSoul: You play a couple of instruments and for someone your age, most only play one instrument but you can play three. How did you develop those talents and was it something you wanted to pursue or your dad wanted you to pursue?
Angelique Sabrina: Definitely not my dad at all. I pretty much annoyed him and pushed him and bugged him until he agreed. My dad is always the one saying "I'm here for you, I'm here to support you. You have to pull me, I'm not going to push you in any direction. I will not push you into anything you're uncomfortable with." So in any case with anything that I do, it's that I have to bug him for a while until I get it. With the instruments, I used to always want to dabble. My dad plays piano, so I wanted to try piano. I wanted to try guitar, I wanted to try drums and he let me, that's why I love him so much.
YouKnowIGotSoul: Who influenced you musically growing up?
Angelique Sabrina: Growing up one artist that influenced me a lot was Michael Jackson. My cousins and I used to dance to "Thriller" all day. Lionel Richie as well, I mean I pretty much listened to whatever my parents listened to. So whenever we were in the car, Lionel Richie would be on and I would constantly be asking for them to replay Lionel Richie. It's the old music that I was listening to when I was growing up.
YouKnowIGotSoul: At what point did you decide you wanted to pursue a music career?
Angelique Sabrina: When I was about 8, I entered myself into a talent competition. I came first runner up and it was a thrill for me because at age 8, I was on stage and there were a lot of people in the audience. The fact that they were so excited to hear what I wanted to say and sing, it was like the first experience I really had. From then on, it's been my all. I sat my parents down when I was like 12 and I told them that I actually didn't have a plan B because then I had been playing instruments and I loved it so much and couldn't think of anything else really that I would ever want to be. That's when I sat them down and said "Look I really don't have a plan B and I need your support" and they've been there with me every step of the way.
YouKnowIGotSoul: From then, you've been able to perform in large crowds. When you started, were you scared and how did you develop your presence on the stage?
Angelique Sabrina: I've never gotten nervous in a negative way. I only get excited and anxious because every performance is a new experience. The audience is different so you're going to get a different energy every single time you're on stage and that's what I look forward to. When I'm backstage, I'm always just excited. I want to experience it, I want it to be the now, I want it to be present time. I never get nervous in a bad way, I just get hyper and excited. I honestly don't think you can rehearse the presence on stage. I don't think that's something you can really practice and perfect, it has to be in you. Once you're on stage and you feel it, you just go for it. It's just a thing and I have no idea how to explain that.
YouKnowIGotSoul: You have a song out right now called "Pull Up". How did that song come about?
Angelique Sabrina: I came home from school one day and my dad was in the studio and he was like "I have a little melody in my head I need to put down, so just come and say that line to me really monotone like you're a robot." As much as the song "Pull Up" changed, that one line stayed the same. As much as the verses changed and the chorus changed, that one part stayed the same all throughout. Around that, we put together the concept of the dance. The song which is really about having fun and getting your friends on the dance floor and having a blast. That's really what the song is about.
YouKnowIGotSoul: Along with your singing, you're also dancing in the video. Is dancing something you feel is part of your music career?
Angelique Sabrina: I definitely would think that because what I'm big on is entertaining and being a performer, not just a singer or a dancer or actress, but being a performer and entertainer all around. Usually when I'm in the studio, I always make sure to tell the producer if we're going to do a fun dance track, I tell them like "I can't confidently approach a song on stage if during the time in the studio, I can't picture it." It comes to me right away. I actually start dancing, so it's something from early on in the process and when I'm on stage, it's just a whole now and the song is completed. I'm just completely involved then.
YouKnowIGotSoul: As far as your sound, what kind of sound are you going for with your music?
Angelique Sabrina: I consider the music that I like to listen to and the music that I would love to make and produce, and with my album coming out later this year, the sound to be worldly. I don't really know how to put one name tag on it and just call it Pop or Island or whatever you would like to call it. It's so many different inspirations and sounds put into one album. I just hope the whole world could listen to it and appreciate the melodies and harmonies and everything that's involved. I would definitely like my music to be worldly. I'm from the Bahamas so naturally it has that Island type of feel as well.
YouKnowIGotSoul: A lot of people have started to pay attention to everything that you're doing. What is it about you that's making you stand out?
Angelique Sabrina: I definitely think in an industry where everybody nowadays is much older than me, I would say 10 years older than me as well, I'm only 14 and most people in the game are in the 20's. That's one thing that is fresh to people and why they're grabbing onto it so quickly. It's because of my stage that's making me stand out the most.
YouKnowIGotSoul: What's next for you? Are you working on an album right now?
Angelique Sabrina: Yes I am currently working on an album. Next for me, I'm going to drop my second single soon. We don't have a date yet, but soon. I'm really excited about the song, it's actually called "Stop Sign". I have a clip of it on my website and that's going to be happening soon during the summer. Later this year, I'll be dropping my album which I'm really excited about.
YouKnowIGotSoul: Anything you'd like to add?
Angelique Sabrina: Follow me on Twitter @angeliquesab