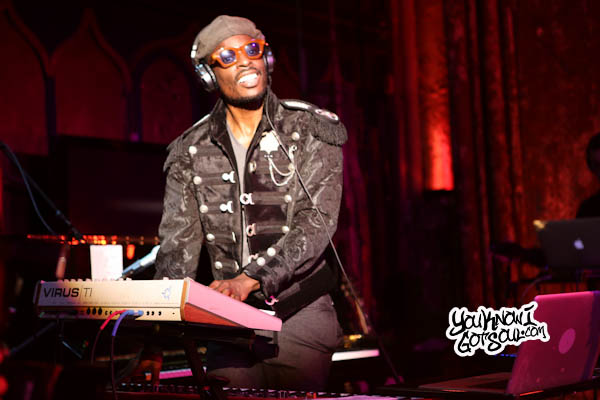 With a Grammy under his belt already ("Bittersweet" by Fantasia) as well as one of the biggest songs of 2010 ("Pretty Girl Rock" by Keri Hilson), Chuck Harmony shows no signs of slowing down. While many producers would be content with those accolades, Chuck Harmony discussed in this exclusive interview with YouKnowIGotSoul his future goals and also reflects on some of his past achievements. He also talks about upcoming projects that's hes working on with Ne-Yo and others.
YouKnowIGotSoul: One of your first major placements was on Mary J. Blige's album "Growing Pains" album with the song "Work in Progress". How did you get that opportunity?
Chuck Harmony: It was really through Ne-Yo. I was working together with Ne-Yo and she commissioned him to write a song, so he asked me to do a track that felt like how that felt so I did it. He wrote the song and that's how it came about.
YouKnowIGotSoul: How did you originally link up with Ne-Yo?
CH: A friend of his manager actually kind of got a hold of some of my tracks and played it for Ne-Yo. That's how it kind of happened. It just happened, man. This guy that wanted to manage me happened to be a friend of Ne-Yo's manager so he played him some of the songs I had been doing. Ne-Yo liked it so I met his management and we went from there.
YouKnowIGotSoul: What is the creative process like with yourself and Ne-Yo or maybe Claude Kelly?
CH: Well with Ne-Yo and Claude, it's different. Ne-Yo more so starts at the top like what he wants to talks about. He might ask me to do a track like this and I do the track and then he writes to it. Me and Claude write at the piano and then I do the track.
YouKnowIGotSoul: A lot of your songs have live instruments. How important is it for a producer to have a strong musical background?
CH: I personally think it's very important because that's where the music integrity comes from to me. Unfortunately, it's not necessary. I would recommend anyone who wants to be a producer to learn an instrument. It'll take you much farther than just learning a piece of equipment.
YouKnowIGotSoul: I read that one of your future goals is to obtain a Doctorate in music. It seems like music is more than just a career for you. Talk to me about that.
CH: It's really a passion. When I was in college, I realized because I'm a piano player. One of my teachers, she asked us to harmonize some simple melody and I harmonized with all the jazz chords that I had been practicing and she kicked me out of the class because she told me I was basically playing around and horsing around. I got a standing ovation from people, but she kicked me out of the class. At that point I realized a lot of teachers are not good teachers because they never realize their dream. Like my teacher was a frustrated musician so she couldn't really help me to expand what I was doing because she had never been where I was trying to go. I figured if I can get to where I'm actually trying to go which I'm mostly there then I would be a great teacher. I won't be frustrated and I can actually be a good example for the kids that I'm trying to teach. Most teachers don't get to be the professional and then come back to teacher. That's my goal.
YouKnowIGotSoul: Of course you won a Grammy with the Fantasia song "Bittersweet", what was that feeling like?
CH: It was great. The vocal performance Grammy was because that was a special vocal. Fantasia was crying when she was singing that song. I remembered the magic that actually happened and the talking part and how we turned down the lights. We did all the things that took for her to get that perfect performance out. It was really a magical moment just to hear that, just what we were doing in the studio to be recognized at that level.
YouKnowIGotSoul: I've noticed with a lot of the music you've produced, the songs have a lot of substance to them. A lot of songs on the radio don't have too much of that. Is that important to you when you're working with a writer?
CH: I try to do nothing less than a good song. That's my motto. I work with people who are comfortable doing that. I don't work with a lot of writers, I work with maybe 4-5. I know people that really have integrity and the right lyrics so that's the only kind of music that I want to present to the world. That's how it goes. It's very important.
YouKnowIGotSoul: You've worked with some of the bigger R&B and soul artists such as Chrisette Michele, Fantasia, Jazmine Sullivan, and Ledisi. How do you kind of differentiate the sound between all of them?
CH: When I come in the studio every day, it's just a fresh slate. I don't have any preconceived notion. I think a lot of producers especially in Urban, they like to give artists their sound. It's different because I'm a musician and I'm able to give the artist the artist's sound. I can kind of adapt to the artist's sound and their vision for their album. That's why I get to work with a lot of projects where I do the whole project because I'm able to deliver the vision they actually have for their whole album. I think that's how I do it. I just cater to what they're trying to do.
YouKnowIGotSoul: One of the biggest songs for you so far is "Pretty Girl Rock" by Keri Hilson. Talk to me about the creation of that song.
CH: I was in New York and Ne-Yo's manager called me and was like, "Yeah we got a session with Keri the next day". Matter fact, I was recording "Bittersweet". After that session was over, I stayed around the studio for the rest of the night and came up with that track. That's the only track I had that I thought could fit Keri Hilson. I flew to L.A. and played it for Ne-Yo and he loved it and he started his writing thing. Keri came in and she loved it. It was kind of organic like that.
YouKnowIGotSoul: We've heard reports that Ne-Yo is working on his new album. Can you tell us anything about it?
CH: All I can say is that I've worked on it and what I've heard from it is Ne-Yo. It's not the "Beautiful Monster" Ne-Yo. It's those great songs that everybody loved Ne-Yo for. I actually love "Beautiful Monster" but you know what I'm saying. He's really back to what he was known for and that was great songs. The song I gave him was a great song. I'm excited for people to hear it.
YouKnowIGotSoul: Who else are you working with?
CH: I've been working on this project for a long time for this artist named K'naan. I did his whole album. I did the majority of V.V. Brown's album. I'm back in with Chrisette Michele. I'm going in with Usher and John Legend at the top of the year. I'm working on my own artist.
YouKnowIGotSoul: Talk to me about your own artist.
CH: *Laughs* Everybody asks me that. It's something fresh and it's R&B and it's young and it's exciting. It's a dream project of mine because I always figured if I could get a young artist to do the quality of music that I've been doing, then we'll be able to make some noise in the music business. That's what I'm hoping for.
YouKnowIGotSoul: You've had a lot of R&B success, but right now on the radio there isn't a lot of it. How do you kind of balance between something you like and something that has commercial success?
CH: I just don't think about it. I got a lot of Pop stuff coming out next year. I just don't think about it. I just let everything be organic because I don't want to over think what I'm doing. If I come in the studio and I got a session with a Pop artist, I just do it organically. I don't really think about what's on the radio, what's going to be a smash. I just do a great song, any genre. That's how I keep myself from falling victim from that other stuff.