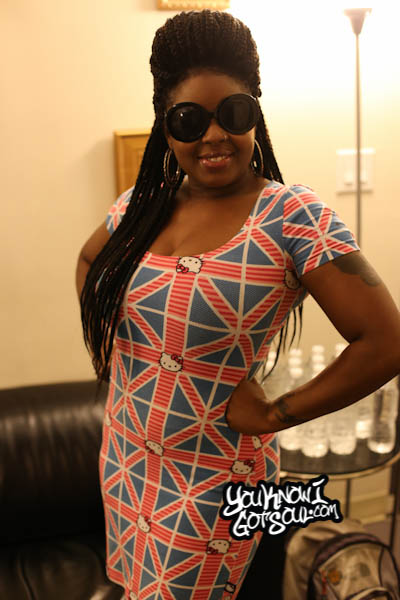 Exploding onto the scene at the age of 17, it seemed like Nicole Wray was poised for greatness. She had an amazing voice, a hit single in "Make It Hot", a solid debut album, and a crew that included Missy Elliott, Timbaland, Ginuwine, Aaliyah and Static, all of whom had great success in the late 90's. Unfortunately the situation did not work out after a while, so we never got to hear her second album "Elektric Blue". She eventually moved over to Roc-A-Fella which at the time was one of the biggest labels. Sadly, due to events beyond her control, Nicole's music plans crumbled before she could really get started. However, even with all the stumbles along the way, Nicole never gave up and since then, she has been able to make a major impact in a lot of different ways. She was heavily involved with the Grammy award winning album "Brothers" by The Black keys and has been featured on collaborations with big named Hip Hop artists such as Cam'ron as well as Kid Cudi, 2 Chainz and Pusha T. YouKnowIGotSoul had a chance to talk with Nicole Wray about her debut album "Make It Hot", her relationship with some of her mentors such as Missy Elliott and Damon Dash and also discuss upcoming projects that she has coming in the works.
YouKnowIGotSoul: Take me back to your debut album "Make It Hot" and the recording process for that album.
Nicole Wray: I was just getting started. I was fresh out of school and was doing a small tour with the Superfriends camp which was Missy Elliott, Aaliyah, Ginuwine, Playa, Timbaland and Magoo. We were doing some shows. We started in Virginia Beach and then we went onto LA and I think we did Georgia. The process working on that album was pretty unique because I was young and fresh out of High School and still wet behind the ears. I wasn't doing any writing, I was just following Missy Elliott and she had the writers that came in. Static Major from Playa, he played a very key part in my career and he did half of the album I believe. I remember Missy saying that she wanted me working with the guys and I remember vividly that she got Playa on the phone and I sang for them over the phone and a little while later, they came into Virginia to one of our number one studios at the time called "Master Sound". I would record there after school and I would work closely with Static. He would come in and always focus. He was very quiet, but very talented. He would write, he would talk to me first and he would try to get to know me by asking me about my life and where I grew up, if I had my boyfriend, how I felt about my boyfriend and how I felt about different issues on life. We would closely work together on a couple of songs that made the album which I still love today.
YouKnowIGotSoul: You had instant success with your first single. Take me back to that moment and what you were feeling at the time because for a lot of new artists, it takes them a while to get that first #1 hit but it happened for you almost immediately.
Nicole Wray: Wow, I kind of remember it vividly. I think we were in Manhattan, New York in the studio. Missy came in and I was there waiting for her and she played me a record that Timbaland had produced. I wasn't sold on it right away, it was a little weird for me. I guess it was because it was uptempo and it was in such a low key for me and I didn't like it right away. I didn't learn it right away, she had herself and another writer by the name of Keli Price from Virginia that came in and laid the vocals down for me. I came in and I remember having something to eat and listening to the record a couple of times. I went in the booth and I didn't get it right away, so she gave me the CD and told me to go to my hotel and actually listen to it over and over again so I could learn it. Once I felt like I had it, we came back in the studio and I started loving the record, I started living with it. I guess for me, I wasn't a writer at the time, but for that moment she kept telling me "I'm telling you this song is going to take off!" And it did, it took off. I went in the studio and I laid it down and they loved it. I remember Sylvia Rhone coming to one of my sessions at the time and she was loving it. I remember going back to school, I was in my senior year. I was telling all my friends that I had recorded an album and that I was working with Total, SWV and Missy Elliott. Nobody believed me. I told them I had met Faith Evans at the time and held Biggie's son and I had pictures. I was showing all my friends at school and one day at lunch in the cafeteria, my video came on. The people went nuts in my school and from that moment, I was known as Nicole Wray. I had fans in school, but I also had people who hated on me. I had my locker and I had pictures and people would write stuff on my locker whether it was mean or good. It was weird. It was an excitement, but it was also a sadness because I went straight from my friends and having a social life to having a life on the road. I didn't understand it, it just happened really, really quickly for me. I didn't grasp it all, it was happening so fast that I couldn't enjoy my career. I would start touring and picking up the writing skills and started writing shortly after that just before my second album. Just going into the studio and having these lyrics and trying to figure out where I was after "Make It Hot". It was exciting, sad and difficult at the same time. It was an experience for me, but I was still like a teenager.
YouKnowIGotSoul: One of my favorite songs off that album was "Raise Your Frown" which I know you did with Static. Take me back to that song.
Nicole Wray: I remember Static pulling me aside. They had video games in the studio and this was actually a studio where everybody was who was somebody in Virginia at the time, because Virginia is a very small place, but it has a lot of talent. You would have Pharrell come through. So Static and I were playing video games, laughing, talking and he was getting to know me. I had a boyfriend at the time and we were going through something. I was kind of evolving in my career and he didn't understand me traveling, being an artist and being away from home because we started out best friends and may career kind of snatched me away from him. I was telling Static that I was sad and that was my boyfriend was sad. I was just trying to understand what he was feeling from Nicole, the Nicole that he knew that he went to school with and went to the movies with, and then the Nicole that was taken away from him to go sing on stage and to be around celebrities. I was just trying to understand my boyfriend at the time. I didn't know if we were going to be together or if he was going to accept my career or how long we were going to last. I remember talking to Static and he started singing this melody like "Will you raise your frown? You don't have to worry, I won't let you down." It was kind of like me telling the guy that I won't let him down. At that moment, I respected Static because I didn't really know the depths of a songwriter or what the songwriter went through. Even though I was always around Missy Elliott, she lived a fast-paced life and party life. From Static, I didn't really know him so I just saw song and emotion in him. When he saw that in me, that's when I started respecting him like "Wow, he definitely took a part of my life and put it on this record." Unlike Missy, she wrote records. She knew me, but she was just writing records. I don't think she was trying to get a story from me, it was just that she was so articulate in what she did that she could write a song and you would think it would be about my life. Static would really try to get in-depth about me as a person and find out who Nicole Wray was and what she was doing outside of the music. A lot of those things he was pulling from me and you can hear it in the records that he wrote for me.
YouKnowIGotSoul: After that album you went to work on your second album "Elektric Blue". What was the mindset going into this album and what were you trying to do creatively?
Nicole Wray: Wow, I was nervous because to live up to "Make It Hot", I wasn't a writer at the time. I had a lot of big writers come in with Missy Elliott, Static and Lil' Mo. A lot of people were encouraging me like my management team to start writing and I also had a story. My dad at the time was on drugs and he was on the streets. My mom and dad had divorced when I was 12 and my career didn't really happen until I was 15-16 where I started being exposed to different artists and celebrities. I was always wondering when I would go home and where my dad would be. He was homeless for a long time and I had a sadness that was in me. I wanted to talk about those things, I wanted to talk about my sadness, I wanted to talk about partying and me experiencing the club life and being away from home. It was definitely a challenge for me because I was still wet behind the ears and still somewhat culture shocked with my celebrityhood. I was still trying to figure out where I stood and my different styles and who I was. It was definitely a challenge. My record company opened a budget and I would go in the studio with a lot of producers. We would record a gang of songs and then we would let Missy hear the songs to see if she liked them or if she felt I should work harder on the records. I think I kind of got lost in that with Missy being a bigger artist and traveling and me just trying to find my way without her in the sense because she wasn't there for the second album. She was doing a lot of touring and I was just there left to figure it out and then see if she liked it. She did have a couple of records that we did record, but she got so busy and out there that I kind of got lost in figuring out where we were going. But I kind of found my way and I'm thankful today because I did figure it out and I'm writing to this day because of that experience of being just out there. I learned a lot along the way, I had my brother help me. I worked with a lot of other writers who would inspire me, so I'm thankful today.
YouKnowIGotSoul: I know around the same time period, Missy was working very closely with Lil' Mo as well as Tweet. Was that every difficult for you?
Nicole Wray: It was definitely not difficult for me. I am definitely a team player. Now in my career, I've worked with artists that don't understand working alongside other artists. I never had a problem working with Lil' Mo. I never really worked with Tweet, we were starting a friendship, but it was shortly lived. I still have much respect for Tweet and Lil' Mo for their music and their craft and their ability to be able to be under Missy's umbrella at the time and still be creative. It definitely wasn't a problem for me, it was just the experience and the evolving and trying to figure out my way to who Nicole Wray is today.
YouKnowIGotSoul: Following that, you had a Roc-A-Fella situation. You had the single "If I Was Your Girlfriend" which had a different sound from "Make It Hot" and "I'm Looking". Was that the direction you wanted to go in with your music at the time?
Nicole Wray: Absolutely, everybody has to understand that I was a teenager and I wasn't writing on "Make It Hot". When "If I Was Your Girlfriend" was written, I was actually more involved in my sexuality with me being a female, being grown and free. I was just experiencing freedom as being an artist and being creative. For me, that record was about me being free and me being an adult because I was always the artist where I was told "Nicole, you can't do this. You have to be careful." Unlike today, you can have a million tattoos, piercing, butt cheeks out, breasts out and being free. Back when I was first came out, it was kind of like a no-no. It was like "You don't want to get involved in that or the label would drop you." Me doing that "If I Was Your Girlfriend" song, I was amongst people that were letting me be free and understanding who Nicole Wray was and loving me smiling and laughing and my creativity. I was embracing that, so when you hear "If I was Your Girlfriend", that was me just embracing my adulthood from all of the years that I couldn't, I was going to get spanked for it. So I just felt like "I'm free and I'm going to sing about this!" It was a "touch me, tease me" type of vibe. That was what you were getting with "If I Was Your Girlfriend", it was just me being spunky and just embracing my adulthood and sexuality.
YouKnowIGotSoul: Why didn't the Roc-A-Fella situation work out in the end?
Nicole Wray: I think when I came on-board, I was unaware of a lot of things that were going on. I was pretty much excited about coming on-board, I had met with Damon Dash and a lot of people still ask me why I didn't go with Jay-Z. I have much respect for Jay-Z, always have and it was really one of the reasons why I joined them. It was the hustle and bustle of Roc-A-Fella just from the ground up, I just loved that. It was a lot of teamwork and nobody left anyone out, it was a lot of love for each other. That's what made me really want to be a part of that team, but like I said, I really didn't know what was going on at the time. I believe Jay-Z and Damon Dash parted ways and Damon left the whole situation behind and I kind of came in with him. Much respect to Damon Dash, he has really inspired me over the years to be myself, to smile, to be sad and to embrace who I am and let people know who I am. So at that time, I really didn't know and I kind of left with Damon. We've done a lot of things after Roc-A-Fella. We've done a lot of international tours that I went on with him and he helped me start a relationship with The Black Keys who won a Grammy for their "Brothers" album that I worked on through Damon Dash. I don't think it was a bad thing, I think it was the experience that I grew to love and a whole new fanbase from the Roc-A-Fella situation. I picked up a whole new set of fans on the Hip Hop side. A lot of Hip Hop and Rap artists call me today to get on songs because of that love with the Roc-A-Fella family and Dipset. Shout out to Cam'ron, Jim Jones and Juelz Santana. Just working with those Hip Hop artists has definitely opened the door for me with the new Hip Hop artists like Gucci Mane, Waka Flocka Flame, 2 Chainz and Pusha T. I have established those relationships because of Roc-A-Fella, so I don't think that it was a bad thing for me, it definitely opened up a new door outside of my R&B and Pop door.
YouKnowIGotSoul: Like you mentioned, you had a chance to work on the BlackRoc project, which I know was spearheaded by Dame Dash. Talk about that whole situation and the sound on that album because it's a lot different from what we're used to hearing from you.
Nicole Wray: Damon and I hadn't talked for a couple of years. I remember calling him and he was going through a lot. I remember reaching out to him and he was like "I'm not doing music anymore" and I was bugging the hell out of him. I had moved from Virginia to Atlanta and I was calling him all the time because I was so used that experience from going to this fast paced, high energy life to coming to settle in the South. I was calling him and he was like "I don't feel it, my soul is not there. I don't feel like doing it right now. You have to figure out something else." I let it be, I let it be for a couple of years. Then I got a call out of nowhere in late 2008 and he was like "I want you to come to New York." I was like "Okay cool!" I hadn't heard from him and it was so beautiful hearing his voice because I know he knew who Nicole Wray was, he believed in me. I was a little sad that he wasn't feeling doing music when I was bugging the hell out of him, but he didn't forget me. He called me and was like "I got this group, it's going to be out of control. It's on some Rock and roll. I believe your voice would pull this off. They're looking for this soul and I know you have it." I got on a flight and went to New York and met everybody. I met The Black Keys and the whole new team. I felt like "Wow, Damon is around a whole new set of people because the Damon I knew, the yelling Dame and the one that was always aggressive, was now a Buddhahead and was laidback and smoking his joints and he's now into Rock and roll." He pulled me into this because he felt like I was capable of pulling this off and he knew that I could do it. I met Dan (of The Black Keys) and he sat me down and he was playing a lot of records. He was like "Wow I heard so much for you!" I just began to sing for them and they were like "Wow!" They started putting me on every other record from that BlackRoc album and I was the only female on that record. Not long after that, they told me to come to Alabama to work on the "Brothers" album. A partner of mine and I drove from Atlanta down to Alabama and it was so country. They opened up this museum that was called "Muscle Shoals Sound Studio" that Cher and a couple of artists from back in the 60's recorded in. They say that a lot of spirits are still there, it was an experience for me. It was dark, it felt like I was back in the 60's. Just to work with those guys, it opened me to a new part of me that I knew was built from my Church background that I kind of left behind to do this R&B thing, I kind of tapped back into it because of the Black Keys. It was just singing from my soul and now I'm working with a group called "Truth & Soul" which is an indie label that I just signed to not long ago. I'm putting a group album with myself and a girl from the UK named Terri Walker who had an album out in the late 90's on Def Jam UK. We worked on that album and that album is amazing. We did it with Truth & Soul and a live band. It's going to be amazing, I believe we're going to drop it later this year and we'll start shooting some videos next month. That project will be coming out real soon.
YouKnowIGotSoul: You were also featured on Kid Cudi's last album, so obviously people see the talent. But has this whole journey been frustrating for you and how do you continue pushing through?
Nicole Wray: It's definitely been frustrating. I have a lot of highs and definitely a lot of lows. A lot of people don't realize that I have been under the radar. I have done a lot of things like soundtracks. I've done a lot of things and I have been rewarded. They've been small, but to me it's big because I'm still pushing forward. For a lot of my fans and a lot of people who are curious that I think that I'm not doing my best, I believe that I am. It's just finding the correct team and pushing forward and not giving up. That day will come. It's not easy like it used to be, it's definitely hard. But like I said, I've worked with a lot of interesting people that always keep me at heart and at mind and they always call me when I least expect it to come around and to write and to be a part of projects that I'm grateful for. So I am frustrated and I am excited for my future because I know my fans have not seen the best of me yet.
YouKnowIGotSoul: Last year you and 7 Aurelius released an album called "Dream Factory Sessions". That was old material right?
Nicole Wray: It's definitely old. That material was produced and recorded in 2004.
YouKnowIGotSoul: How come they decided to just release it recently?
Nicole Wray: I definitely believe it had a lot to do with us leaving and parting ways with the record company. I got a release from Def Jam in 2006. I was signed to them in 2003 and I got a release from them. It was lot of things that go on with the label and stuff like that. 7 definitely believed in that album and he always promised me that we were going to fight and we were going to do whatever we could to make sure we had an outlet to put that album out. To this day, he's still fighting and pushing forward with that album that I felt like was the most amazingly creative time of my life. 7 allowed me to be free and to work alongside of him also producing and writing. For me, that's an artist's dream to be able to evolve like an actor being a film director. That's how I actually feel now being able to work with 7 and producers that allow me to creative and outside of my natural raw singing talent. I thank him for even pushing and still allowing that album to see the light of the day, so my fans and people that have been following me over the years can see my growth as an artist.
YouKnowIGotSoul: I know you mentioned that you have projects coming out with some other people, but do you have anything of your own that you're coming out with? And how do you describe your sound nowadays?
Nicole Wray: My sound is still very jazzy and most definitely now more soulful than ever. My vocals have grown over the years and I've definitely matured with my vocals. I've been singing since "Make It Hot" and people don't realize that just because they don't see me, that does not mean that I'm not working and living my everyday life. I would like to establish that for people that don't understand. I am still Nicole Wray, I am still eating breakfast every morning and taking showers and writing music. *Laughs* A lot of people think that my life has just absolutely stopped. I feel I still owe it to them to keep going because they don't know that I'm still going and moving around just like them. I feel obligated to keep pushing forward, to work on new projects and accept things. Sometimes I might not get paid and wait for checks, but I know that one day soon that it's going to come to full circle and they will see me again still looking beautiful, still singing and still smiling. I feel like that's why I'm here. I just have to keep going and not give up. I do have projects that I'm working on. I've worked on a project with Nitti out here in Atlanta that we're going to drop some music soon. I'm working on a mixtape right now on a whole new R&B/Pop project that I'm going to release soon, it's just going to be my own solo project.
YouKnowIGotSoul: Take me through your writing process. I know you didn't do a lot of writing earlier on in your career, but I know you've been developing as a writer.
Nicole Wray: For me, I never really established myself as a writer because I had the "Nicole Wray: The Artist" flag. I was like "I'm an artist, that's what I am", but over the years I've been doing all the writing and because of that, I was rewarded a publishing deal. I write a lot about my experiences in life, the things that I see, my emotions, my family, my friends and the world. It's just about the true emotions of being upset, sad or sexual. Everything that I feel and the production has to come across because I am so particular about how I write. I definitely go off emotion, I like to have me a glass of wine. I recently was smoking cigarettes and I quit smoking because I was like "I don't want to smoke anymore." I picked up a stupid habit and I'm like "I don't want to smoke anymore." I am definitely an artist when it comes down to writing because before I was just writing based off how I was feeling. Now I'm more in my zone, like I get my pen and I try to attack things in a way that the consumer is going to relate to and not just say "Okay, I just wrote a song." I want them to feel where I'm coming from, but not on some Neo Soul. Not to knock Neo Soul, but I want to capture a feeling because I want to keep audience entertained and I want them to understand the depths of what I'm saying, my vocals, belting and everything all in one. I just want them to embrace that. I definitely go in phases and you guys are going to hear that on this album that's coming out through Truth & Soul records with Terri and I. You'll also hear it on a lot of the stuff I'm working on right now like I have a studio session today as we speak. I've been working on a solo project that I'm going to release on iTunes real soon.