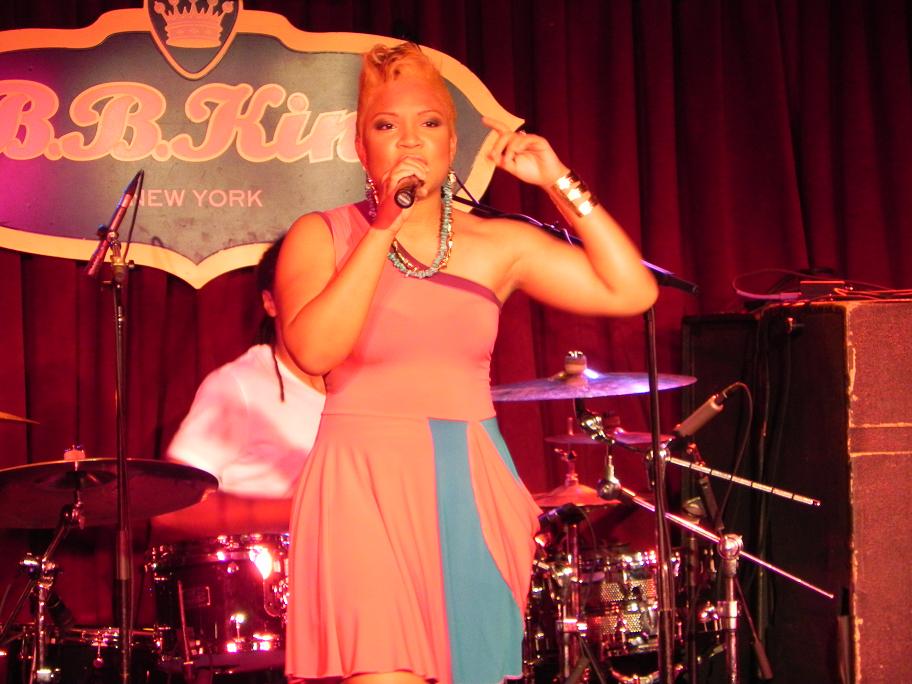 I've had an admiration for Yummy Bingham's distinct voice since I first heard her as part of Tha Rayne on their debut single "Didn't Ya Know". She was very young at the time, but my respect for as an artist continued to grow as she did in age as I watched her release a solo album and pen numerous hits for other artists. I was fortunate to catch up with her backstage after she performed at R&B Nights at B.B. King's in NYC on 7/24. During this interview, we discuss the origins of Tha Rayne, why their debut album never released, what she remembers most about her solo album, what she's been up to in the years since, what's next for her, and more.
YouKnowIGotSoul: Let's start off early in your career with Tha Rayne. Tell me about how you guys came together as a group and eventually got signed.
Yummy Bingham: Well Kay Gee from Naughty by Nature discovered myself, Tina Jenkins out of Atlantic City and Shaquana Elam and he made a group called Tha Rayne. We came up with the name because Kay Gee was about royalty which is still a seed that he imbedded in me to be a queen in the game. So he called us Rayne Supreme, but we just ended up with Tha Rayne, and we just wanted to be something fresh out of the tri-state area.
YKIGS: The group's debut album "Reign Supreme" never released. Why did the album never come out?
YB: Well it was a few things; mis-promotion, not compromising with marketing, the creative team conflicting with the administrative team. It was like we were 14, 15, and 16 years old, and I was the baby, so because we had our own dreams and our own goals already set, and then when you sign to a label, you have to compromise. Everyone doesn't like to always agree so that had a lot to do with why we didn't go to the next level.
YKIGS: I was able to get a hold of a sampler or mixtape from that era, and I heard one song which I love called "Luv Bug". Do you remember that one?
YB: And you know why?? That's the one record that we all wrote on our own! Our boy Jimi Kendrix produced that record. "Luv Bug" was a really crazy record the way it came together. I had just had a loss in the family, my great aunt had just passed, so creatively and business wise I wasn't trying to hear anything and see anybody. They told me I had to get the job done and the show had to go on no matter what, so we put together the record "Luv Bug".
YKIGS: After the group split you did a lot of writing for artists. Tell me about your writing process and how you put songs together.
YB: Well I've always been a writer. Before I was an artist I just wanted to write songs and do background singing because my idea at 12 was that being artist was too hard! Since I was raised around so many greats, I felt it was too much and I just wanted to sing and dance, I don't want to do all of this other stuff. Being a writer has a lot to do with my love for history and my love for poetry and my love for the English language and many different languages. I just try and speak a universal language which is music.
YKIGS: Eventually in 2006 you recorded your first solo album "The First Seed". What do you remember most about that album?
YB: That album was my try everything period. Shout out to Rockwilder who was my partner at Muzik Park Records. We tried to get all of the sides of Yummy out but at the same time we had to cater to the sides which were most in demand like hip-hop and r&b. But those are only two sides of me, like I told someone else tonight, I'm a conglomerate with many sides.
YKIGS: The album released in the U.K., but never got a released here in the U.S. Why was that the case?
YB: It was supposed to release in the U.S. but it's another head butt with the label. I'm very strong minded and I'm a Capricorn so I'm going to beat you with my head before I say anything to you personally as to how I feel. I love Syliva Rhone, she's an amazing woman who was an executive that I had the opportunity to sit up under in the game from a female's perspective in the executive's chair. She fortunately blessed me to be to date the youngest female record executive in history. It just was me still fighting for who I really wanted to be and not being allowed to entirely. She did give me some freedom that I'm grateful for that helped me to be who I am now, like I demand what I want now! *Laughs*
YKIGS: So that album was in 2006. Catch us up with what you've been up to since then.
YB: I've been writing for people like Diddy and Amerie and Beyonce; just writing for different people. In 2007 I had a little girl and her name is Ariel and she'll be four in September. I've been trying to adjust more to being a mother because I want my child to know me for who I am rather than the team I have around me helping take care of us. She needs to know home first. I've been taking care of home for the past few years but now I'm back to me. I haven't forgot about music, I'm getting back to that!
YKIGS: Let me ask you about the song you mentioned you wrote for Diddy, "Tell Me" with Christina Aguilera. I'm a huge Static Major fan and I know he was also credited on the song with you. Did you get to work with him on that song?
YB: Oh my gosh Static and I were like hit and miss. I spent a lot of time in Miami in 2006 and 2007 and we were just working with the same producers and working on the same records but never there together and that's one of my regrets. I'm so interested now more than ever to collaborate with other writers because I don't want everything to sound like just a Yummy record. Static's whole swag and his style and his flow is one of a kind and God rest his soul too, much love to him.
YKIGS: What can we expect next from you?
YB: You can expect Yummy on the big screen, I'm working on some movies, there's actually one called "Who Stole my E.B.T. card" with Mike Epps. I'm working on a sitcom series called "Which Way" which is like the today version of "Fame" and I play a mentor role in it. Everything else is a secret, but I can say I'm back in the studio. You can catch me on stage at the end of the year, but you can follow me on Twitter @YummyB4U.