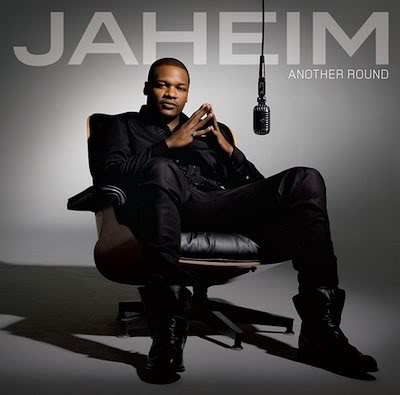 Since he first appeared on the scene, I've always found Jaheim's albums to be teetering back and forth between "hood love" and "timeless love music." On the one hand, you've got songs like "Just in Case," "Me and My Bitch," and "Life of a Thug," and on the other hand you've got songs like "Anything," "Put That Woman First," and "Never." I'm not holding this against him as a negative because I've always been a fan of his music, but with a voice that puts many others to shame, I've always felt the "hood" side is what kept him from becoming a legend like Luther Vandross who he has often been compared to.
Honestly, I'm not trying to be harsh to Jaheim at all, and I actually applaud the man for being real and true to himself because obviously that's what he's sharing with us in his music. In my opinion, each of his albums has been very solid and I can clearly feel the growth as I listen to each one in succession. Now with this fifth album "Another Round," I was hoping to hear him continue that growth and give us something that will push him to front of the pack in r&b.
The first single "Aint Leavin Without You" is a fun up-tempo jam that is clearly tailor made for the radio. He pays tribute to his hip hop roots in borrowing the beat and part of the chorus from the classic De La Soul song "Ring Ring Ring." My only complaint is that for the remix, which also appears on the album, he chose Jadakiss instead of doing what would have been a logical collaboration with Da La Soul. As for that growth I spoke of, Jaheim really tries something new on the title track "Another Round." This is the first time I've heard him sing over a club banger type track and the results are favorable. I found myself bobbing my head over and over to this highly addictive up-tempo jam.
As we venture further into the album, the "timeless love music" side of Jaheim makes his presence felt on just about every song. On "In My Hands," if you had told me he was covering a Luther Vandross song on this one, I would believe you. He really channels Luther on his slow jam where he croons about his woman being his whole world. Next, on "Finding My Way Back," he sings about trying to find the way back to his lover after realizes how important she is to him. My personal favorite on the album by far is the timeless "Otha Half." This is the type of song any man who's in love can not only relate to, but also dedicate to his woman. I love the use of the harmonica on the song, it really provides a whole new element and sets the whole song off.
One thing that I did find a bit puzzling about the album was how big of a role the backup singers played throughout each song. Usually when you listen to an album, the background singers are barely noticed, providing a complimentary part. However, on "Another Round," I found myself actually mistaking some of the tracks for duets because of the prominent role of his background singers (sorry I don't have the liner notes in front of me to confirm who they are). Don't get me wrong, I'm not complaining because the songs actually came out very good, but I just found it a bit odd. For example, on "II Pink Lines," "Closer," and "Otha Half," it's the background singer who does the chorus rather than Jaheim himself. I guess I'm just being a bit picky, but in these cases, I would like to see credit being given in the form of a documented feature.
When I take a look at "Another Round" as a whole, I wouldn't say I'm disappointed but I definitely felt Jaheim could have done a bit more. On the other hand, I'm still going to give the album a favorable review because for the most part Jaheim has stuck to the roots of pure r&b; something any fan of good music would not be disappointed in. Although this album is not the step I was looking for to push him to the front of r&b, it does further solidify him as someone you can consistently expect a quality album from. In addition, the "hood love" side of Jaheim that I mentioned in the opening is gone for the most part from his lyrics, so this is a definite sign of maturity. Essentially, "Another Round" is the type of album that only minimally pushes the limits of r&b but any fan would be able to enjoy it from beginning to end.
Rating 3.5/5