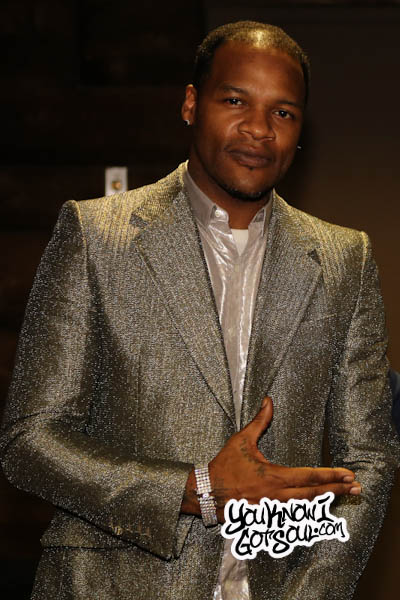 When Jaheim released his debut album "Ghetto Love" back in 2001, he may have seemed like an overnight success. After all, smash hits like "Could it Be", "Anything" and "Just in Case" helped take the album platinum in his first time out. What most didn't see was the work going on behind the scenes and the years it took after signing with Kay Gee of Naughty by Nature and his Divine Mill label to make it big. But he eventually did, and now Jaheim has become one of biggest names in r&b and his preparing to release his seventh album "Struggle Love" in 2016. After over 15 years in the music industry, Jaheim is still going strong and he's taking it back to the roots for the new album. YouKnowIGotSoul sat down with Jaheim in NYC and discussed what to expect on the new album "Struggle Love", reaching back to "Ghetto Love" for inspiration, memories of working with Kay Gee and RL of Next, his story of getting signed, and much more.
YouKnowIGotSoul: The new album "Struggle Love" is coming soon. What is "Struggle Love"?
Jaheim: It's a concept on the album "Struggle Love". It's titled that because I think back and look at my life as a mirror of struggles. Through those struggles, it's been a lot of ups and downs. The things that you love and like to do, you struggle with them. You see it in other peoples interpretations. We have people writing from all different angles.
YouKnowIGotSoul: Sonically, did you try anything new this time around? The first single "Back in my Arms" was vintage Jaheim, but what about the rest of the album?
Jaheim: I think we try something new every time we put a new album out, but this one here was taking it back to the roots. Going back to that "Ghetto Love" feeling but not too much, because that's just what that was. We created greatness. Now we turn the chapter a little bit and spice it up and kept it grown and sexy. I believe when I first came out, people just gravitated to it from all different ages from kids to teenagers to adults. It was love and you felt it. It was something they were feeling and in some way of nature they expressed that feeling. I'm hoping I can give back that feeling on "Struggle Love". It's demanding your attention, like it's the old Jaheim, but it's not old. It's the feeling that they've been really missing and it's fresh.
YouKnowIGotSoul: What's interesting about your career is as you've progressed, you've introduced some new elements sound wise but kept it true to who you are, while a lot of your peers have tried younger music. How have you avoided the temptation to go that route?
Jaheim: I think that pretty much everything you just mentioned and everything I can embellish. I learned this year that every artist stands in the spotlight that they want to stand in. I always kind of knew that, but when somebody painted the picture it made sense. When it starts to make sense, you start to be creative or a creator. You can be creative in many ways. We always want to compete with our own self instead of embracing what made you so loved the first time. Instead of second guessing, just make it happen naturally. I'm just enjoying the ride, I really am. I'm loving everything that's happening. If the younger demographic appreciates my music, that's cool, but if they don't I'm not mad at them. 1.9 million people got "Ghetto Love" and made history. It can only continue. It aint about the money for me, it's about the love that you give and the love you get. You can't let that all go to your head.
YouKnowIGotSoul: This is your seventh album now. Where do you find the motivation to keep making good music? You've done it all so far in your career.
Jaheim: I just stay true to me. I love to do what I do, making people happy. And I love when people run up to me, even when I didn't get acknowledged for a record, and I made all those companies multi millions. We as artists sometimes don't enjoy that. It's such a struggle to get back to that love. It's a dream. Within that dream it becomes reality. I can't be Luther, Teddy, or anyone else. I tell myself that all the time. I've always sang a Luther song at the talent shows before my career started. I just never changed. Some things should never change. It's everything in the cake, that keeps it together, it's not just one thing. I'm even watching this throughout the years and gravitating to what they like, and I watch them change. I watch me do foolish things and I watch the world change and people do the same foolish things, and people embrace that. It's just the way the world is, they'll come back around. You can't change rainbows.
YouKnowIGotSoul: It's interesting how you talk about reaching back to "Ghetto Love" which was your most successful album. We've recently talked to RL (formerly of Next) and Producer Kay Gee (from Naughty by Nature) who worked heavily on that album. What was the impact they've had on your career?
Jaheim: RL *Laughs* RL is a good person. Sometimes the great people inside don't know how great we really are. I think me and RL had little differences and didn't grow strong in the business after those songs were written. I always had respect for RL, you can't hate a person for their greatness, only for their lack of standing. I believe that he just didn't understand the world that I was coming from. That's how it is, you go through things, and we were young brothers that didn't grow together. I was telling somebody else that even me and my older brother are like that. We love each other but we don't conversate. Maybe it's me. We're past that though. I'm just speaking from a side that I never really got a chance to know him. I only got a chance to see him from a third degree, coming in and watching his greatness. We all have those little things. I was just the one that was always targeted. He did write me some hit records though, he's a genius, I have to keep it real. I saw him write those songs in two minutes. He'd write the hook and say "This is Jah Jah, this is going to be you right here!" I thought he was crazy! He went and laid the record down and "Just in Case", "Anything" and "Remarkable" came out of that. So many songs I saw come from him. He is just gifted man. I would love to definitely make history with him again, because we did it before, and it was magic. It aint about the money though. I know he's doing his thing too, so it aint about the money, it's what the people love. He got magic in his pen. I learned how to write off of people like him. How to use my imagination and be patient and build a catalog. I used to get laughed at for writing three lines. I didn't know how to write so I had to watch everybody. It used to make me so hungry, song after song. It wasn't a game. I watched this dude go through a lot. Wow, we all made it. You gotta embrace that.
YouKnowIGotSoul: Talk about working with Kay Gee (of Naughty by Nature) who originally discovered you and signed you to his Divine Mill label.
Jaheim: I discovered me! *Laughs* Let me tell you the story about that. I was in a situation honestly, I was in the streets, hard. I don't need to go into details. When he called me, it was like "Is this guy serious?" I just got cut on my arm. I had mad stitches. Was that going to be the life? Was I going to go and take revenge on these cats? I had to make this choice foreal. I had to pick up the phone and call this cat like "If we're going to do something, we're going to do it now" because I was really ready to leave this earth or hurt somebody. That would have led to incarceration or ended up dead. I had to take the narrative to take that chance and then after that it wasn't all cool. We were the first Making of the Band! I went through all of that shit! It was meant for me to go through that. It taught me the struggle is definitely real. Kay Gee took me in and put me in the mansion on the back house. I tell people this all the time, we had this back house to ourselves. It was me, Next, and Fonz from Koffee Brown. We were just making history and making hits. They were close because they were from Minnesota. Eventually I just sat around and other artists kept coming in. I was patient and humble because I wanted to learn even if I didn't put a record out. I definitely didn't want to go back home, that wasn't an option. I had already did the Apollo and so many talent shows. I had even performed with Flex, the comedian. When me and Kay Gee really got tight, I knew he didn't have to do that anymore. It was just all about patience. He didn't know who I was and how to present it. I was really a street cat. I could honestly say that, we're all from the streets, but I dunno, I'm a hustler type of dude. That's what my life revolved around, those type of people, those are the ones I relate to the most. Not to say I like criminal activity, but you could understand and relate to the struggle when you go through it when you're linked to it all your life. Pretty much, that was the whole thing with Divine Mill and how I grew up with Kay Gee. What got my deal, because like I said I would have been sitting around. He was really patient and taught me how to be patient. With these artists I deal with now, I teach them how to be patient. You can't just throw a record out. I've seen people come and go and some of them just never came back. For me, I never dwelled on losing. I always told myself when that curtain dropped, I was never going back home. What made Kay Gee get the deal was, I started working with Kima from Total, we're from the same home town. I really felt my career was pointless at the time, and Kay would say at times "Next was the priority" and that was no disrespect, they had a deal. That whole situation was a nasty situation, so I had to wait and be patient, and I wasn't ready to sign a contract anyway. I was still thinking about how much money I'd get. When the time presented itself, I went for it, and I made me who I am today. Kay Gee was definitely a fore father in the business. He gave me my opportunity and I'm very grateful, I always tell Kay Gee that. I made a choice to stay with him. Kima had labels flying out here with the contracts, everything I could possibly want, and I was going to be the first recording artists on Relativity/Priority Records. T-Smooth was the A&R or President, I can't really remember. That's what pushed Kay Gee to go get my deal. At that point he realized, this dude is serious! He even said it to me, "I can't be mad at you, I know you want to do your thing." I even cried to him that night, I didn't want to leave, I felt all of the love that was already there. It was just that type of thing. It happened and I stayed.
YouKnowIGotSoul: You're now in a position to work with artists of your own. Tell us about that.
Jaheim: I'm working with my own artists on my own venture Julie's Dream Music Group, established in 2002, but originally in 1997. I just re-launched it in 2014. My first artist is Nixta. I saw this cat and he really looked like my little brother when he was younger. He looks like a mini me so I knew this would be something crazy right here. I just got into it, we started working, and I was really thrilled with what I heard. From that point on, we just started working and going in. We've got enough records so we had to take a little time because it's not about rushing the record, it's about finding the right song and dance. You can't do it all, but we have enough to make it happen. I like what he does, I like his flavor, you've gotta check him out. I have a couple of other artists too.
YouKnowIGotSoul: Anything you'd like to add?
Jaheim: Not only have I been singing and doing interviews for over 16 years now, mannnnn. I never really felt what it was like to be a star. But I could just tell people, we just never know how much love and support we have with our fans. I'm just seeking, not begging or anything, but I really want to know where is the Jaheim core base, where does it sit. I'm looking at Twitter, and the followers are coming. I always said we could have sold diamond on the first album if we really went hard with it. It's never too late, it's how you finish it. I wanna know where my fans are, and I also want to introduce myself to new people that can become my fans. People share the love out there and follow my Instagram and Twitter.