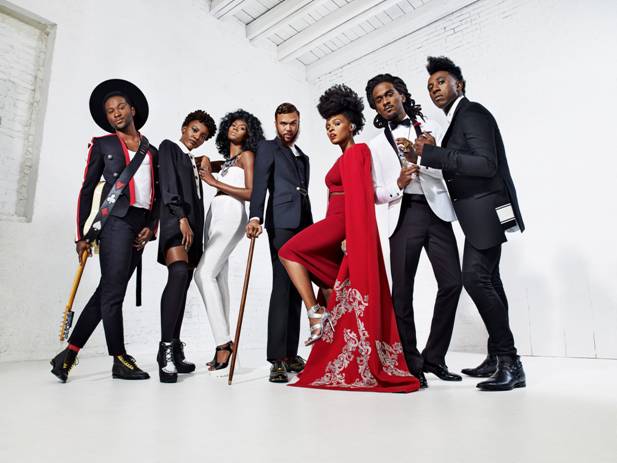 Wondaland Records, a new movement and recording label created by award-winning global superstar and visionary Janelle Monáe, has teamed with Epic Records, a division of Sony Music Entertainment, to announce the launch of a landmark joint venture partnership. Featuring an electrifying roster of artists — Jidenna, Roman GianArthur, Deep Cotton, and St. Beauty — the news of this partnership signals a seismic shift in music and culture that will be felt for years to come.
Wondaland Records is launching with the release of its dynamic first single, "Classic Man" by Jidenna featuring Roman GianArthur, available now smarturl.it/ClassicMan; the song will be impacting radio and the world at large February 16th. "Classic Man," will serve as the lead track on the Wondaland Records compilation arriving in May. The compilation will also contain the new single "Yoga" by Janelle Monáe featuring Jidenna.
"The collective talent of the Wondaland artists is awe-inspiring," said LA Reid, Chairman and CEO, Epic Records. "I haven't personally witnessed a collective that sounds and looks this special in quite a while. I've been a longtime supporter and friend of Janelle and it is an honor to now work with her as a visionary businesswoman who brings an all-star group of talented performers to the table."
The multi-faceted collective of Wondaland Records artists— all of whom write and produce, a rarity in music today—features a breadth of voices, styles, and figures coming together with a shared mission for revolutionizing the future of music, arts, and culture that is creatively unmatched.
"I'm so thrilled to share Wondaland Records with the world. Each artist under Wondaland Records has unparalleled talent, incredible vision, and brings something unique to the music industry," said Janelle Monáe. "Together, we're creating a new movement and space for the future of music and pop culture. I'm honored to be partnering with Epic Records and my friend LA Reid to present such extraordinary talent."
The son of a Nigerian chief and an American anthropologist, Jidenna is an East Flatbush, Brooklyn-based lyrical wizard, a thought leader with charisma to spare. His worldly origins inform the groundbreaking genre Swank, an elegant and funky take on hip-hop that transforms ordinary parties into sweaty soirées.
Musical iconoclasts Nate 'Rocket' Wonder and Chuck Lightning are the mad geniuses behind Deep Cotton. They are thinkers and tinkerers whose approach to sound creates a rollercoaster ride, taking the listener through a world of falsetto-filled funk, rule-breaking ideas baked in rock 'n' roll, and served up in hip-hop, all in the span of a single song. Their sole mission: give you the license to freak out.
A curious and brilliant composer, arranger, and producer, Roman GianArthur's music is courageous, feisty, and consistently touches the soul. His live show is a revelation—wild, heroic guitar playing, outstanding vocals, intoxicatingly original movement, and a rare charisma possessed only by the greats.
Featuring Alex Belle and Isis Valentino, the enchanting sound of St. Beauty feels timeless. Thoughtful musicians and songwriters, they weave together melodies that are impossible to forget and evocative lyrics that paint richly textured emotional stories, casting a spell over the listener that cannot be broken.
The inter-disciplinary approach to creativity that the brilliant members of the Wondaland Records roster possess has far-reaching implications for pop culture beyond music— a range of paradigm-shifting art of all kinds is slated for release throughout the remainder of 2015 and beyond.