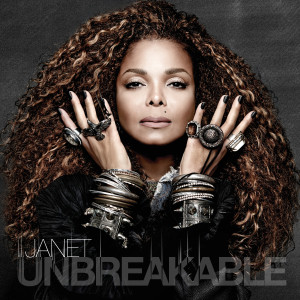 Janet Jackson's Rhythm Nation record label and its distribution partner BMG have set an October 2, 2015 date for the wide release of the superstar's first studio album in seven years, "Unbreakable." Pre-orders on iTunes commence September 3.
The initial single release, "No Sleeep," raced to  #1 on Billboard's Adult R&B chart and has returned to that position this week for both Urban AC and Adult R&B Charts.  The album and single constitute a historic re-teaming of the iconic performer, now a holder of 46 record chartings with producer/songwriter superstars Jimmy Jam and Terry Lewis.  The "Unbreakable" release comes on the 30th anniversary of their groundbreaking collaboration on her "Control" album.
Jimmy Jam and Terry Lewis, commenting on the development, observed, "It's wonderful to be creating again with Janet. From songwriting, producing, arranging, singing, dancing, acting, she deftly does it all and truly personifies the word artist. Unbreakable is a gift to all of her fans who have steadfastly stood by her. It is a subject for conversation, a plea for compassion, and a call for action from someone who's come a long way, but's got a long way to go, and has much to say about it. In other words, if you want to know what's on her mind you only have to listen."
Jon Cohen, EVP Recorded Music at BMG US/Vagrant Music stated, "It is truly a joyous occasion to have Janet's record in hand and on the schedule. This amazing body of work reflects not only the timeless brilliance of Janet's artistry, but a much awaited reunion between Ms. Jackson and the talented duo of Jam & Lewis. Working with Team Janet is a pleasure every day, and BMG is honored to be welcomed into this loving family."
As is her habit of presenting major career developments directly "from her lips" to her millions of fans via twitter, Janet unveiled the release date in a personal on-line communication this morning, describing the new project as a "very personal" expression, as will be her worldwide "Unbreakable" concert tour. The North American leg began this week in Vancouver, British Columbia, and will stop in Tokyo and Osaka before returning to the United States. To date, 68 stops have been announced for the tour.
Unbreakable Track Listing (in sequence)

Unbreakable
Burnitup! (Feat. Missy Elliott)
Dammn Baby
The Great Forever
Shoulda Known Better
After You Fall
Broken Hearts Heal
Night
No Sleeep (Feat. J Cole)
Dream Maker/ Euphoria
2 B Loved
Take Me Away
Promise
Lessons Learned
Black Eagle
Well Traveled
Gon B Alright
The star, whose music, choreography, stylization and costuming have all created powerful trends over more than three decades, indicates themes which will be explored in her creation of the music for the "Unbreakable" album and tours. Themes will include, Janet's views on where we stand today as individuals and as the inter-related elements of a planet.  Some of these relate to her convictions passionately expressed in Rhythm Nation 1814, including the need to bring things out in the open and to have a dialogue.  The album also will mark the first time Janet Jackson has opened up about her brother Michael and with reflections concerning her youth. Inherent in this music will be her feeling that we must learn to celebrate life and the things each of us experiences and endures and how that process can make each person stronger. The Album, she assures her fans, contains messages and observations throughout, that are based on the fact that Janet Jackson has lived a lot of life.