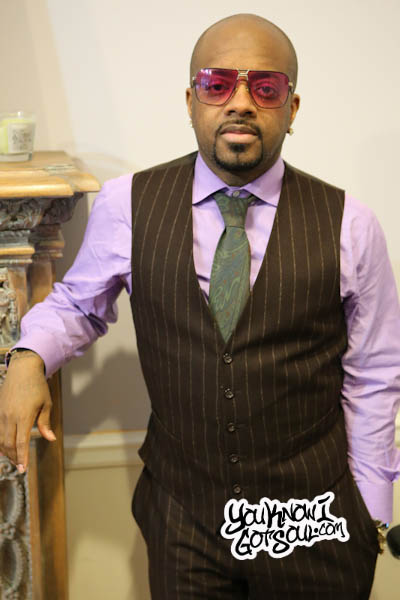 When Jermaine Dupri introduced his new show The Rap Game earlier this year, it should have been a surprise to no one that he set out to create something that nobody else was doing. The show led him to signing new teenage artist Miss Mulatto and give him another potential star to create history with. After all, he's been there at the start of the careers of many superstars and he's always had a knack for carving out his own lane rather than following trends. He doesn't appear set to stop changing the game anytime soon. We sat down with him in a recent interview and discussed what excited him about working with Miss Mulatto, whether he's given up on r&b even though it's not selling, working on Jagged Edge's "JE Heartbreak" album, reflections of Usher, and much more.
YouKnowIGotSoul: Let's talk about your new artist Miss Mulatto who was winner of The Rap Game season 1. What qualities have you seen in her that you've seen in other artists you've had success with?
Jermaine Dupri: I think just knowing how to address people in interviews and being friendly to people off the bat. When fans come up to her, she knows how to deal with that situation and address it as opposed to not knowing. It doesn't feel like it's foreign from watching. Then just I think the mindset of knowing what you gotta do to move forward. I think that's something she has like other artists.
YouKnowIGotSoul: You've had a lot of success breaking artists from the 90's into the 2000's. As the musical landscape has changed, what do you look at as the challenges of breaking an artist like Miss Mulatto in this day and age?
Jermaine Dupri: I'm not really sure it's as challenging as it used to be because you've got so many different outlets. If you have a piece of product that has any bit of a buzz it's going to pop now because the way people are just on the internet paying attention to whatever happens from one thing to the next. Even major artists, they put their records out now like independent artists. I saw today Drake dropped two songs and it came out of nowhere. That's an independent artist attitude. But the way the content is soaked up by the media, if you drop something that's hot, you get people's attention. 9 times out of 10 you can be successful. That's only happened in this era where you could do it like that and it becomes something people pay attention to. I know Big Sean and Jhene Aiko just dropped an album with no single and no nothing. It's like we're dropping an album and the internet is promoting it. I think that in breaking new artists, all you gotta do is figure out how to get that artist hot or in a position where people wanna talk about them. It becomes basically the same thing.
YouKnowIGotSoul: Talk about the excitement you get of working with a new artist like Miss Mulatto compared to working with veteran artists.
Jermaine Dupri: I've never been a person to chase other artists anyway. I've always been the person to work with artists from the start. So working with Miss Mulatto is as refreshing as working with anybody that I've found in prior years. It's new and fresh and you get to experience something with new artists that you don't get to. I don't really like being around people that make things that I'm excited about seem regular. When you got a new artist around, a lot of things are exciting to them. It might be exciting for you to be a part of the project and that artist comes to the studio and they bring the excitement and it makes the creation process just go into a different space. My thoughts move faster and I start coming up with more and more stuff if the artist is excited as I am.
YouKnowIGotSoul: A project you worked on that we were excited about that you had a hand in was "JE Heartbreak II" by Jagged Edge. It was received well but it didn't get the attention it deserved in the mainstream. Is that difficult for you?
Jermaine Dupri: It's difficult seeing black music not getting the respect it is supposed to get. It's not even just R&B, it's just music in general. I see a bunch of artists out here who are extremely talented but they just don't get the same buzz or pop a lot of the other projects get. I hate seeing that. I think Tyrese dropped his video where it's like 4 or 5 songs and it's pretty incredible how they put it together with the story, but I hope it gets more coverage. I hope it's not just some internet thing. It feels like it's just that to me right now and I feel it should be bigger than that. Even people that aren't my artist, I watch everything they do and I wish the music was taken a little more serious.
YouKnowIGotSoul: The trap sound is big in Hip Hop and it has made its way over to R&B. Being that you're from Atlanta, do you think that sound is helping R&B or hurting the genre?
Jermaine Dupri: Without a doubt, it definitely hurt R&B. It definitely put R&B in a position where an artist didn't know what they were supposed to do. That's why it hurt them. R&B artists that were successful, their success slowed down because people wanted to hear more rappers singing as opposed to people that can really sing. That definitely changed the scope of it. At the same time, it's really hard to say because I'm in between both. I think those artists, what they have to do though is focus on the audience that cares about that R&B. A lot of times, artists are out here trying to get the same audience that everyone else is getting. That's what I said about Miss Mulatto and this TV show. To me, the success of this TV show is that I'm not trying to focus on everybody else's audience. If you listen to Kanye and you pay attention to Future, then probably the The Rap Game isn't for you. It's clear and easy to say that. I don't have a problem saying that because the audience is so big. I don't need that audience. I'm just saying, it's a whole slew of kids and parents and people that want to see what we're doing on that TV show. They want to see it versus whatever they see in Hip Hop today. I think you have to take the same attitude with music. In the Jagged Edge situation, I still wanted Jagged Edge to have the audience that I would want them to have, but I should have taken my mind back and said "Let's focus on the audience that will really support this. Once we get them, we can worry about everyone else". That's how you have to do it once the music has been broken down the way it has been now.
YouKnowIGotSoul: On the "JE Heartbreak II" intro, you used a Tyrese quote about R&B being in an insecure place right now. Is it still worth your while to make that pure R&B that people still crave?
Jermaine Dupri: It's worth it 100%. You have to put all of these people in a box that will still buy it and give it to those people. You can't release the music the same way other people release music. You just have to find different ways to put out their music. EDM is a perfect example of what I'm talking about. The EDM artists release their records to the people who love EDM. They're not over here trying to get on The Source or XXL cover. They release their music where it is wanted. Urban music has always been the music that's taken over everything. It'll be number one on all the charts. We always had that mentality, but with the way music has been broken down, we have to take this EDM mentality and know that you have to get your audience first. Once you have that audience, then the music will travel to other people and the other places that it should travel to.
YouKnowIGotSoul: We're always thinking about Usher's next move and you've had a big hand in his career. Do you think him doing another "Confessions" type album would benefit him?
Jermaine Dupri: It would totally benefit him. That's what people want. When you give people what they want, there's no way you can lose. It's interesting though because to do that, it'll be very difficult for him to give people an album like that. At the time, Usher didn't have anything to hide or really say like that. "Confessions" was all me and my mindset. It was what I was going through in life and what I thought other man had gone through. Then Usher was like "Oh yeah she has to get pregnant too!". Then we wrote the second part and it just became this man's story. It was all created from one. He was open to speaking about it because it didn't impact his real life. Now if Usher was to make an album that's that truthful or honest, he probably thinks about if it's impacting his real life and his kids. When we did "Confessions", he didn't have kids and he wasn't even married. He was willing to say anything. It's just a different space when you get older and when you start living your life. You start worrying about things that you say and if it'll affect this person. Back then, it was just "I'm going to say that" and it wouldn't affect anyone except from the people who were listening.
YouKnowIGotSoul: We're curious to see what Usher comes out with next.
Jermaine Dupri: I think he just shot a video last week with Future. I think that's his first single.
YouKnowIGotSoul: What's the R&B song you're most proud of creating and why?
Jermaine Dupri: I would say "Burn" by Usher because to me, the lyrical style and the way I wrote the song, it's the way Bryson Tiller and all these new R&B records you hear right now, they all take a piece of "Burn". The style of the writing is all from "Burn". That style of singing like a rapper, that came from Usher.
YouKnowIGotSoul: Is there an artist you worked with that should have been a star, but didn't turn out to be that way?
Jermaine Dupri: I have one that should have been bigger which was Dondria. I think that was a transition of traditional R&B. I pushed a traditional R&B down people's throats and made people pay attention to her. It wasn't Hip Hop. It was just a traditional R&B song. I think that was a changing of what music was. I think we had a lot of success, but I believe she's a bigger talent than just that one song.
YouKnowIGotSoul: We were thinking Leah Labelle.
Jermaine Dupri: Leah wasn't solely my artist. There were ideas I had to share with Pharrell. He was the start of that project. I don't feel like I lost it. I was waiting on him to see what our next move was. I wasn't so attached. I found Dondria on the internet, so it was basically the beginning of what you see on The Rap Game. I was telling people at Def Jam that we should sign her because she had this many subscribers and nobody knew what i was talking about. They didn't understand numbers. They didn't understand that if you had a subscription on YouTube, that's like buying a record. If you take the time to subscribe to someone's channel, you actually want to see what else they put out. She had more subscribers during the time when I signed her than Bow Wow's channel. For me, it was a lot that I learned in her project. I feel like my want and my excitement about this whole show, I learned a lot from her and an online artist. She taught me how online artists get their buzz. She's one of the best young singers out there.
YouKnowIGotSoul: Anything you'd like to add?
Jermaine Dupri: Just get ready for Season 2 of The Rap Game. And look out for Moguls coming June 28th on BET.