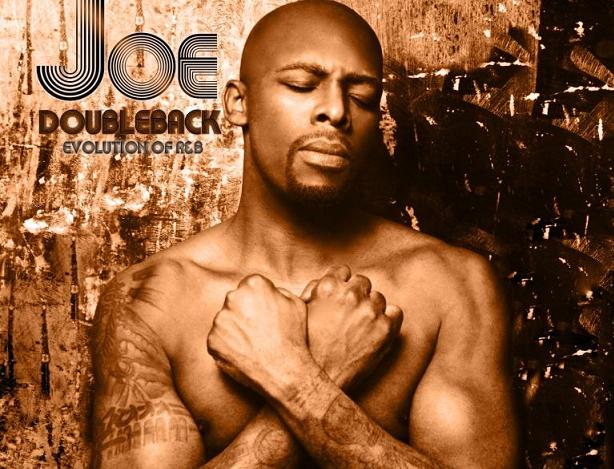 Multi-platinum selling R&B singer/songwriter/producer Joe debuts at #1 on the Billboard R&B Albums Chart , #1 on the Billboard Independent Albums Chart , #4 on the Billboard R&B/Hip Hop Albums Chart and #6 on the Billboard Top 200 Albums Chart selling 31,500 copies of DoubleBack: Evolution of R&B the first week. DoubleBack also received 'Editors Choice' on iTunes, and became the #8 album overall and #1 R&B album. Released via the newly formed Massenburg Media, helmed by industry heavyweight Kedar Massenburg, DoubleBack: Evolution of R&B is Joe's tenth studio album in twenty years, and as declared by USA Today, his "soulful vocals and inviting grooves show his passion is still there."
DoubleBack already spawned a #4 radio hit and climbing at Urban AC with the first single "I'd Rather Have A Love." The video for the smooth sexy song, which was directed by renowned music video and film director Hype Williams, can be seen on VH1 Soul, BET's Centric, MTV Jams, and Music Choice.
More than half of the album was written, produced and or arranged by the soulful crooner himself, and Joe also enlisted superstar producers Stargate (Ne-Yo, Beyonce) and DOA (Tyrese, Wale) to collaborate on the new album. DoubleBack features West Coast rapper Too Short on"1 to 1 Ratio," and a duet with Grammy-award winning artist Fantasia for the standout track "Love & Sex." DoubleBack: Evolution of R&B is available now in all digital platforms, and in 3 versions of the CD including a standard 12 track disc, 2 bonus tracks with Target, and Best Buy's version touts the remix of "I'd Rather Have A Love"featuring Terror Squad leader Fat Joe.
In a recent interview with Vibe.com Joe shared the one thing he wants to bring back to R&B is "class." When describing the meaning behind the album's title and the style of the project, Joe stated that this was "an ode' to classic R&B. I double backed to when music was heard with live horns, live strings, and live drums, to a time when soul music was very stylish and elegant."
Joe has become one of R&B's most accomplished and popular singers over the course of his career, and has received numerous accolades including Grammy nominations for his 4x platinum album My Name Is Joe. Singles such as "All The Things (Your Man Won't Do)," "All That I Am," "No One Comes Close" and "I Wanna Know" established Joe as a bona fide hit maker who sold more than 10 million albums worldwide. Moreover, Joe is a sought-after collaborator who has worked with some of music's biggest and best artists including Mariah Carey ("Thank God I Found You"), Big Pun ("Still Not A Player") Nas ("Get To Know Me"), 50 Cent ("Ride With You") and G-Unit ("Wanna Get To Know You"). His 2001 hit song "Stutter" feat. Mystikal remained #1 on the Billboard Hot 100 for 4 weeks.
Joe's last three albums were released independently and each debuted at #1 on Billboard's Top Independent Chart. His 2011 independent release entitled The Good, The Bad, The Sexy debuted at #8 on the Billboard 200 and #2 on the Hot R&B/Hip Hop albums chart.