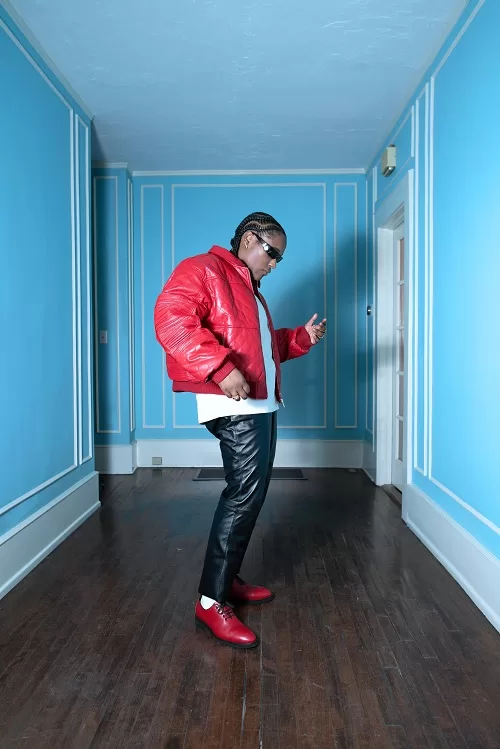 When Diddy announced that he was starting his new label Love Records, we were excited to see the fresh new talent he'd be unveiling. The first of those artists is dynamic singer/songwriter Jozzy who just released her debut EP via the label. We had a chance to catch up with her for an interview to discuss her journey as a songwriter, working with Diddy, signing to Love Records, creating her debut EP, and much more.
YKIGS: For those who don't know about Jozzy. We're going to get to know you today, for sure. So you are an award winning songwriter. You've penned songs for Beyonce, Lil Nas X, Summer Walker. I mean, it goes on. So props to you for your career so far.
JOZZY: For sure.
YKIGS: Before we get into this new EP, because we are definitely going to take it there, for our listeners who are just discovering you for the first time and your contribution to the music industry, I want to talk a little bit about your journey to this point. So going way back, you're from Memphis?
JOZZY: Yes. Born and raised in Memphis, Tennessee. By way of Miami. Yeah.
YKIGS: Oh, really? Okay, that's dope. So at what age did you recognize your talent for writing and for singing? Because you have a beautiful voice.
JOZZY: Thank you. I wrote my first song when I was 11 years old. I remember it because, I didn't want to go to summer camp, so there was a daycare that I came up from called Pee Wee Wisdom. I got a summer job at 11 working there with the kids. I remember while the kids were asleep. I wrote a song and I remember it was about love. I'm like, Yo, I don't even know nothing about love at 11 years old. But that was where it was always embedded in me because my mom was sang in the church. She was an artist with High Records before I was born. My brother was a rapper in Memphis before he got locked up. So it was always in my body and in my blood to do it, that's all it is.
YKIGS: Awesome. Where do you draw your inspiration when it comes to your writing?
JOZZY: I draw my inspiration from love and my friends and real life experiences. Everything that I write about, I've either been through it or I've seen it from my homies. They get mad at me because I take that. I'm going to take your name out of this. Nobody will know it's you, but stop telling me things if you all don't want me to use it because I'm going to use this. So I'm just inspired by life. I love listening to old school music. I'm talking about Black Birds, Patrisse Rushen, Stevie Wonder, so those artists, really. I've been on Teddy Pendergrass heavy recently just because the way he wrote songs about love was just so incredible. There's so many topics that you can talk about and songs you can make about one thing called love.
YKIGS: For sure. You've got lots of inspiration it seems. When you're in the process of writing these songs, what's the most difficult song that you've written?
JOZZY: I want to look at my Rolodex or my discography of songs because there hasn't really been a difficult song that I've written. Seriously, I'm not OCD. I'm not OCD. My first mind is my first mod. I don't really like to go back and redo a song unless I just have to. I really have a God given gift where it just flows out. Stuff isn't really hard for me to write. I can write a song in 20 minutes, and then I know how to get off of it, too.
YKIGS: That's definitely God given talent. Very impressive for sure. Yeah, love that. So you are the first artist to be signed to Diddy's new label, Love Records. How does it feel to be, as Diddy himself put it, setting a new standard for R&B?
JOZZY: Yeah. that is, I mean, he's right. We are. The thing is, I knew it. I'm a visionary for real, and Puff is a visionary. I knew what he meant when he meant R&B was that R&B isn't dead. R&B is alive and well. But the R&B that he grew up in, there wasn't really there. The R&B is more slow, more like a little more toxic, not as vulnerable. I just feel like there was an R&B where it could be on the radio, it could live in the club. R&B doesn't really live in the club or the radio like that. It's a certain tempo, and there's nothing wrong with that. That's great. But it just needs to be all types of R&B because we need to get R&B back in the club. We don't have summer R&B songs anymore. That's crazy. It used to be a time where Lumidee, "Uh Oh" would come on and you'd be like, Oh, it's summertime. You know it's summertime. That was a time where "Peaches & Cream", would come out and you'd be like, Oh, sh*t. Summertime. "Let's Get Married". You have songs that you feel and we just have to have that in a minute. Everything is just slow. But it's nothing wrong with that. That's great.
YKIGS: You're revamping it.
JOZZY: Yeahh. We just want to bring it back. We want to bring in the Summer. I know this guy Beardy, he calls it R&Bop. I've been coining it now since he said it. We bring an R&Bop back. We got a Bop.
YKIGS: It's funny that you brought up Let's get married. I was literally just listening to that in the car. I definitely feel you on that. Definitely. What's been the best part about working with Diddy so far?
JOZZY: The playlist that he gives me. He gave me this one playlist that just blew me away. It had Aaron Hall and Chico DeBarge. I never even listened to Chico DeBarge's song. I know I've heard of Chico DeBarge but I was like, Oh, this is so good. This is crazy. Those playlists really, like, they open your mind and they open your creativity and helps you to understand why Puff is who Puff is and why he has such a great ear for R&B. He has a great ear for R&B. Puff, just listening to him. I love that Puff, he trusts me. He trusts me. He knows that I'm a hit maker. I'm the new hit maker of today and he knows that. He allows me to, even if he doesn't agree, I'll be like, no, Puff, no. Okay, let me meet you halfway. But for the most part, it's just so much fun working with him because he's a legend and he knows what he's talking about. But sometimes I got to trust my judgment, too. But this man, every time he knows what he's seen, he knows. Normally nine times out of 10, he's been spot on. I love that. I love learning things about feeling, not data, not algorithm, and not being able to express something to the engineer, to the producer. But you know, no, this shit, no, no, this don't feel. This ain't touching my soul. He's about soul and I love it. I love it. That's amazing.
YKIGS: I love your confidence. I love that energy that you bring that you know who you are, how talented you are. And that's definitely something that it shows in your music. I love that for you, for sure. So this new EP, we're going to get into it. This new EP, songs for women, free game for… I'm going to say hittas, but they need to check it out.
JOZZY: Free game for hittas is hard.
YKIGS: It is. I mean, you've gotten so many positive reviews already, and I just saw that it hit 1 million streams in one week. That's incredible. Congratulations on that.
JOZZY: That's all fans. That's all organic word of mouth. Everybody who talks about it, that's hard. I'm grateful. Thank you.
YKIGS: What was it like working on that project? Then how were your feelings when it finally released?
JOZZY: That project, it took two years to make it what you all have heard. I didn't finish that project until, I want to say, August, September, October. The last two songs were nasty and don't say no. I feel like those songs tied the project in so perfectly because women are very sexual. They're not just like women. So many dimensions to a woman. Sex is definitely a dimension to a woman. But we needed those sex songs where a girl feels sexy, and I didn't have that. I was like, man, if I would have dropped that project two years ago or a year ago, to me, it wouldn't have been songs for women. I would have I would have discredited or cheapened myself. I'm really excited. I'm really happy and proud of where it's at. But now I go live. We started that project in Miami, at Puff's house, from Puff House to the Bahamas to LA and then here we go. Song's for Women is pretty much what it is about. Song's for Women, Free Game for N****s. It's just what I want to give to a woman. You know what I'm saying? Me being… I love that nobody's really talking about me being a woman who loves women. I think that it's just the music is so good. It's overshadowing the elephant in the room, I guess. I don't care. And girls are not tripping. They're like, Yo, this shit is crazy. And I think that is the blueprint that we're trying to create right now is making that shit mainstream. Who cares? This shit is hard. That's hard.
YKIGS: And that's the thing about music. It's for everybody. And you're representing for the LGBTQ+ community. So that's also a big standard that you're setting as well for the rest of the music industry. That could be a lot of pressure and you're carrying it very well. So again, kudos to you.
JOZZY: No pressure (laughs).
YKIGS: That's good. Again, I love it. I love that confidence. I love it. And this is only the EP. I mean, the EP has done so well. This is only the beginning. I can't even imagine what the rest of your solo music career is going to look like.
JOZZY: That means so much to me. Thank you. I'm here. It took me a long time, but it's here now and I'm here to stay. This is just the beginning. That's what's so crazy about all of this is people who love songs for women. Wait till I drop the album.
YKIGS: Did you ever think that you would get to this point from when you were in the thick of songwriting, and did you ever think that this moment would come?
JOZZY: Yes, I felt it. I didn't know when. I got jaded for a minute. I stopped. I didn't want to do the artistry. I didn't want to do it. But when I met Puff, I knew I could take over the world because you need somebody who believes you. You can't do anything without a team. If there's one person on your team that's lacking, you've failed. But everybody on my team is strong. My whole squad, they're some eaters, bro. They crazy. I really got a squad like Jordan, like the Bulls 96. Sick. You know what I'm saying? This ain't even the Lakers. The Lakers, 0203, they have some kinks. No, none of that. That's what I'm saying. I feel it. I feel like this is it now. It's God's timing.
YKIGS: For sure. What's been the highlight of your career so far? Because like I said, this is just the beginning. You've won some great awards as well. What has been the highlight of your career?
JOZZY: The highlight has been seeing the fans react to the project. I've never felt that in my life. I've always seen artists, fans love the work that I've done as a songwriter, but it was for the artist. It feels good, but it's like you don't really receive that, which is cool because this is what you signed up for. Let me get this money. I'll take the money over anything else. But now people are singing my lyrics and sending me videos saying that they love the music and that it's a masterpiece. That right there is topping everything that I've done in my life because this sound of music is so needed. I'm so happy that I could be the one to bring it back. That's this, this is the highlight right here. I ain't gone lie you.
YKIGS: Good. And there's still more to come. So that's great. That really is. So what do you want? Because you're gaining new fans every day. So what do you want your new fans, your old fans to know about you and your music?
JOZZY: My music is going to be vulnerable. My music is going to always be going to be R&B. I'm going to always sing to women. It's going to always be songs for women. I can't wait to just drop the album. I'm just so thankful for what's happening to all my new fans and to my old fans. I'm excited to see you all on tour.
YKIGS: That was going to be my next question now. You dropped the EP. I hear you're talking about an album. What's next? What can fans expect next?
JOZZY: More music videos. We're going to drop in more music videos. I can't wait to hit the road. That's it. I'm so ready to touch everybody. I hate to call them fans. I hate that word. Supporters. Yeah, I can't wait to touch the people who listen to songs for women. You know what I'm saying?
YKIGS: The whole project is phenomenal. Like I said, your vocals are incredible. It's been great to listen to. Like I said, it's well deserved all the praise and recognition you've been getting. You deserve it. Thank you for sitting down and talking with me and letting us get to know you a little bit so that we can bring more listeners.
JOZZY: That's what we're doing. We need all the beautiful ladies and all the fly guys to stream this and go crazy. Thank you.
Photo Credit: Ryan Malcolm-Campbell [MR.KOA]