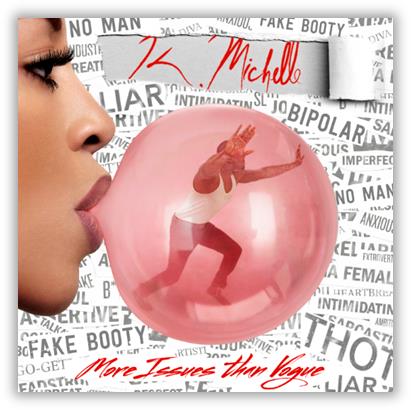 K. Michelle has just announced that her third studio album will be titled "More Issues Than Vogue" and is available for pre-order starting February 12th, 2016. The reality tv star has also given us a look at the album's cover art as well as the tracklist. The production credits and release date are not available just yet, but we can see that the album has one feature from Jason Derulo.
"More Issues Than Vogue" is the follow up to K. Michelle's 2014 album "Anybody Wanna Buy a Heart?" and features the Kelly Price written single "Not a Little Bit" which she recently released. This will be her third release on Atlantic Records as well.
K. Michelle is also currently starring on her own reality show "K. Michelle: My Life" which airs on VH1.
K. Michelle "More Issues Than Vogue" Tracklist
1. Mindful
2. Got Em Like
3. Ain't You
4. Not a Little Bit
5. If It Ain't Love
6. Make The Bed featuring Jason Derulo
7. Nightstand
8. These Men
9. All I Got
10. Time
11. Rich
12. Sleep Like a Baby