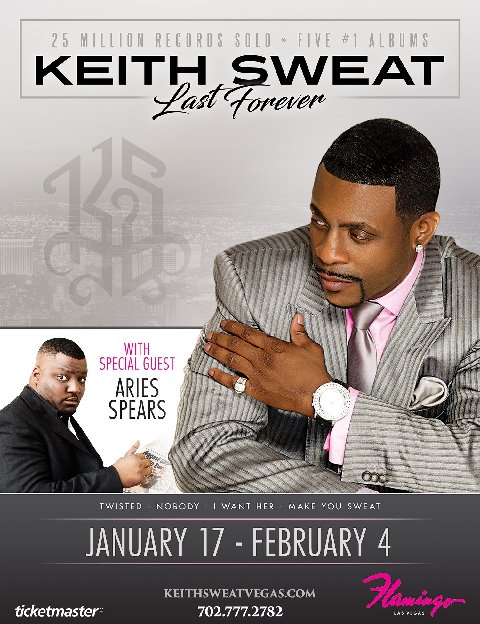 R&b legend Keith Sweat has just announced that he will perform a limited engagement residency in the Donny & Marie Showroom at Flamingo Las Vegas. The unique show will be called "Keith Sweat: Last Forever" and will run January 17th, 2017 through February 4th, 2017.
The stint will serve as a celebration of the 30th anniversary of his triple platinum debut album "Make it Last Forever". Fans in attendance can expect to hear all of his hits including "Nobody", Twisted", "I Want Her" and many more. Also joining Sweat on stage during the show will be stand-up comedian and long-serving MADtv cast member, Aries Spears. He added the following about the upcoming shows:
"This is what I like to call the second act of my career. This is the most exciting moment in my life. I cannot wait to hit the Flamingo stage and take Las Vegas fans on the Keith Sweat magical musical journey! Fasten your seat belts Vegas – it's going to be a thrilling ride."
Tickets will be on sale to the public starting Wednesday, November 23rd. In total, there will be 15 performances dates, running January 17th-21st, 24th-28th, 31st, and February 1st-4th. Ticket prices begin at $59, plus applicable tax and fees. VIP seats including a meet and greet with Keith Sweat are also available. You can visit www.keithsweatvegas.com for more information.
In the meantime, you can also check out our latest interview with Keith Sweat where he breaks down his latest album "Dress to Impress" and legendary career.