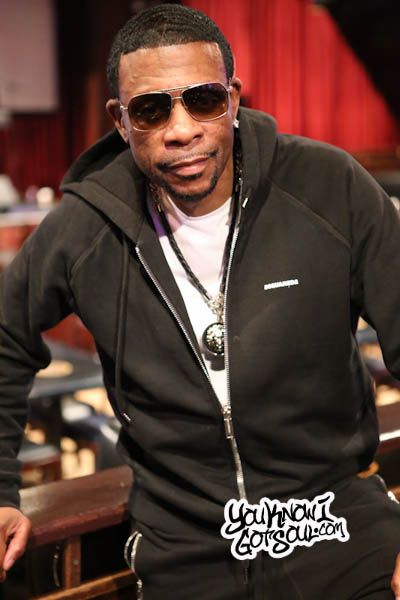 As r&b continues to fade from the mainstream, one thing that can help bring back the momentum is some of the genres biggest legends continuing to find success with new music. Keith Sweat is an artist who is doing just that. Despite not having a new album in nearly five years, his return single "Good Love" has made it to the top of the Urban A/C radio charts. In addition, Chris Brown recently paid homage by sampling his music and also featuring on the remix to "Nobody", which is great to see. The success of the new single leads to heightened excitement for the new album which will arrive this Summer. YouKnowIGotSoul sat down with Keith prior to a recent performance in NYC and discussed the success of "Good Love", what to expect on the new album, his love for his fans, his journey before music, and more.
YouKnowIGotSoul: Congratulations on the success of your current single "Good Love" which has just reached #1 on Urban A/C radio. What did that honor mean for you?
Keith Sweat: The honor of being number one after all of these years is incredible. To come out and still be able to do it and get that spot. I don't care if it's Adult Contemporary. *Laughs* It's still number one. Just to have many number one hits from the past until now and being able to come back out and still be relevant is great for me.
YouKnowIGotSoul: You've been doing this for so long now and still having success. How do you feel it speaks to your longevity?
Keith Sweat: Well I've been such a big fan of music growing up with all of the artists like The O'Jays, the Isley Brothers, New Edition, just a few that I grew up listening to. To be able to have the longevity to be in the game this long means a lot to me. Longevity means that people are still interested in you. The time that people are not interested in you, then you'll have a problem. *Laughs*
YouKnowIGotSoul: What do you think it is about "Good Love" that really resonates with people and makes the song so successful?
Keith Sweat: It's the soulful music. The great melody, the sultry vocals. *Laughs* Everything about it, the great hook. I think along with the music and the lyrics, it says what people want music to say nowadays.
YouKnowIGotSoul: This is the lead single from your upcoming album coming out this Summer. What can we expect on there?
Keith Sweat: I'm still doing the begging Keith Sweat, I'm still singing the love songs, I'm still doing the uptempo songs that people want to hear. My songs are pretty much relationship songs. You can be a couple or single and looking for that significant other with my music. You can be with that significant other and it works for both parties.
YouKnowIGotSoul: Have you tried anything new or trendy on this new album or kept it to your signature sound?
Keith Sweat: Pretty much I've tried new things and also stuck to the old things. It's always good to expand and reach out for other things, so that's what I did.
YouKnowIGotSoul: What gets you excited and still inspires you about music these days?
Keith Sweat: The fact that I know people have missed me over the years. That's what inspires me. When you hear the music of today, and you're kinda disappointed by where r&b is going, then you try to put something out that you could relate to or others could relate to.
YouKnowIGotSoul: We think it was pretty cool that Chris Brown remade one of your song and grabbed you for the remix of it. What does it mean to have the younger generation show that type of respect?
Keith Sweat: It makes me feel good because they acknowledge and pay homage to what I've done in the past musically. For them to even know my songs and to even want me to be a part of their youth, it says a lot to me and really makes me feel good.
YouKnowIGotSoul: You've got the successful radio show and you're constantly touring. How much of a priority to you is making music these days?
Keith Sweat: Making music just keeps you relevant. As long as I make more music, I stay relevant. That's one of the big things about me doing music is staying relevant. As the older I get, you still want the younger generation to know who I am. Making new music gives me that opportunity to do that.
YouKnowIGotSoul: Your history in music is very unique. You had started your career in Finance while still pursuing music and never gave up your dream. Take us back to that period of time.
Keith Sweat: I was doing demos back in the day, that's how I got started. The demo actually was a single that I put out "Don't Stop Your Love" and it was the song that got me the deal. In working, I always wanted to do music no matter what. I'd also do music on the side, going to the studio. My passion for music and my passion for recording was a lot deeper and greater than anything else I was doing. I already knew this is what I wanted to do for the duration of my life. Knowing that you want to do music for the duration of your life, it's a strong passion to do that and nothing else. No matter what I did in my life, I knew I was always going to do music.
YouKnowIGotSoul: We encounter many upcoming artists who are on the grind and are working hard to keep their dream alive. What made you never give up pursuing your career in music even though it didn't begin immediately?
Keith Sweat: The fact that I knew I was going to make it. Anything worth having is worth working for. Most people probably right at the front door of making it but they give up. That to me is, if you really want something bad, no matter how many doors get shut in your face, you have to continue to try your hand at it until you drop dead basically. Until you drop dead, you never know whether you could have made it or not. I think what happens to a lot of people, as they get older and don't really pursue their dreams, they get a little more annoyed with themselves because they gave up on their dreams. That's why when they get into other things in life, some people will be a little turned off with themselves because they feel they didn't put enough into trying to make it.
YouKnowIGotSoul: Anything you'd like to add?
Keith Sweat: Thank you to anybody out there for the love and support that they've given me through the years. I feel it's an honor to be able to be back and it's through the blessings of my fans that I'm able to do what I'm doing and without my fans, it definitely wouldn't be a me. A lot of artists don't acknowledge and recognize that. It's the fans that make who we are. We can go into the studio all day and make great music, but if that music is not accepted by the fans, we could never be where we are at. I never take it for granted. I know I wouldn't have been here without my fans.