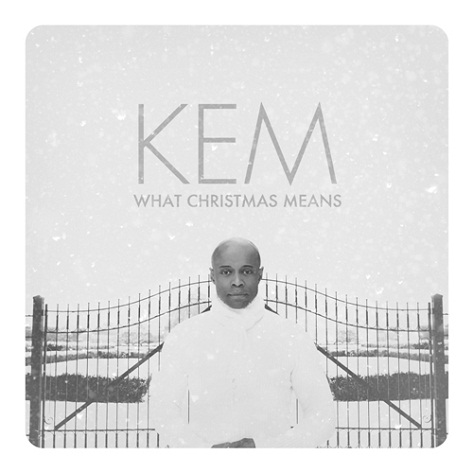 KEM's WHAT CHRISTMAS MEANS – DELUXE EDITION CD will arrive in stores tomorrow, October 29, just in time for the 2013 holiday gift-giving season!
KEM has expanded his first Christmas album, WHAT CHRISTMAS MEANS (which rose to #9 on the Top R&B/Hip-Hop Albums chart in 2012), with four newly-recorded bonus tracks that he produced and executive produced.
"I came out with the deluxe edition because I wasn't done yet," said KEM. "We added some really great music to this record, and my hope is that this album will continue to be a mainstay in you all's homes during the holiday season for years to come."
WHAT CHRISTMAS MEANS – DELUXE EDITION is highlighted by the newly-recorded bonus track "JESUS" featuring legendary R&B artists, Patti LaBelle and Ronald Isley, and a duet with Verve recording artist Ledisi, "BE MINE FOR CHRISTMAS." Both songs are co-written by KEM and his collaborator Melanie Rutherford.
"Working with Ms. Patti LaBelle and Mr. Isley on 'JESUS' was incredible," reflected KEM. "When I was writing the song, I had them both in mind, but to actually hear each of their unmistakable voices on the record, it's a beautiful thing and an absolute blessing. This was my first time working with Ms. Patti in the studio. She was sharp, she was elegant, she was a true professional, she was very sweet to me and she has become one of my favorite people on the planet."
KEM produced the Deluxe Edition CD at state-of-the-art Studio A Recording in nearby Dearborn Heights, MI. The 14-song album weaves new and original Christmas compositions co-written by KEM, his daughter Troi and Melanie Rutherford, along with traditional holiday classics.
KEM's first Christmas album, What Christmas Means, was released on October 16, 2012. After the holiday season, the album had sold 76,000 copies, making it the #3 highest-selling Urban Christmas record in one season. Two tracks from the CD were nominated for the 44th NAACP Image Awards in 2013. "Glorify The King" and "Be Mine For Christmas (ft. Ledisi)" were both nominated in the 'Outstanding Song' category.
Tracklist (Deluxe Edition):
1. Glorify The King
2. What Christmas Means
3. A Christmas Song For You
4. Have Yourself A Merry Little Christmas
5. Christmas Time Is Here
6. The Christmas Song
7. Be Mine For Christmas ft. Ledisi
8. Merry Christmas Baby
9. We Three Kings
10. Doo Wop Christmas (That's What Christmas Is All About)
BONUS TRACKS:
11. Jesus ft. Patti LaBelle & Ronald Isley
12. Bethlehem
13. Home For Christmas
14. Lullaby Noel.