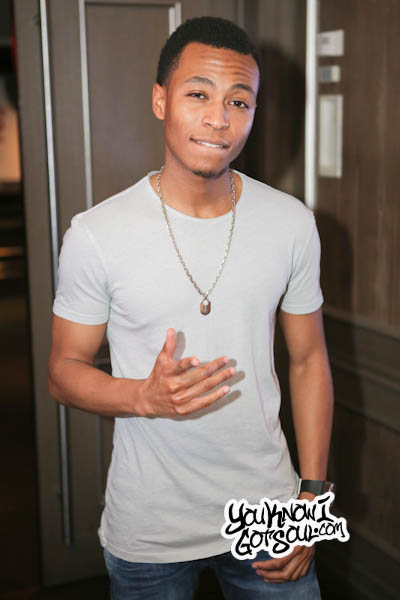 Kevin Ross has been one of the most pleasant surprises to happen in R&B this year. The singer had been signed to Motown for a few years ago, but finally established himself as an artist with the release of his number one record "Long Song Away". Although it took some quite some time, Kevin Ross is finally here. Most recently he released his debut album "The Awakening" which has received strong reviews from R&B fans. He's also created quite a buzz on Facebook, YouTube and instagram through his acapella mashups of old school R&B songs. YouKnowiGotSoul had a chance to talk to Kevin Ross about the success of his single "Long Song Away", his debut album as well as his journey in the music industry.
YouKnowIGotSoul: We interviewed you a few years back at the Essence festival and at the time we didn't really know who you were. We just knew you could sing, so talk about your journey since then.
Kevin Ross: Wow, that was back in 2014. I literally was gearing up for the Maxwell tour. Back then that was going to be my first tour and that was super nerve-racking for me because I was an artist that went from doing a show every three months to five shows a week. It was a 30 minute set with an R&B legend which I was honored, but I knew this was going to make or break me as an artist. It told me everything I needed to know. In order for me to last, you definitely have to put in the work and you definitely have to be persistent and consistent about it.
YouKnowIGotSoul: After that, you released your EP "Dialogue In The Grey". It doesn't seem like a lot of people caught onto that project, so was that frustrating for you?
Kevin Ross: Absolutely not! I understood what role that my music was going to play. At the time, my social media presence wasn't strong so how could I expect for anybody to have known about it? I was just excited for people to discover it. No one really knows how long the discovery process will last. I still feel like I'm part of that journey of discovery. It's a big world out there, so I'm just blessed to put out music in the meantime and for people that have known me since 2014, if not earlier, to watch the progress and to watch that it's not easy. I can be a living testament that anything is possible with due time and a certain amount of concentrated energy.
YouKnowIGotSoul: You had a successful Christmas campaign with Glade which I felt gave you a lot of momentum, but then everything slowed down for you after that. What was that time period like for you?
Kevin Ross: That was really tough for me because I had to re-calibrate. I had to understand that I'm not only an songwriter and artist, but I'm a business man. I have to look at myself as such and I have to look both my entity and artistry. During the time I had the Glade commercial, I didn't understand the theory of momentum and taking control of your own business. I had to go through that. It took me about a year and I came back with "Be Great". That was the entrance piece and the intro to the album. Grey's Anatomy picked up that song and I felt like that was God giving me an opportunity to test this theory I had been practicing for almost a year and really put it into work.
YouKnowIGotSoul: I remember you were also on the NBA 2k17 soundtrack.
Kevin Ross: Yep, the song "Stronger" was in the same year. It felt like everything was coming together. The doors were opening. It's not a race, it's definitely a marathon so I have to take my strides when the strides come. When there's a time where I have to learn something, I have to take that time and still keep my head up. Just because things slow down and you're not hearing anything about them doesn't mean it's over.
YouKnowIGotSoul: You've really built up your social media presence by doing these 90's and 2000's R&B covers. How did that idea come about?
Kevin Ross: It was really organic. I had a conversation with a lot of my peers and they were like "I wish 90's R&B would come back". I was like "Well, the 90's is the 90's at the end of the day" but we do have to pay tribute to those who made this magical music during that time. I felt like the artistry and that music was being lost, so I was like "I'm musical enough to do mashups". There was so much music from the 90's and I was actually going to tackle it in like one acapella, but I was like "Let me do this in two year increments". I started with 1990-1992 and around the same time the New Edition was coming out, so I think that definitely helped with the traction and awareness. I started to see a growth in my social media through all aspects like Facebook, Twitter and YouTube.
YouKnowIGotSoul: You released "Long Song Away" which ended up going number one on Urban AC. Talk about the success of the single.
Kevin Ross: Honestly, there was a conversation that needed to be had between me and my team before the record even came out. I had "Long Song Away" for three years prior to it being released. I made that song during the time I made "Dialogue In The Grey" so I had all that stuff sitting on a hard drive. They asked me if I wanted to go Urban AC because at the time, people felt like it was a trap to go Urban AC. They were like "This is for older people and there's nothing for you as a young artist". For me, I took it as an opportunity to say "Listen, my generation is growing up too. The 25 and over are going through issues too. It's not just about getting lit". I felt like it was a great opening for me to come in and with the prior success of "Permission" by Ro James, I was like "Cool, let's shoot the shot". Ultimately, it's all about visibility. Instead of waiting on the moment to go to Hot 100, I was like "Let's start now!". The goal is to dominate every chart by the time I'm finished, but I wanted to start here. The Urban AC fans are the ones that championed "Dialogue In The Grey" when it came out and they were there for me when I was on tour with Maxwell. I was like "Why wouldn't I start there? That's the music I fell in love with". Once we pressed go on the record, we really saw a great response from radio and the audience. I don't think I expected for it to go number one. Honestly, I was just glad I had a song on radio. My parents were proud of me and that was an accomplishment in itself. I was just happy about that and I think God blessed me with the number one. It really had nothing to do with me. It was more so just him fulfilling his promise to me that I believe he spoke to me a long time ago. It was to just remain diligent and no matter how long the journey was, I was going to get to that point where I was able to have number one. It gives me more motivation to go after more number ones on more formats.
YouKnowIGotSoul: Now talk about your debut album "The Awakening". What was the approach of the album?
Kevin Ross: I wanted to stay true to who I was and how i fell in love with music. I think I made a deal with myself as an artist and I was like "If I'm going to do this artist thing, I'm going to remain true to who I am". By remaining true to who you are and keeping your integrity, sometimes you're going to have to suffer and you're going to have to wait a little longer. People will look at your age and they'll say "How come you don't want to do the music that's current and contemporary?" and I'm just like "Listen, the truth doesn't change the trend. This is my truth". I've been making this music since I was a teenager and it's a part of me. I realized there was nothing that was going to change about that. It's not that I'm incapable of writing these records because I am capable writing them for other artists, but for myself I had to understand that as an artist, you have a platform and you have to be held accountable for it. You can't just sing any kind of song and think that you can live with yourself. The message means a lot to people. To see the look and expression on their faces when you sing certain songs and how it resonates with them, I really felt responsible for it. For me, I just wanted to remain true with the album and for it to be a discovery project as well. All of my projects are going to be discovery projects until the whole world knows about me. I think I'm going to be a discovery artist until the day I die even when I have millions of fans because I'll forever be curious and I'll forever try to discover new ways to create music. I just hope for more people across the globe to discover my music and let people know that R&B is alive and well.
YouKnowIGotSoul: Talk about the song "Don't Go". That's one of our favorites of the year.
Kevin Ross: That's the second single. I'm really excited about that. It was a natural progression after "Long Song Away". Once again I had that song for three years sitting on a hard drive. Once we decided on "Long Song Away" and they asked what was the next song, I was like "What about this one?". I actually jumped the gun and played it for a program director and they fell in love with it. That really put the fire under everybody to get the song mixed and mastered. Now here we are and it's people's favorites. I love the record. It's sensual, not sexual.
YouKnowIGotSoul: We're just a little mad that the song didn't have a bridge on it, but it's all good.
Kevin Ross: *Laughs* I think for me, it was all about the vibe. It was all about not overcompensating and saying "Let's reach the three minute mark!". I want people to keep playing it over and over again because they can't get enough of it. Maybe in a live performance there will be a bridge or maybe there will be an alternative version. Music is never finalized. It's always meant to be revisited and expounded upon.
YouKnowIGotSoul: You were mentioning all these songs that were sitting in your hard drive. Was there ever a point in the journey where you thought about scrapping those songs and going for more of a trendy sound?
Kevin Ross: I think early on in the developmental process I tried to be more contemporary, but it just didn't fit. It didn't work on me when I look at myself in the mirror. Honestly I'm planning to make my contemporary music spread more to Urban and reach a broader audience, but it takes a lot of footwork. I think for a lot of Urban mainstream audiences, they don't even know artists like myself exist. It's just about making yourself visible not just within the music through Spotify, but it has to be through the acapellas and different avenues I can use in order to get the respect of others. NBA 2k17 played a big part especially in that game demographic because people would hit me up and ask when I was going to release the song. I was like "I don't know, but please enjoy it on this platform". Some of them went bought the album and supported. You just never know how you're going to reach the masses. The only thing you can do is to stay true to your art and let the world catch up later.
YouKnowIGotSoul: You will be hitting the road soon and what people can expect on your upcoming tour.
Kevin Ross: Yes, the "Awakening Tour" is coming. The first date will be May 24th in Chicago. I'm really excited because this is my first time to headline my own tour. It'll be 45 minutes to an hour and people are really going to get a full spectrum of who I am as an artist. Hopefully they leave inspired because that's the most important thing. For me, whatever you want to do in life I just want people to be great at it. Not to say you're going to be great instantaneously because I don't look at myself as anywhere near great compared to the people I look up to, but I'm definitely on the journey to becoming something that is beyond myself. You just have to enjoy the process of it. I want people to enjoy the process on this tour, so get your tickets now.
YouKnowIGotSoul: You're one of the very few young male R&B artist that is still making that traditional R&B that we love. Talk about the importance of being at the forefront of that.
Kevin Ross: As far as where I lie within the forefront of it, the only thing I can do is represent what I represent. If I'm at the forefront of it, then so be it. But if I'm not, we'll champion whoever is. As long as I'm playing my part, I think it's a blessing. I think that's a reemergence that's happening in the genre right now. The R&B genre has always been progressive. The 1940's was just Blues and then it became Hip Hop, Soul, Rhythm and Blues and Pop. Then it went to where Michael Jackson and Prince took it and there's New Jack Swing as well. Of course where we are now with Trap Soul, it's transforming and that's beautiful thing about it. No matter what people say about R&B, it's one of the most progressive genres that we have.
YouKnowIGotSoul: Anything you'd like to add?
Kevin Ross: Thank you guys for supporting me throughout the years. It means the world. Thank you for taking me on when I was completely unknown to the world and just giving me a shot. That stuff does not go overlooked. You guys have been there through the highs and the lows. I look forward to as I'm growing, watching you guys grow as well. You will always have my support and thank you guys for championing the sound of R&B. It means a lot to the hundred and hundred of artists who are becoming and striving to be great and redefining the genre as it stands today.